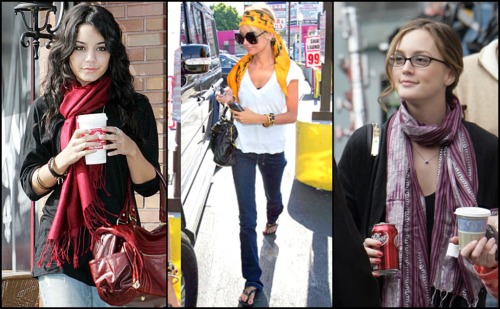 {via}
Scarves happen to be one of my favorite fashion accessories.  They're so versatile, come in a wide array of colors, materials, and styles, and can really change up the look of an outfit.  How do you wear them, though?
A few ideas of how to wear a scarf
There's lots of ways!  Let's start with a lighter weight scarf.  This could be chiffon, silk, cotton, or even knit.  You can wear it simply draped around your neck, letting the ends hang long, either in front or behind you.   Try wrapping it around your neck, making a loop and letting the ends drape down in front or behind you.  You could tuck the ends in, making it a loop that bunches up around your neck and shoulders.
I love to dress up a simple outfit of jeans and a plain tee with a fancy scarf.  I like to tie mine like a men's tie, as I can adjust it if I want it tighter or looser.
One of my favorite ways to wear a scarf is as a head wrap.  I simply gather it up, kind of folding, but not really, and wrap it around my head, with the ends by the front of my hair line.  I tie a square knot, and  turn the scarf so that the ends trail down my back.  It looks cute no matter what kind of hair you have or what the length is.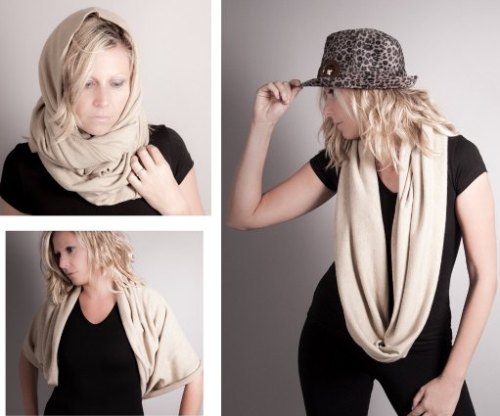 Infinity scarves are scarves that are a big loop.  These are great, as you don't have to worry about the ends.  Simply  put the scarf on, wrap it around your neck again, and adjust the loops to create the look you like.  You can bunch it up, adjust the loops so that they're off-set slightly, or even wear it long.  Infinity scarves are generally jersey knit, although they can be hand knit or woven fabrics.
Small and medium square scarves are fabulous for a different kind of look.  A silk square scarf is fantastic tied around your neck like a kerchief.  Try tying them to your handbag to give it a punch of color and a fun new look.  Another fun thing to try is tying these in your ponytail.  It's almost like a grown-up bow.
Whether the day is a bit cool and you'd like a wrap like a pashmina, or you're out for the night and would like something a little dressier than just your outfit, a large square scarf makes a fantastic wrap.  You can pull it up over your shoulders or just drape it in the crooks of your arms.
For more ideas, check out this video.  It is truly one of the greatest fashion videos on the web.
While this is in no way even close to the only ways to wear a scarf as a fashion accessory, it should give you a place to start.   What's your favorite way to wear a scarf?