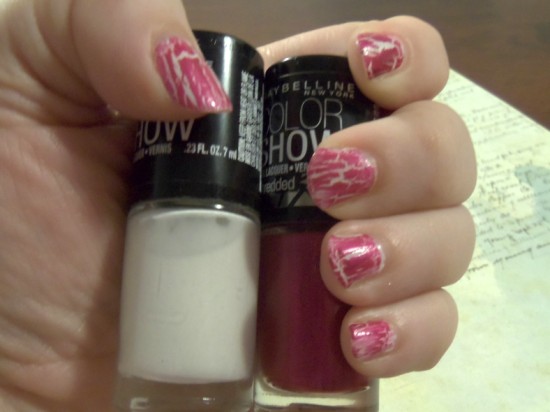 On a recent trip to one of the big box stores, I happened upon a new line of nail polish from Maybelline.  There was a huge display of the Color Show nail polish line, in all kinds of fantastic colors.  I was looking for a pink shade for a nail art challenge, and was instantly drawn to Magenta Mirage.
It wasn't until I picked it up that I realized it was one of the Shredded colors.  Shredded is what Maybelline is calling their shatter or crackle finish.  Well, then.  I'm going to need to get a couple of these Color Show nail lacquers to test them out!  Right?  Of course I am.

I chose the Porcelain Party normal lacquer and the Magenta Mirage Shredded nail polish.  Porcelain Party is white, while the Magenta Mirage is a shimmery bright magenta pink.  Confession time – I had never actually tried the crackle finish polishes before this one.  Yikes, right?  It turns out the Shredded nail polish is just like doing a crackle finish on furniture.   Whodathunkit?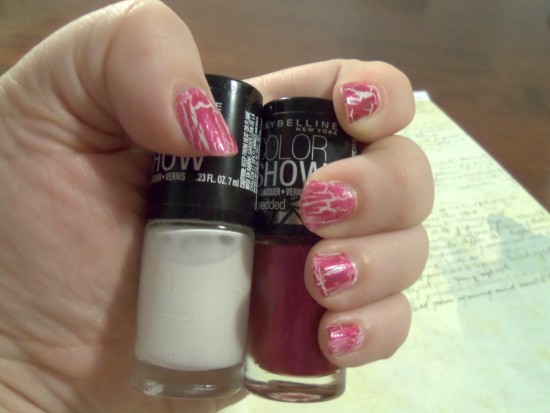 My thoughts on Color Show nail polish
I prepped my nails and applied the Porcelain Party first.  It was an ok polish, but it took two coats to get a not-so-totally streaky finish.  If I hadn't been top coating it with the Shredded, I probably would have used 3 coats.  After letting the Porcelain Party dry thoroughly, I topped it with the Magenta Mirage Shredded.  It started to crackle immediately, which was kind of cool.  The Magenta Mirage was a bit of a matte or low luster finish with shimmer when it dried.
I didn't top-coat it, as I would normally do.  I guess I just didn't really think about it.  The texture was a little rough, but it didn't really bother me at all.  These polishes lasted really well – I got about 2 weeks worth of wear out of this
For $3 each, I'd recommend the Shredded.  I'd have to think about the Porcelain Party.  However, I would definitely try other shades of Maybelline's Color Show Nail Polish line.