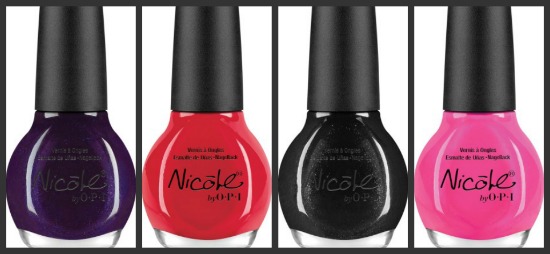 Is there a return to the classics looming on the horizon?  There may be.  Nicole by OPI is introducing four new shades of nail lacquer for 2013.  The kicker?  They're all what are widely considered to be classic or "normal" colors.
They include:
Plum to Your Senses: A deep, dark shimmering purple plum shade
Please Red-Cycle: A fabulous apple red shade.
Totally in the Dark: A shimmery black shade
Still Into Pink: A gorgeous bright, hot pink shade

While Please RedCycle and Still Into Pink are crème shades, Plum to Your Senses and Totally in the Dark are shimmery.  I'm really kind of curious to see these, especially the Totally in the Dark shade.
These shades should be hitting stores any time now.  MSRP is $7.99 ($10.99 in Canada), and they're easily found at retailers like Walmart, CVS, HEB, Target, Rite Aid, and Ulta, among others.
Nicole by OPI nail polish and treatments never contain DBP, Toulene, or formaldehyde.