If you haven't figured it out yet, I am ALL ABOUT the shoes. I'm really not sure when this obsession started, but I have always loved fashion.  Especially shoes.  Which is weird, because I spend like 70% of my time barefoot.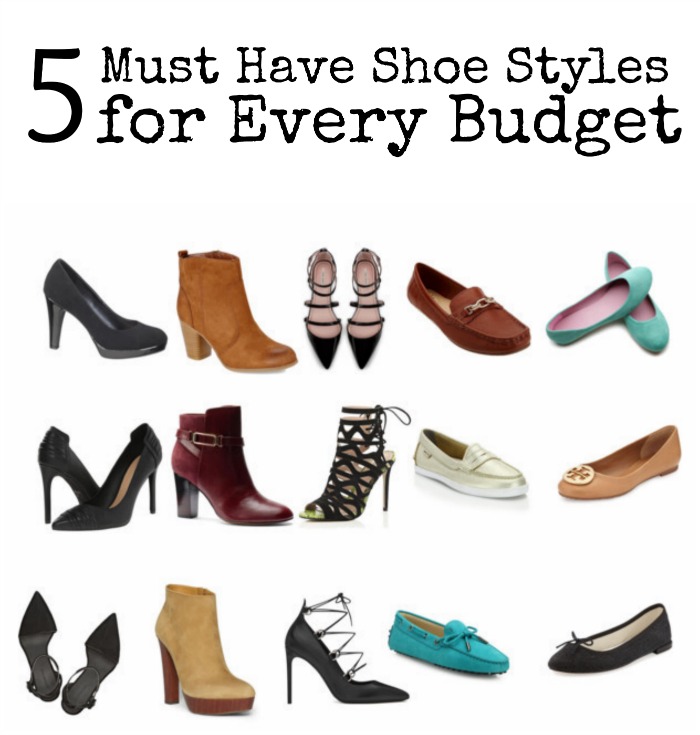 One of the things I've noticed among my friends, and even in my own extensive shoe wardrobe, is that we seem to be missing some of the basics. Oh sure, I have leopard print stilettos and multiple pairs of cowboy boots and even fun printed rainboots, but a strappy black heel for a fancy dinner?  Nope. Nonexistent.  I can't be the only one missing some of these must have shoes.
To that end, we've put together our list of 5 absolute must have shoes that definitely need to be in your wardrobe and aren't athletic shoes. We've also done them in a Good – Better – Best pricing structure.
Good – These are under $75, with most being under $50.  They'll last you a season or two before needing to be replaced.
Better – These must have shoe styles are generally in the $100-250 range.  They'll last you for a couple years, and will stand up to more wear and tear.  This is also where the construction of the shoes starts to get better.
Best – This is the stuff!  These are over $250.  Many are high end designer names, and the shoes have great construction.  These are the ones that last and last, and are worth getting repaired.
5 Must Have Shoes for Every Budget
Links may be affiliate links.  They help support our love of shoes.
Black Heels
Good: Maurice Peyton Platform Pump ($34)
Better: Joe's Jeans Gong Pump in Black ($128)
Best: Alexander Wang Lovisa Suede Pump ($495)
Ankle Boot
Good: Madden Girl Cognac Audette Boots ($46)
Better: Isola Eppie Ankle Boots ($149)
Best: Ralph Lauren Teyla Suede Bootie ($895)

Strappy Shoes
Good: ZARA Flat Shoes with Ankle Strap ($50)
Better: Black Leather Caged Stilettos ($170)
Best: YSL Classic Paris Lace Up Pump ($895)
Loafer or Moccasin
Good: Isaac Mizrahi Live Pebble Leather Moccasins ($60, available in 5 colors + normal and wide widths!)
Better: Cole Haan Pinch Weekender Metallic Leather Loafers ($100)
Best: Tod's Gommini Tie Front Driving Mocs ($445, available in a ton of colors.)

Flats
Good: Ollio Faux Suede Ballet Flat ($18-25, available in 13 different colors!)
Better: Tory Burch Reva Leather Ballerina Flats ($225, available in tan or black)
Best: Repetto Cendrillon Crystal Ballerina Flat ($340)
So…these are my list of must have shoes that should be in every woman's wardrobe. Do you have some shoe shopping to do?
What are your must have shoes for your wardrobe?