Have you heard the news?  The Disney Reigning Beauties Ariel Collection of cosmetics is out now!  Right on, right?   "Who's Ariel?"  I heard at least one of you ask this.  Ariel, from The Little Mermaid, the classic Disney movie?  Yeah, that's better.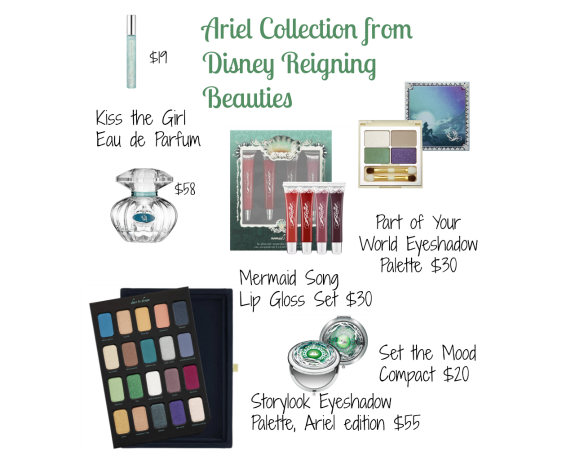 The Ariel Collection items
 Storylook Eyeshadow Palette Ariel Edition ($55)
Every color in this customized palette of 20 bright and brilliant shades is inspired by and formulated to match the hues from the film. Encased in a keepsake box with original artwork that portrays Ariel in her grotto of collected treasures, these lustrous shades invite you to dare to dream and let your curiosity lead the way.
Part of Your World Eyeshadow Palette ($30)
Open your eyes to endless possibilities with this captivating palette of four vibrant shades, including What's-It (matte clay grey) and three glittery shades, Who's-It (glittering white), Dinglehopper (iridescent light teal), and Snarfblat (violet with iridescent glitter). Easy to apply and blend for a variety of mesmerizing eye looks that will shimmer like the sea.
Mermaid Song Lipgloss Set ($38)
Be empowered, be bold, and find your voice with this set of four pigmented, glistening glosses that are fun and flirty, with a hint of feisty. Shades include: Dream Girl (perky pink), Sea Witch (bold berry), Redhead (rich red), Mermaid (courageous coral).
Kiss the Girl Eau de Parfum
Feel the passion of the moment with Kiss the Girl Eau de Parfum, an invigorating new fragrance inspired by the magical moment of true love's first kiss. Available in a Eau de Parfum Spray, 50 mL ($58), and a Roll On Eau de Parfum ($19), this captivating scent opens with a refreshing burst of bergamot, wet cucumber, and ozonic accord that is brought to life with a splash of water notes, wild lilac and starfruit, all fused together with warm sandalwood and sensual velvet sensations of ambergris to make the moment last forever.
Set the Mood Compact Mirror ($20)
Bat your eyes and pucker your lips with this beautifully designed deep sea treasure.
The Disney Reigning Beauties collection is available at Sephora stores, and on Sephora.com for a limited time only.