Hey there, fashionista on the go! Are you tired of digging through a black hole of a purse to find your keys, wallet, or phone? Do you find yourself getting held up in security lines because you forgot to remove that water bottle from your backpack? Fear not, because clear handbags and backpacks from Margo Paige are here to save the day!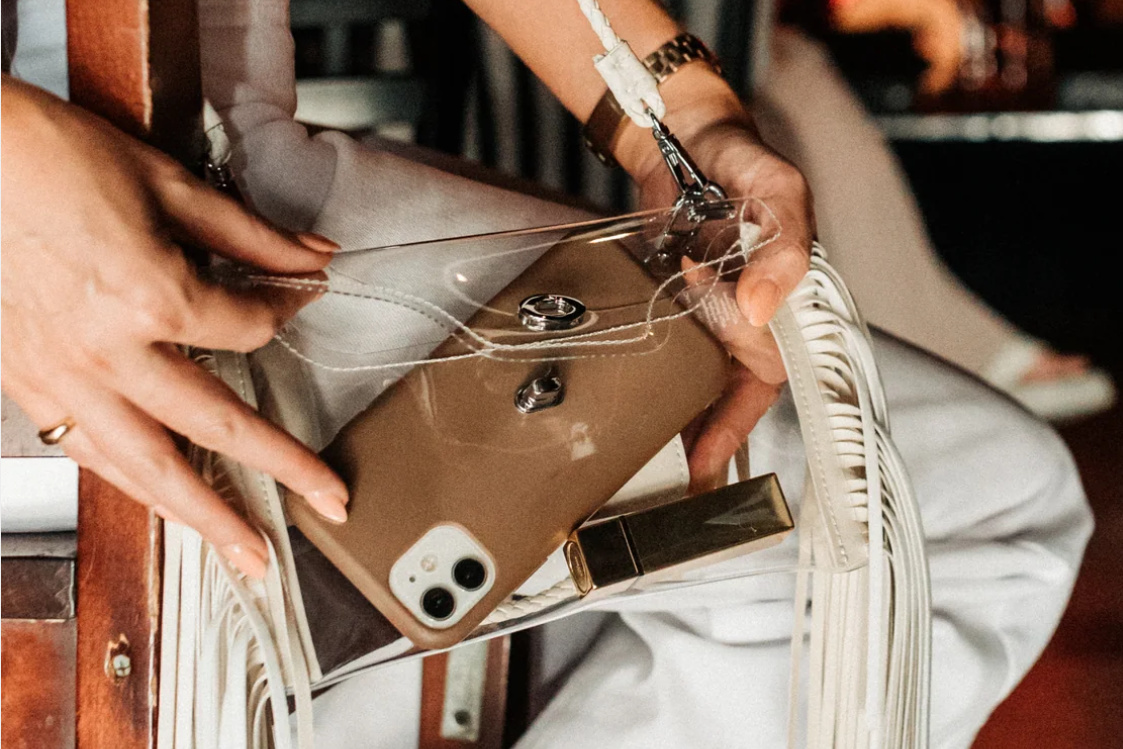 These see-through accessories have become increasingly popular in recent years, and it's easy to see why. They're not only trendy and stylish, but they also make finding your belongings a breeze. No more playing hide-and-seek with your lipstick or fumbling around for that spare pen. With a clear bag, everything is in plain sight.
Editorial samples were provided. Links may be commissioned.
See through bags like backpacks and purses can also be a security feature. Whether you're headed to a sporting event, concert, or airport, clear bags can save you a headache and some valuable time. No more rummaging through your bag to prove you're not carrying prohibited items. With a clear bag, security personnel can easily see what you're carrying and let you through in a jiffy. Many events require clear bags to help with security efforts.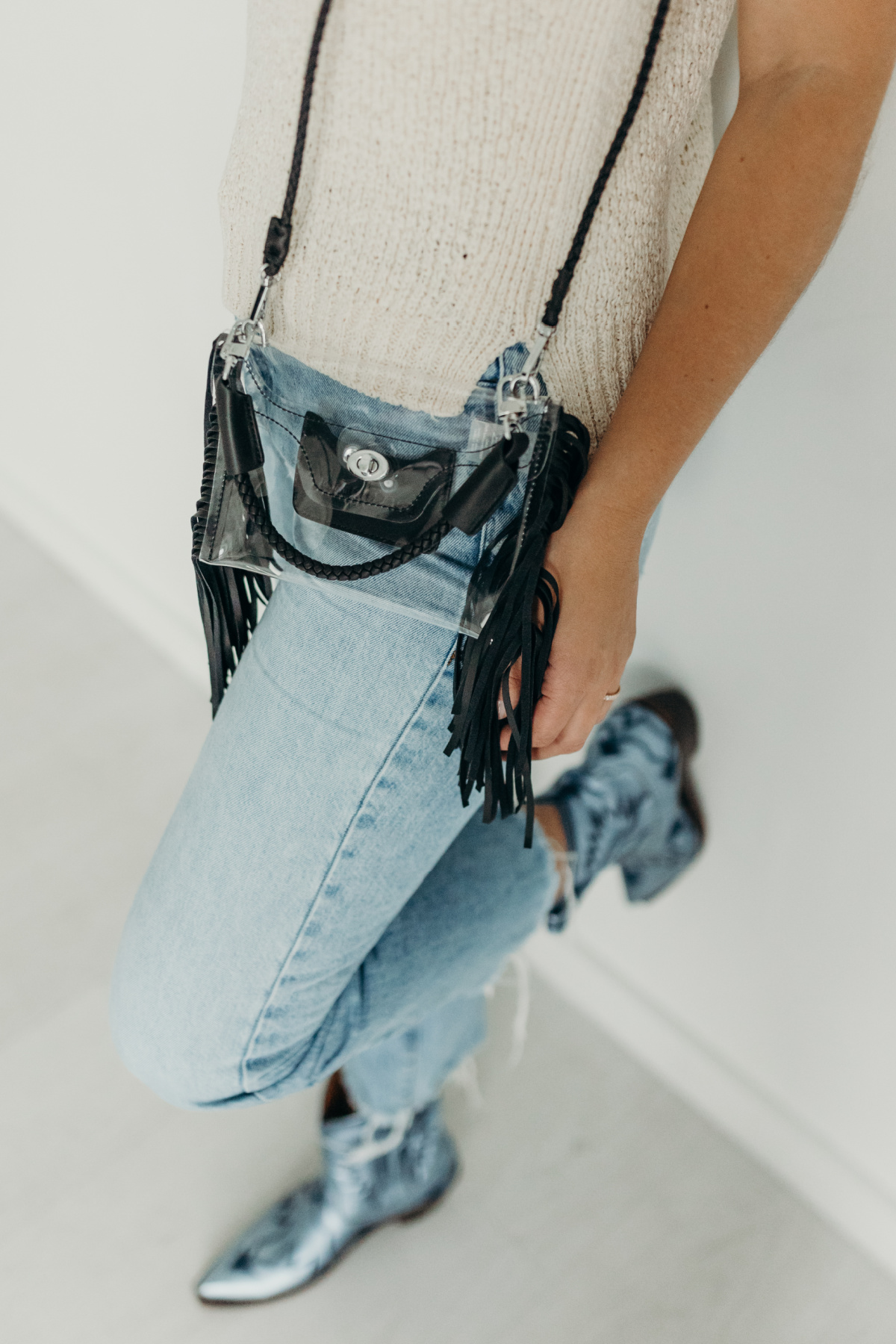 Clear handbags and backpacks are especially popular at music festivals, where security is tight, and attendees are often required to comply with strict bag policies. By opting for a clear bag, festival-goers can easily show security personnel what they're carrying, making entry to the festival grounds a breeze.
But clear bags aren't just practical – they can also be a fun accessory to show off your festival style. Fill your clear backpack with glow sticks, flower crowns, and all the festival essentials, and let your belongings double as part of your outfit.
Don't forget about the peace of mind that comes with using a clear bag at a music festival. With a clear bag, you can keep an eye on your belongings at all times, minimizing the risk of losing anything important in a sea of dancing bodies.
When it comes to music festivals, you want to think about keeping your bag light and easy to carry. Opt for a small clear crossbody or fanny pack to keep your hands free for dancing and taking Instagram-worthy photos.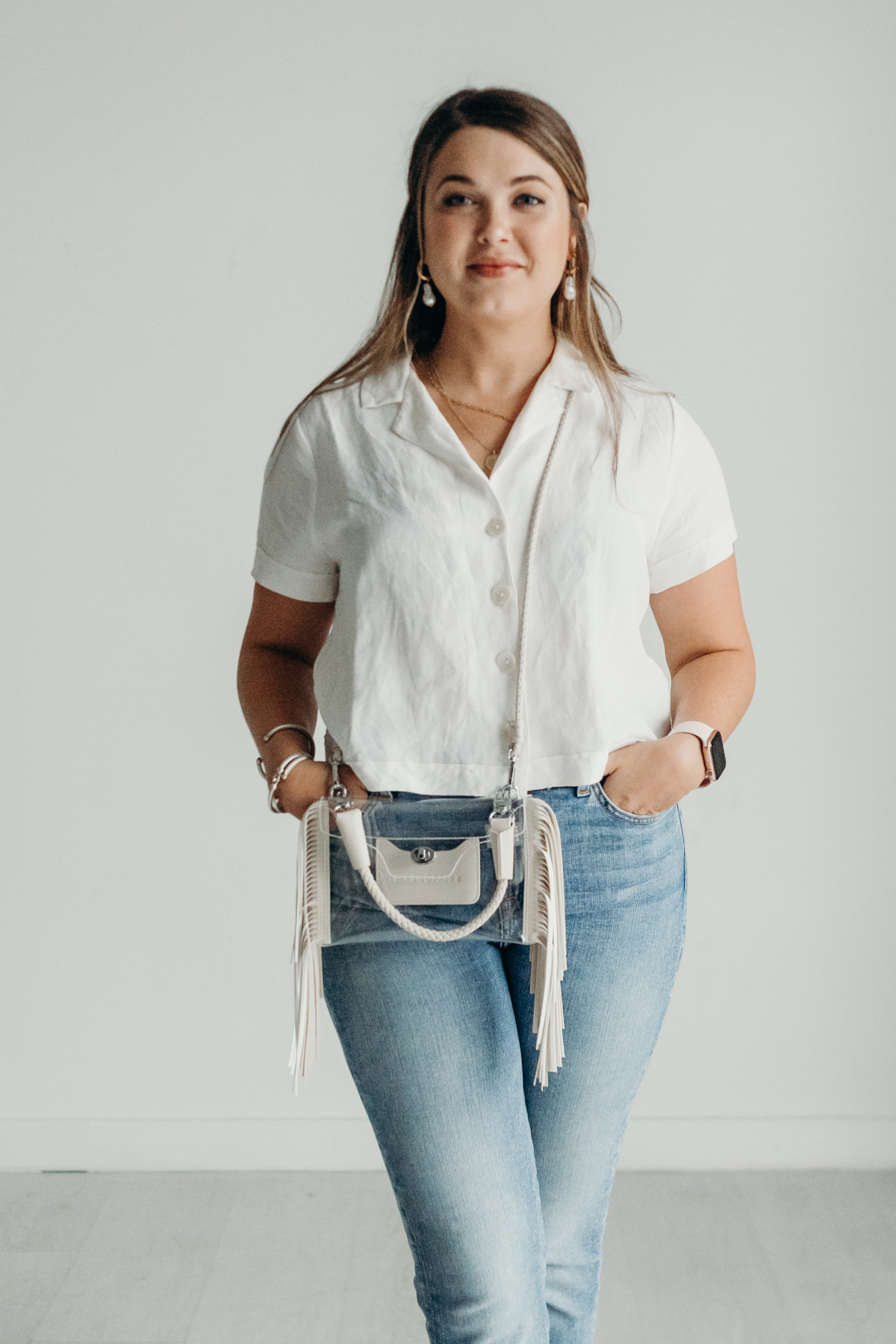 The Clear Fringe Crossbody is perfect for festivals, or a night out. It's small enough to wear as a crossbody but has plenty of room for the things you need. There's space for your phone, a small wallet or card case, lip balm, some earplugs, and a few other incidentals. The flap and twist lock helps keep the bag securely closed. Plus, the faux leather fringe adds a really unique and fun detail that's totally unexpected. This bag also has a carrying handle, and a strap so you can carry it as a handbag or wear it as a crossbody.
The Cut Out Crossbody is also a great option for festivals or events. It's quite a bit larger than the Fringe Crossbody, but can hold a lot more stuff, too. It's shaped like a hobo or slouch bag, and has a chain handle, or you can opt for a faux leather strap. It also has a wraparound strap with a small side release buckle to help keep your bag closed and your belongings secure. The cream faux leather trim and the high quality goldtone accents make this bag look very chic and it has almost a modern, pop art feel to it. Especially if you added really brightly colored items inside.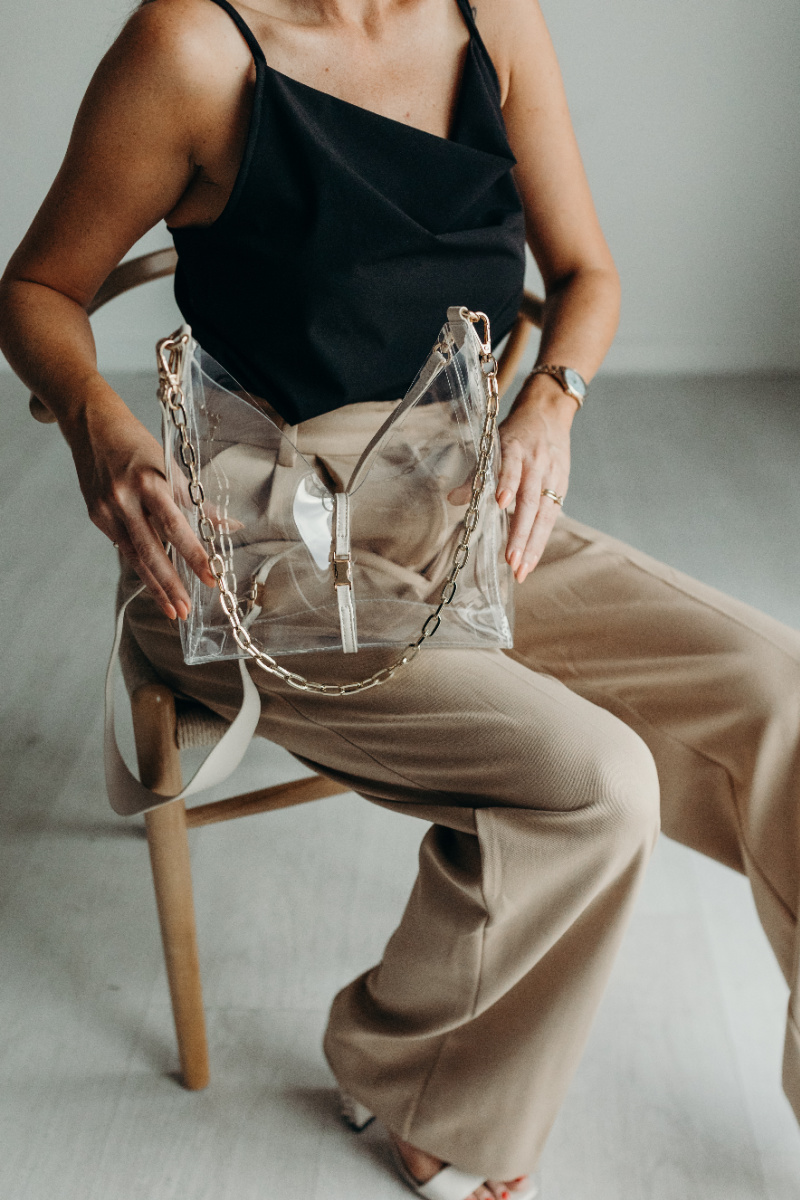 You'll want to check the festival's bag policy before you go to ensure that your clear bag meets their requirements.
Why Margo Paige
Margo Paige has been creating and designing clear handbags, see-through purses, and backpacks for festivals and events for a long time. That allows the brand to know what works, and what doesn't – both in regard to usability for people and a lot of guidelines for stadiums and events. Not only that, but their bags are actually cute and stylish, and the kind of clear handbag you want to carry.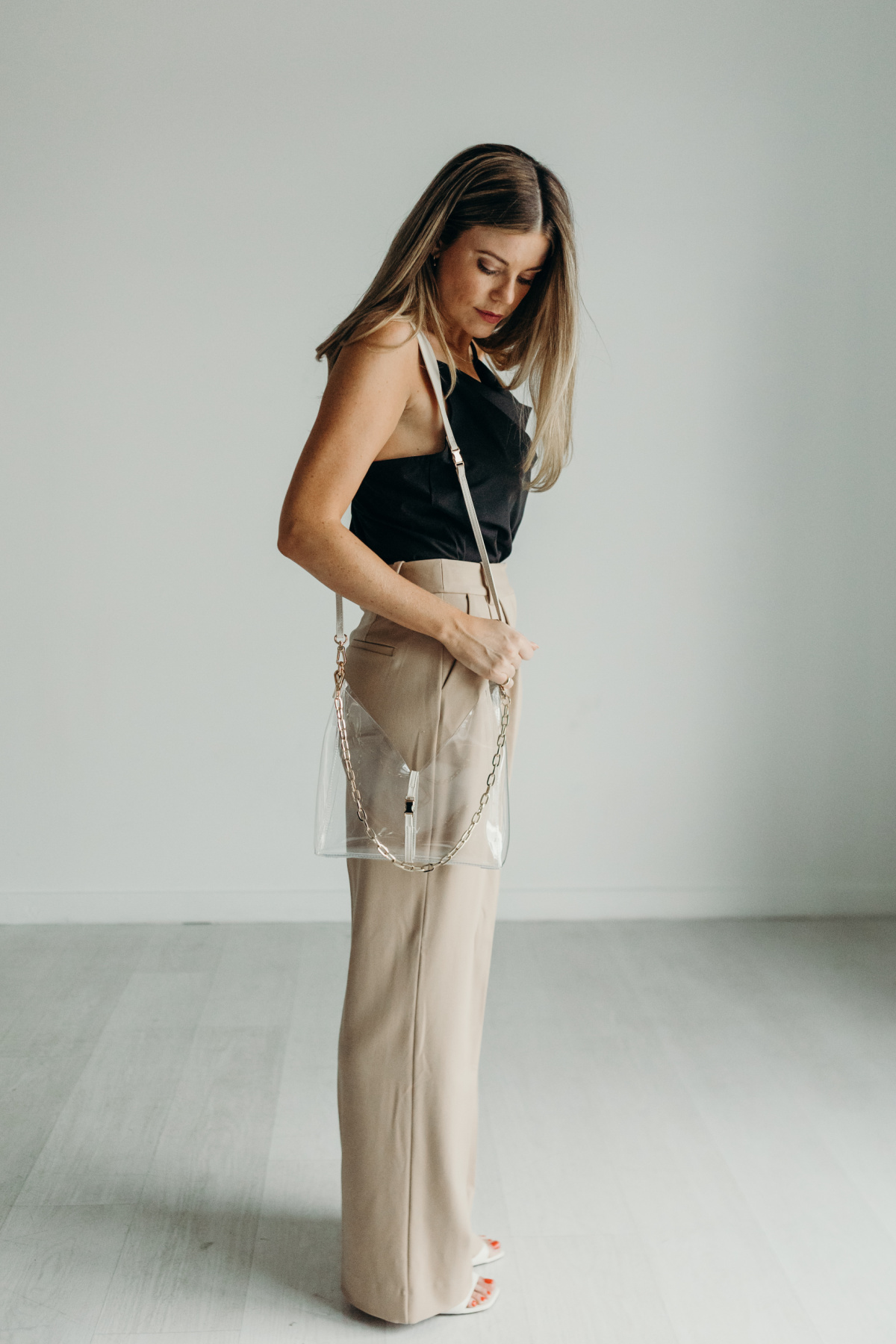 They're also dedicated to environmental causes, choosing to use recycled PVC as their materials of choice. This helps to cut down on the use of virgin fossil fuel materials without forgoing the benefits of pvc materials. Margo Paige also chooses to use faux leather for their trim, keeping their bags vegan and cruelty free. And to help protect the bags from scratches and dust, each comes in a branded woven dustbag
Let's not be too quick to judge these bags on their looks alone. They're also surprisingly practical. Need to find that spare pair of socks in your backpack? No problem. Want to keep your gym gear separate from your work clothes? Easy peasy. Clear bags can make it easy to organize your belongings and make sure that everything is in its place.
Are you looking to up your organizational game while still staying on-trend? See through handbags and backpacks just might be the way to go. Just remember to keep them clean, and maybe avoid storing anything too embarrassing in there. Don't forget – everyone can see what you have in your bag.
Whether you're heading to Coachella, Lollapalooza, Bonnaroo, or any other of the myriad of other music festivals, a clear bag is both a practical and a stylish choice. Make sure to pack light, stay hydrated, and, most of all, have fun.