I am a sucker for something that I can put little trinkets and treasures in. Whether it's a small dish, a little box, or something more intricate, if I can store stuff in it, I'm interested. These custom monogrammed ring dishes or trinket dishes are a perfect addition to my collection. The best part is – they're easy to make, and you can have as many as you want in no time at all.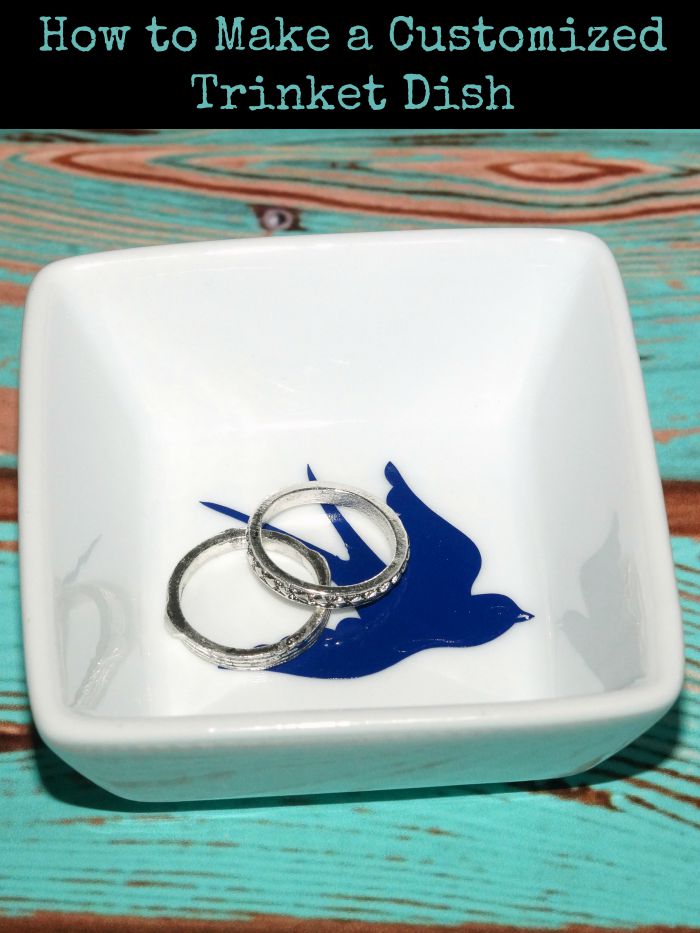 I used my Silhouette machine and some little dishes that are commonly used for appetizers. Who's gonna know, right?!?  This monogrammed ring dish makes a great teacher's gift to get school kicked off on the right foot!
How to Make a Custom Monogrammed Ring Dish
Time: 10 minutes
Skill level: Beginner
Materials
(may contain affiliate links)
Permanent adhesive vinyl. Most people use Oracal 651. It's basically the name brand generic, like Kleenex or Scotch Tape. This vinyl assortment is comparable in quality.
Small porcelain dishes. I used these square ones for this project, but the round ones are really cute, too.
Supplies
Silhouette Machine. I use this for so much stuff, it's unbelievable. I so totally get my money out of this.
Transfer tape. I prefer transfer tape. Some people use clear contact paper.
Directions
Choose an image to use for your monogrammed ring dish.  Cut it out, using your Silhouette. Size it to the appropriate size. For these dishes, approximately 1.6 -1.7 inches is the perfect size.
Cut it out of vinyl. You can use a small scrap, as this is like 2 x 2 inches.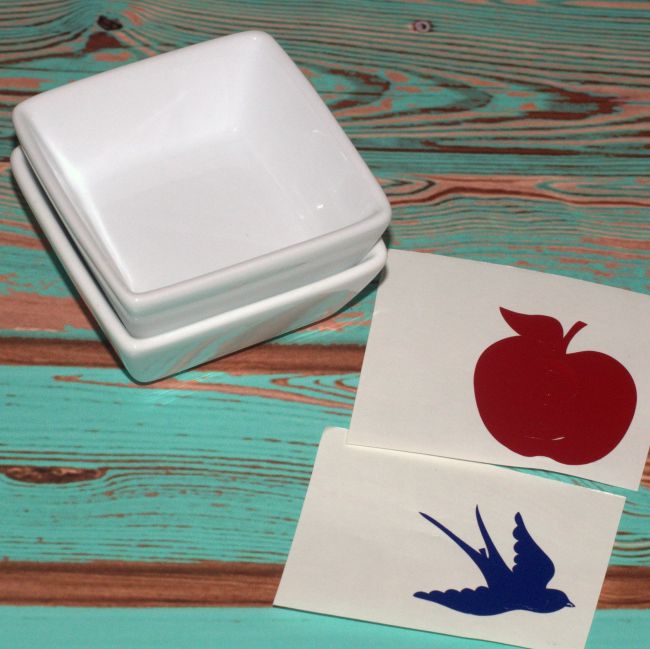 Remove the excess vinyl. This process is called weeding. Discard the extra vinyl. Be sure to get the spots like the loops in letters and spaces between lines.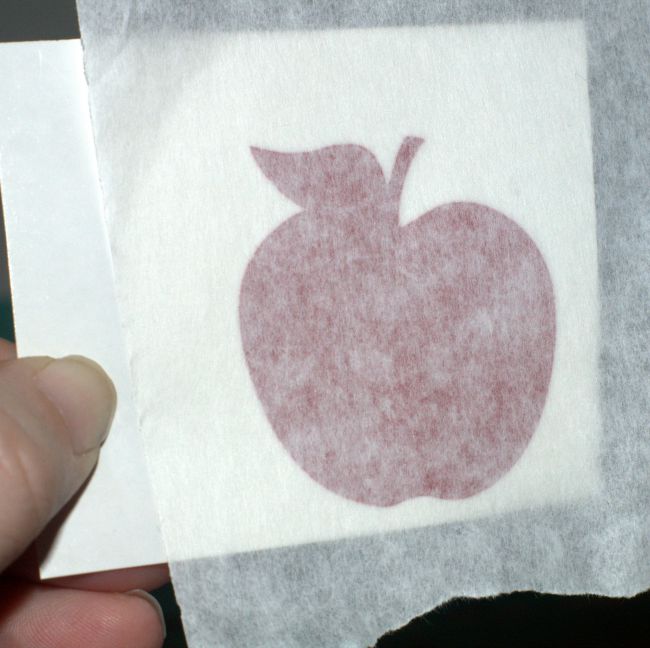 Take your transfer tape, and rub it onto your vinyl decal. Peel the transfer tape from the vinyl backing, and the vinyl should be on the tape.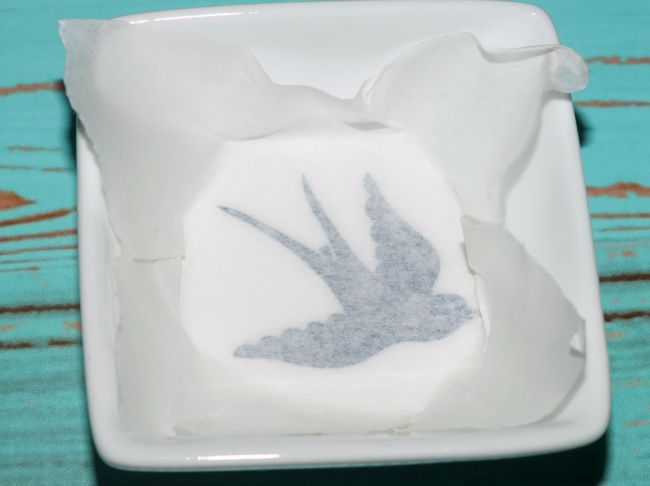 Center your design over the bottom of the dish, and press down. Burnish well. Peel off the transfer tape.
Your motif should be stuck to the dish. Burnish well again. If there are small air bubbles in your monogrammed ring dish, just leave them. They'll usually work their way out.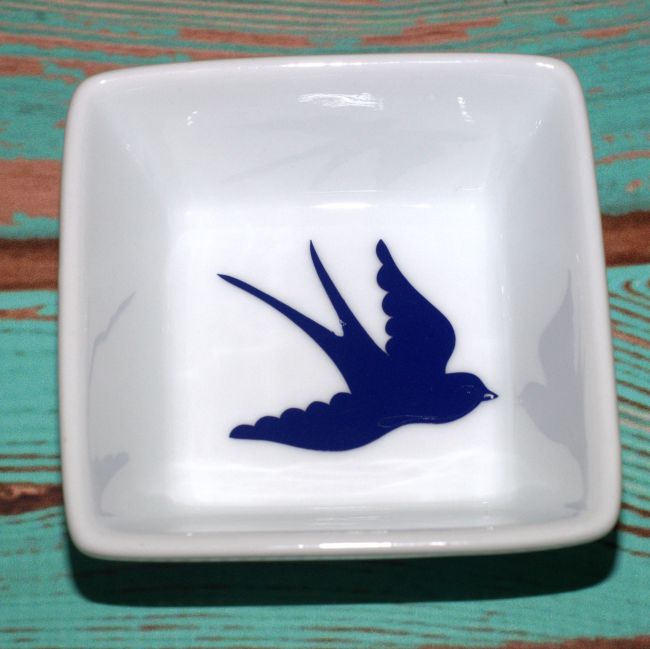 Step back, and admire your handiwork.
For more back to school ideas, check out a few of my favorite blogs:
Baked Eggs in Portobello Mushroom Caps from Confessions of an Overworked Mom
Free Behavior Charts Printable from A Mom's Take
DIY Pen / Pencil Cup Holder from Mom Does it All
Teacher Survival Kit from My So Called Balanced Life
DIY Schultute for back to school from Two Girls One Boy and a Crazy Mom
DIY Homework Station from Home and Garden Cafe
No Mess Glitter Composition Book from How Was Your Day
Personalized Pencil And Art Supplies Cup from Our Family World
Mango Overnight Oatmeal by Upstate Ramblings
7 School Lunches to Pack Beyond the Sandwich from MommaDJane
Out of the Blue College Gift Basket from Simply Southern Mom
Fabulous Back To School DIY Notebook Covers from My Kid's Guide
American Girl Accessories Notebooks from This Mama Loves