Are you tired of serving the same old boring cocktails at your beach parties? Are you looking for a fun and creative way to liven up your next beach bash? Look no further than Beach Party Jello Shots!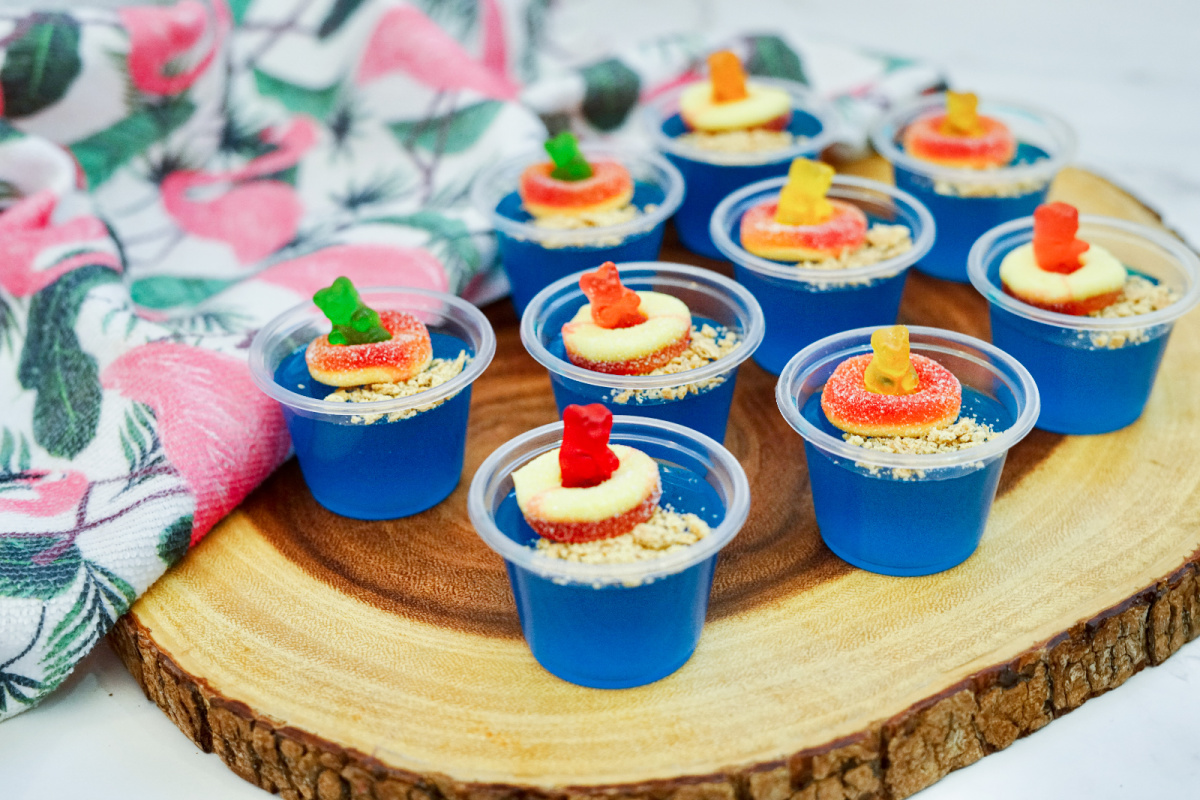 This fun and colorful drink packs a punch in both taste and presentation. With just a few simple ingredients – blue raspberry vodka, jello mix, peach rings, crushed graham crackers, and gummy bears – you can create a beach-themed treat that will impress even the most discerning partygoers.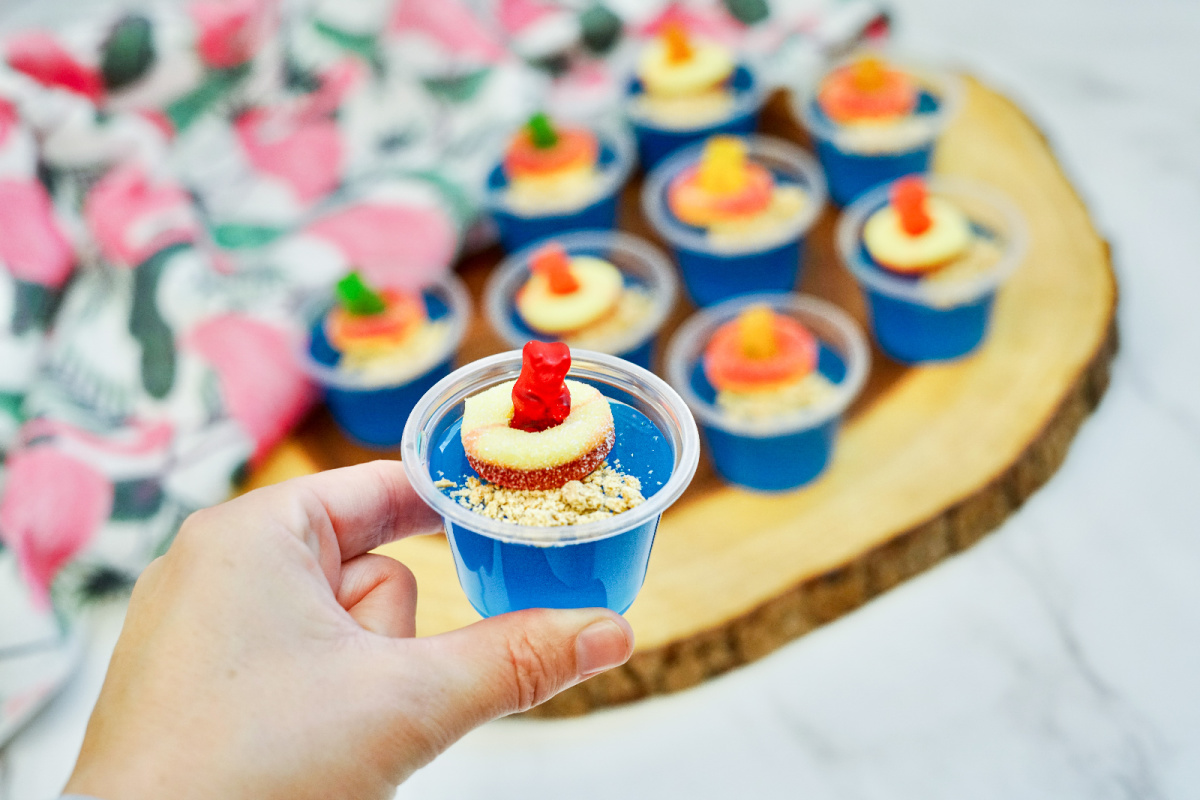 Now, I know what you might be thinking. "Jello shots? Really?" But hear me out. These are not your average frat party jello shots. Oh no, these are sophisticated and delicious. The combination of sweet and tangy blue raspberry vodka with the fruity jello and chewy peach rings is nothing short of heavenly.
How to make Beach Party Jello Shots
Links may be commissioned.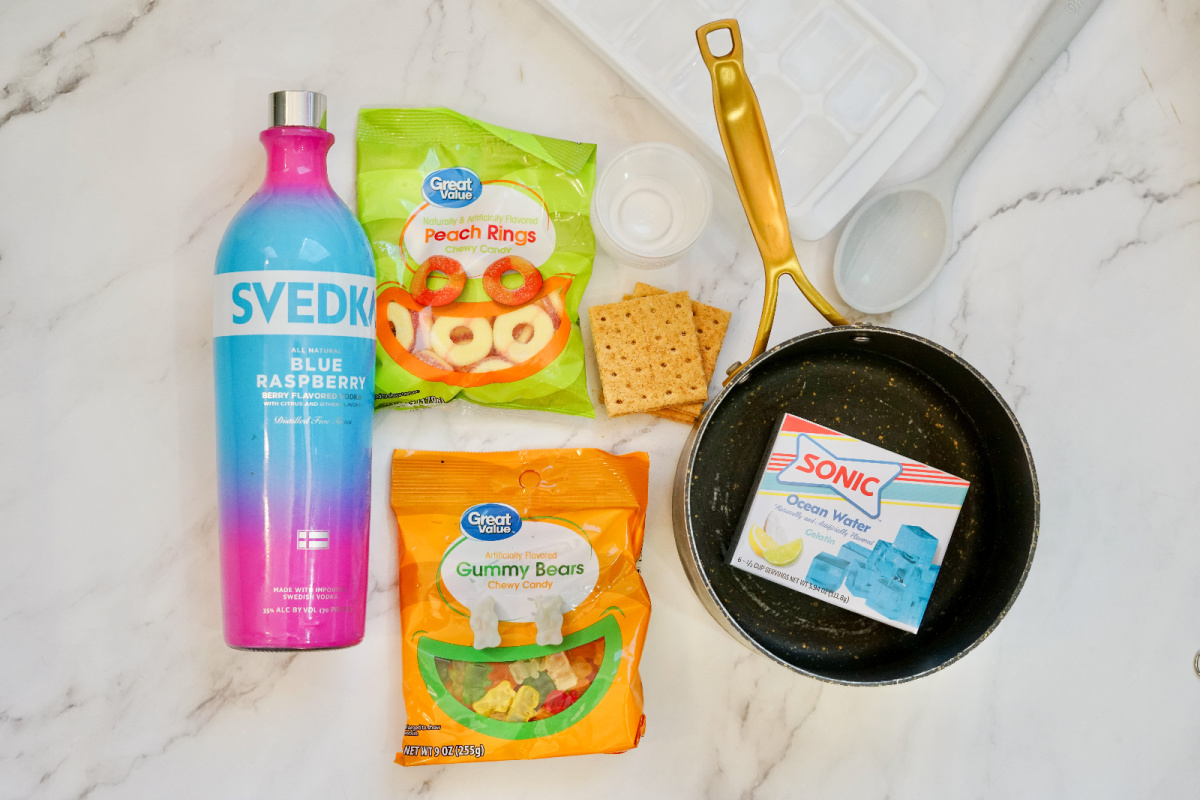 To make Beach Party Jello Shots, you will need the following ingredients:
1 1/2 cups of Blue Raspberry Vodka
1 cup of water
5-6 ice cubes
3.9 oz of Ocean Water Jello (or Blue Raspberry Jello)
Peach Rings
Crushed Graham Crackers
Gummy Bears

Directions
Bring one cup of water to a boil in a small saucepan. Once it's boiling, turn down the heat and pour in the jello mix. Stir until it has completely dissolved. Then add the blue raspberry vodka and ice cubes, stirring until the ice cubes have melted.
Next, it's time to pour the mixture into the condiment cups. Fill them to about 2/3 to ¾ full. Place the filled cups in the refrigerator and allow them to set for several hours, or until the jello is firm.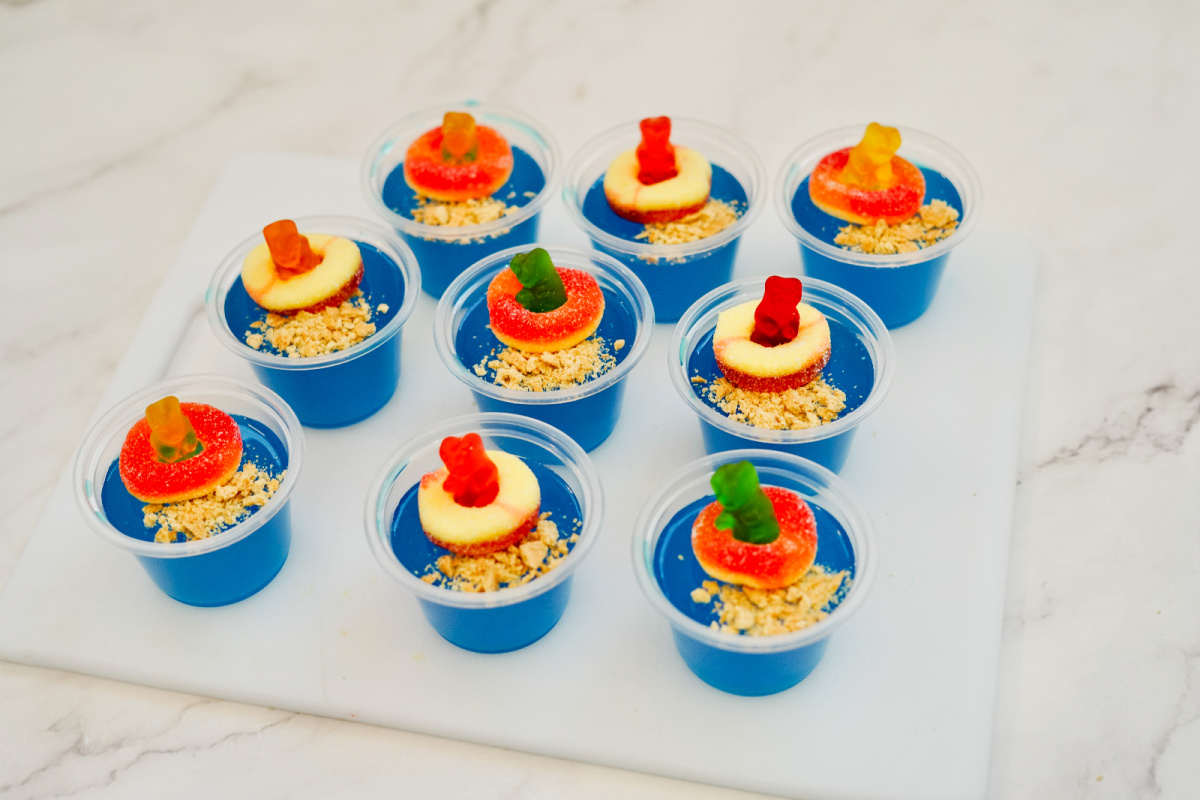 Once the jello has set, it's time to add the finishing touches. Take some crushed graham crackers and sprinkle them over the top of each jello cup to create the appearance of sand. Then place a peach ring on top of each cup to create a float, and add a gummy bear inside each peach ring.
Voila! You've got yourself a beachy cocktail that will make all your guests say "ooh" and "ahh."
Helpful tips for making Beach Party Jello Shots
When making Beach Party Jello Shots, it's important to use the right amount of alcohol to achieve the perfect balance of flavor and texture. Too much alcohol can make the jello shots too watery and hard to set, while too little alcohol can result in a bland and uninteresting flavor.
When it comes to selecting the type of Jello to use, you can experiment with different flavors. It's a great way to find the one that best suits your taste preferences. Some popular flavors for Beach Party Jello Shots include Blue Raspberry, Ocean Water, and Pina Colada.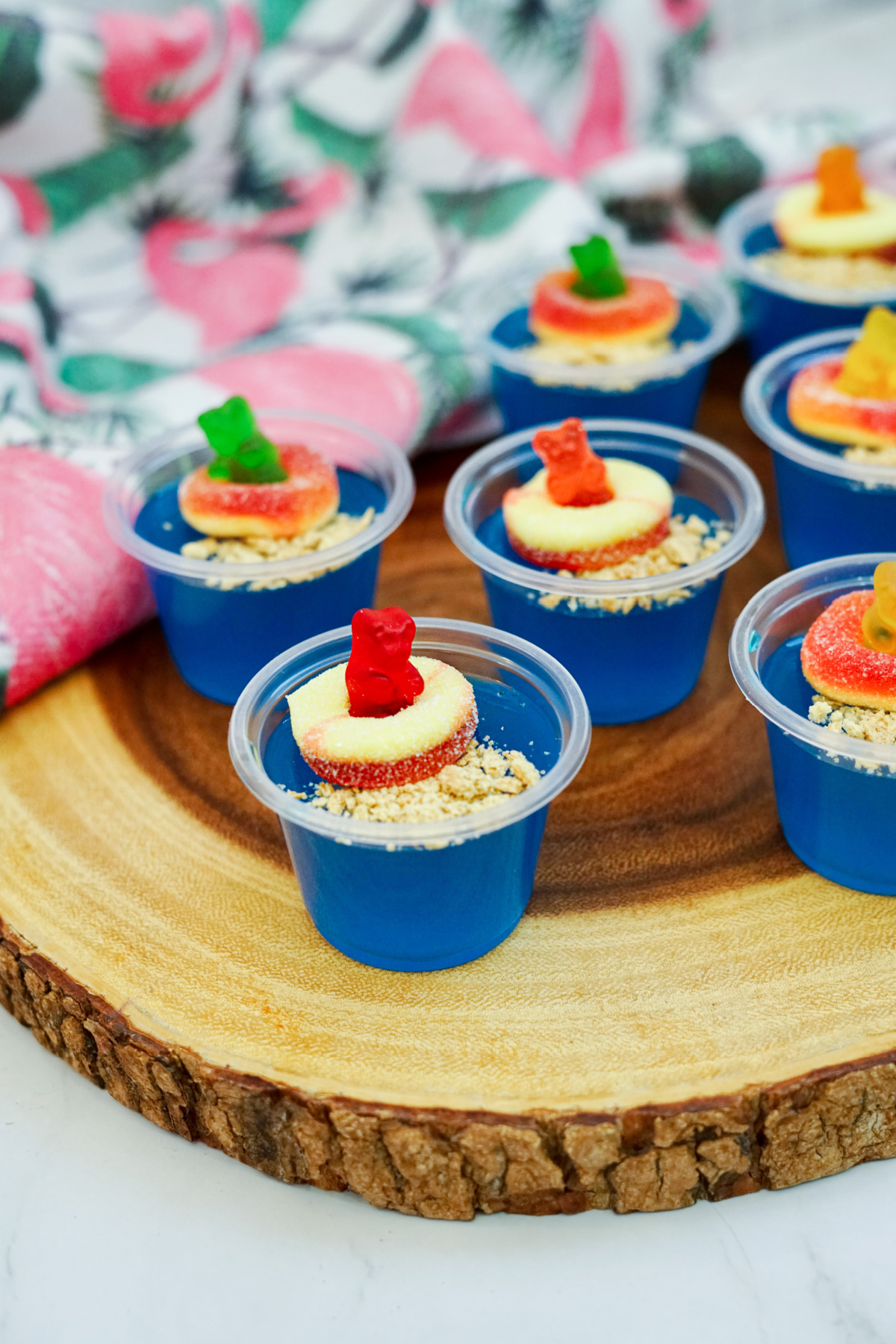 Finally, to make the presentation of your jello shots even more impressive, you can use a clear plastic shot glass instead of a condiment cup. This will allow your guests to see the layers of the jello, the peach ring, and the gummy bear, making the jello shots even more appealing and visually appealing.
And there you have it – Beach Party Jello Shots! They're a fun and creative way to bring some beach-themed fun to your next party. Whether you're planning a beach day or just looking for a way to enjoy a sunny afternoon, these Jello Shots are sure to be a crowd-pleaser. Gather your friends, mix up a batch of these colorful shots, and enjoy a day of fun in the sun!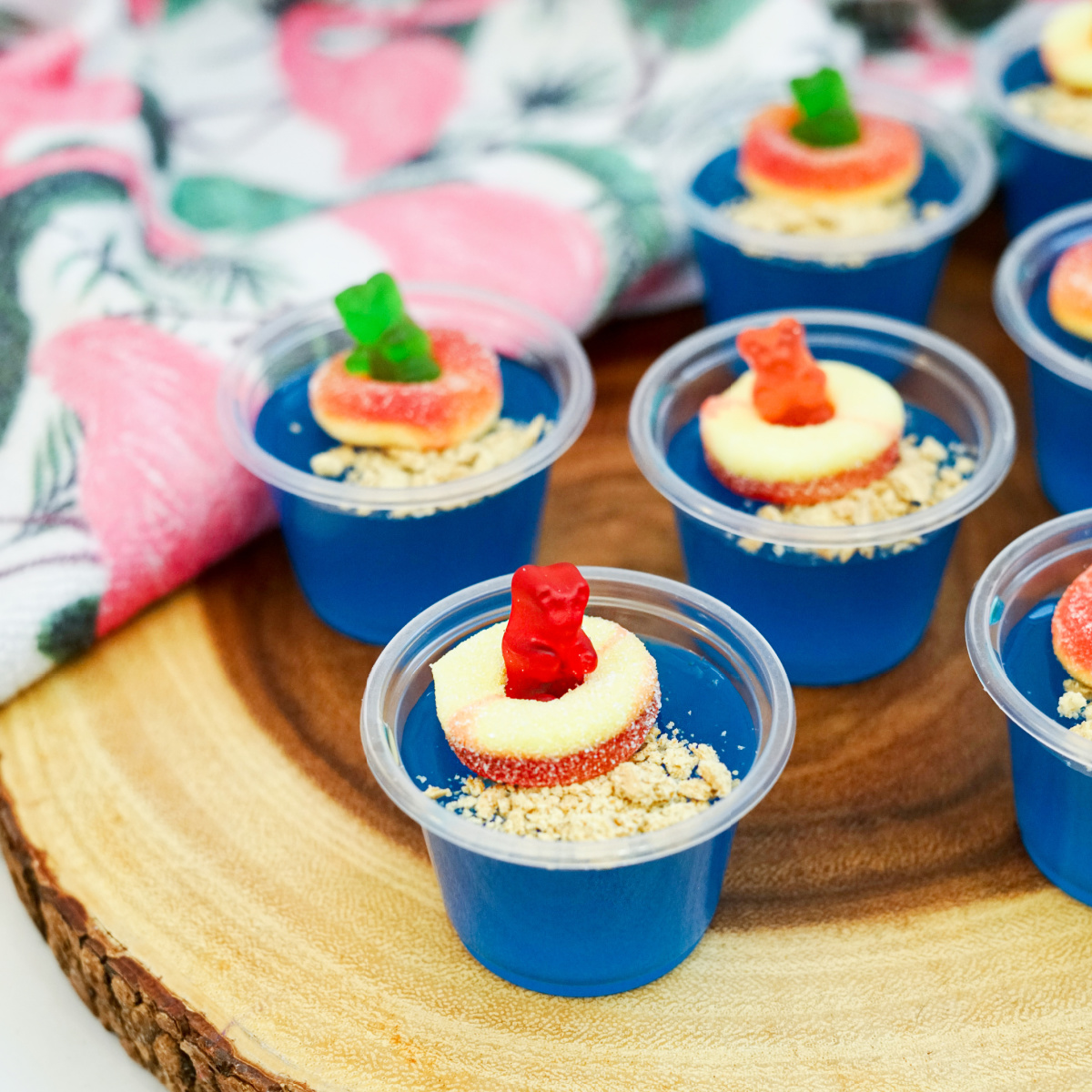 Don't just take my word for it. Whip up a batch of these Beach Party Jello Shots for your next summer soiree and see for yourself. Trust me, your guests will be impressed by your creativity and originality. Plus, they'll have a blast sipping and slurping on these fun and tasty treats.