If you're looking for a fun and flavorful twist on the classic Jello shot, we have just the recipe for you.Caramel Apple Jello Shots!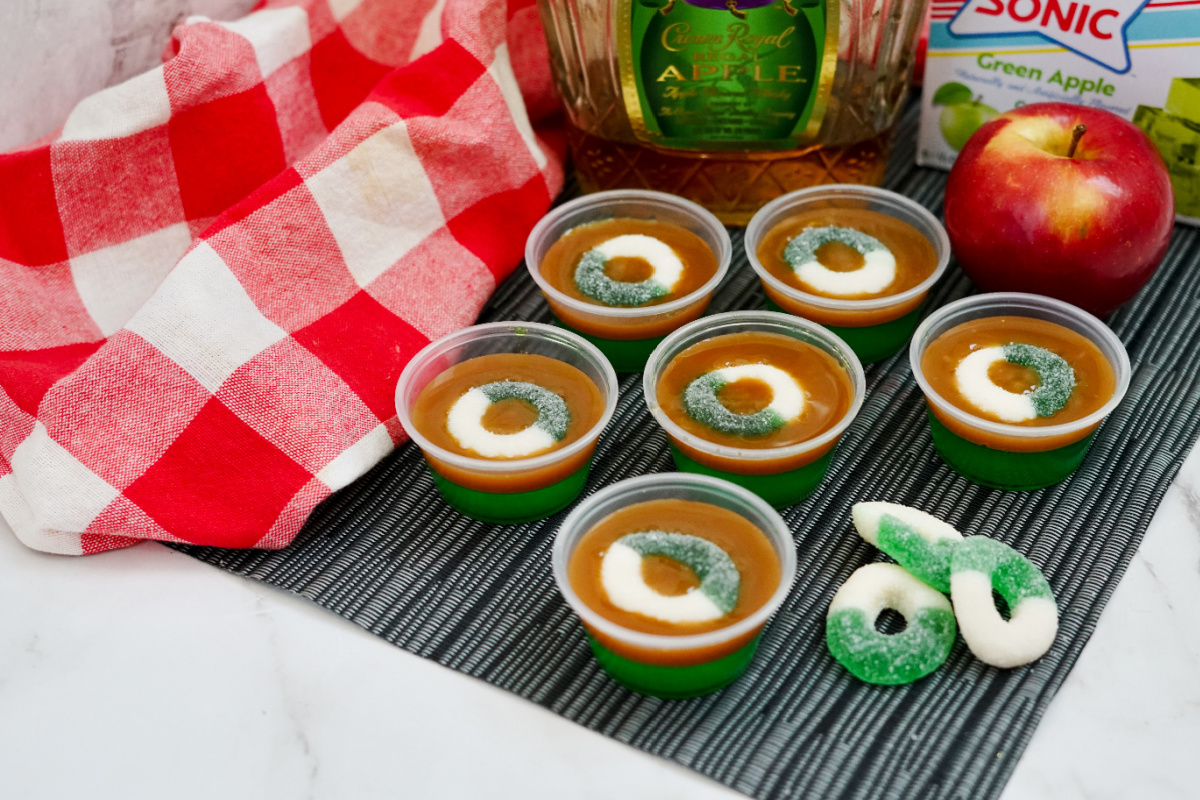 Caramel Apple Jello Shots are a delightful combination of sweet apple flavor, smooth Crown Royal Apple whiskey, and a hint of caramel goodness.
Links may be commissioned.
These tasty treats are perfect for Halloween parties, fall gatherings, or simply enjoying with friends. In this blog post, we'll guide you through the steps to create these delightful Caramel Apple Jello Shots.
How to Make Caramel Apple Jello Shots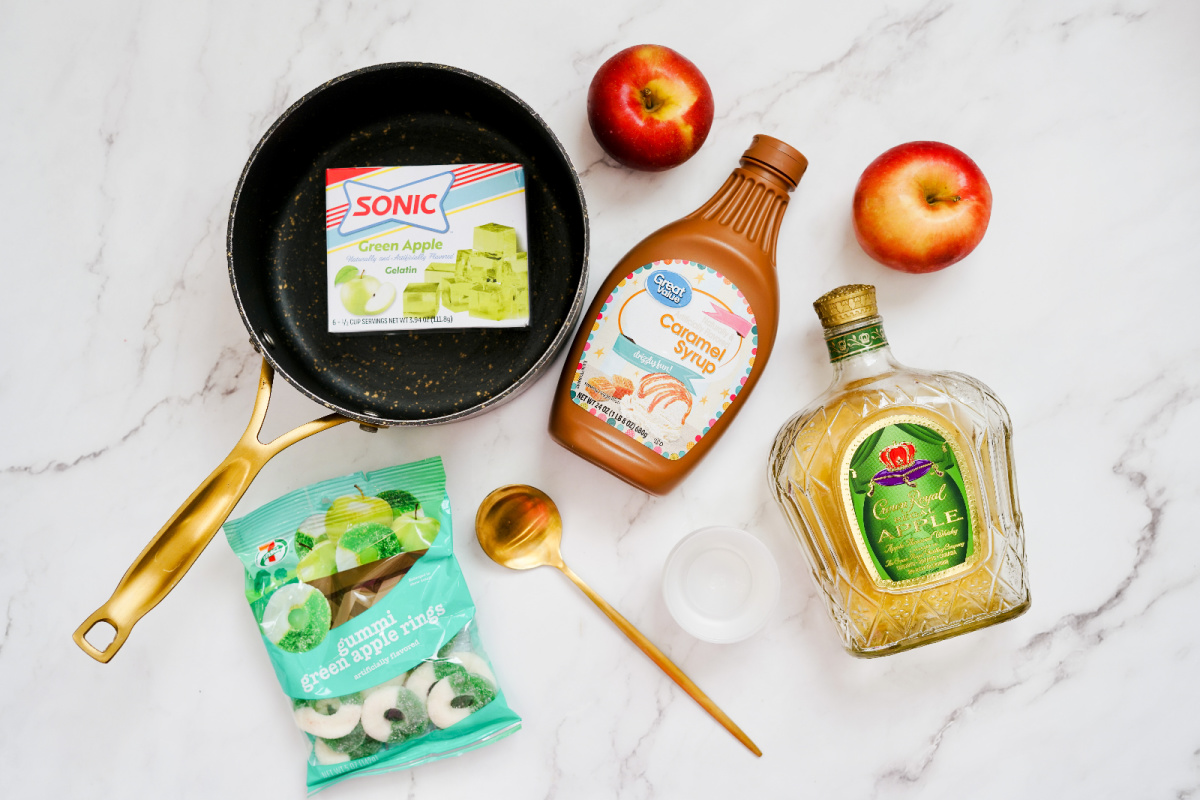 Ingredients:
1 1/2 Cups Crown Royal Apple
Apple Candy Rings
1 1/2 Cups Water
Caramel Sauce
3.94oz Box Apple Jello
Instructions:
1. Boil the Water:
Begin by bringing 1 1/2 cups of water to a boil in a saucepan.
2. Dissolve the Jello:
Once the water is boiling, remove it from heat and stir in the 3.94oz box of apple Jello. Stir until the Jello is completely dissolved.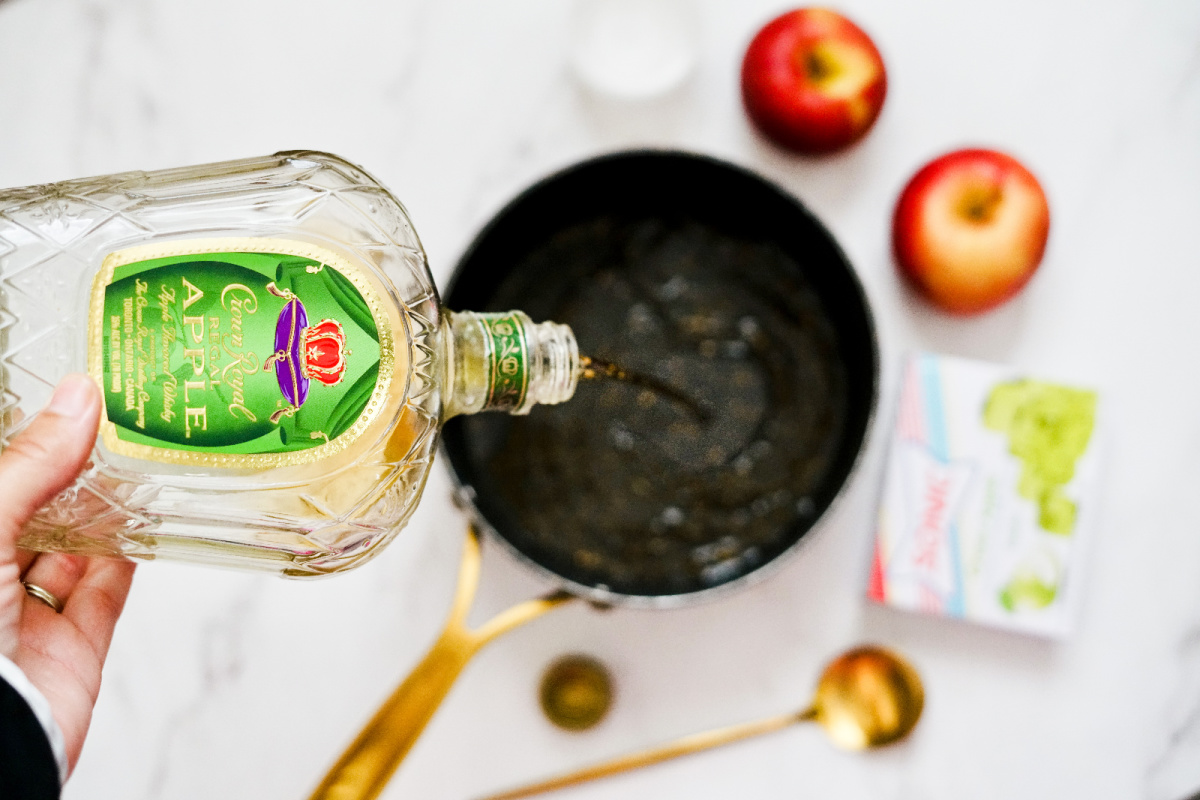 3. Add the Crown Royal Apple:
Next, add 1 1/2 cups of Crown Royal Apple whiskey to the Jello mixture. Stir well to combine these delicious flavors.
4. Pour into Cups:
Carefully pour the Jello mixture into condiment cups or shot glasses. You can use a ladle or small measuring cup to make this process easier.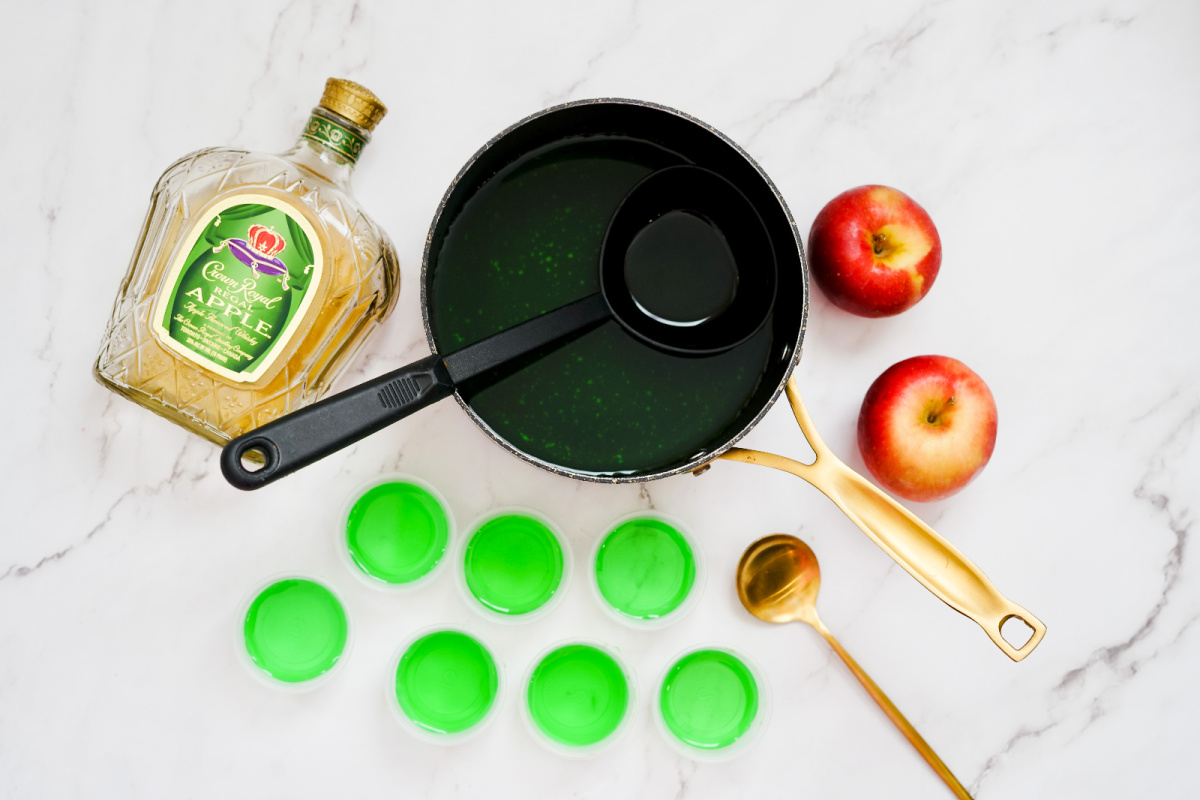 5. Chill in the Fridge:
Place the filled condiment cups in the refrigerator and let them chill until the Jello is solid. This typically takes a few hours, so plan ahead.
6. Drizzle with Caramel:
Once the Jello shots are firm, it's time to add the finishing touch. Squeeze caramel sauce onto the top of each Jello shot, giving them a delightful sweetness.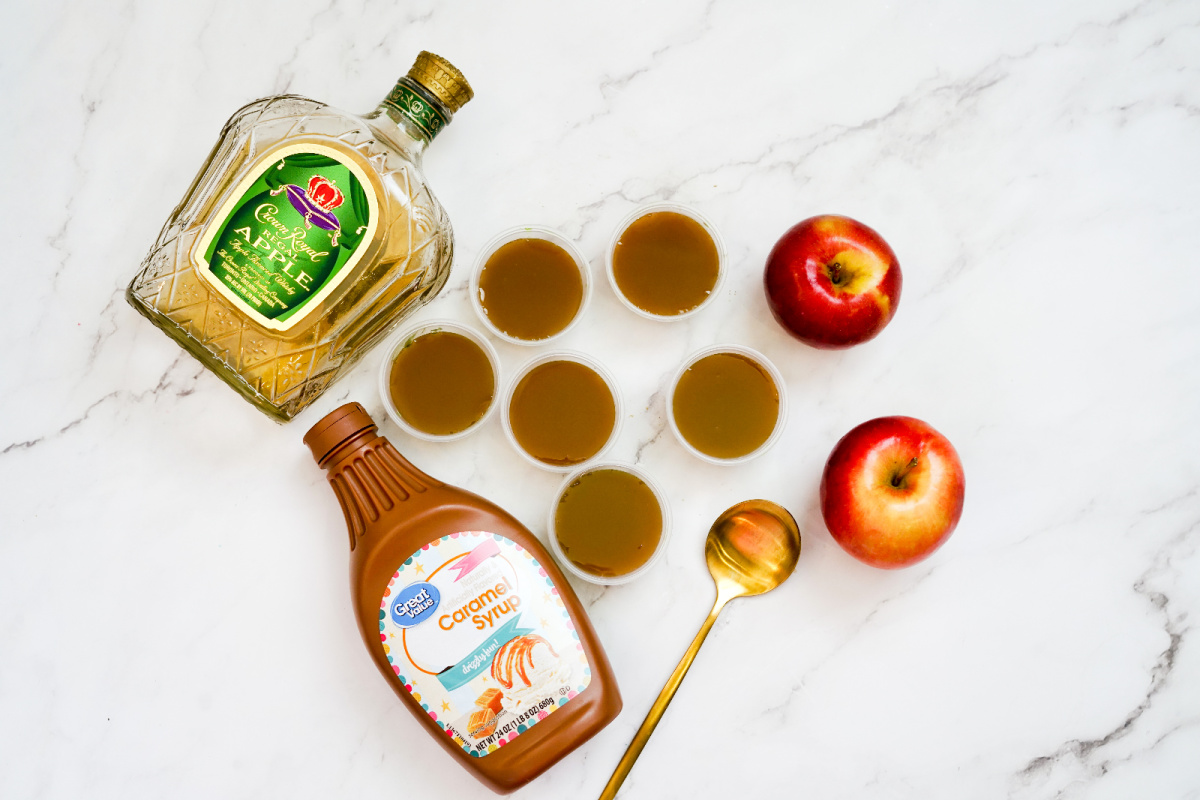 7. Garnish with Candy Apple Rings:
To complete the look and add a touch of whimsy, place an apple candy ring on top of each Jello shot.
8. Serve and Enjoy:
Your Caramel Apple Jello Shots are ready to be enjoyed! Serve them chilled for the best blend of flavors. Remember to enjoy responsibly and be mindful of your guests' alcohol tolerance.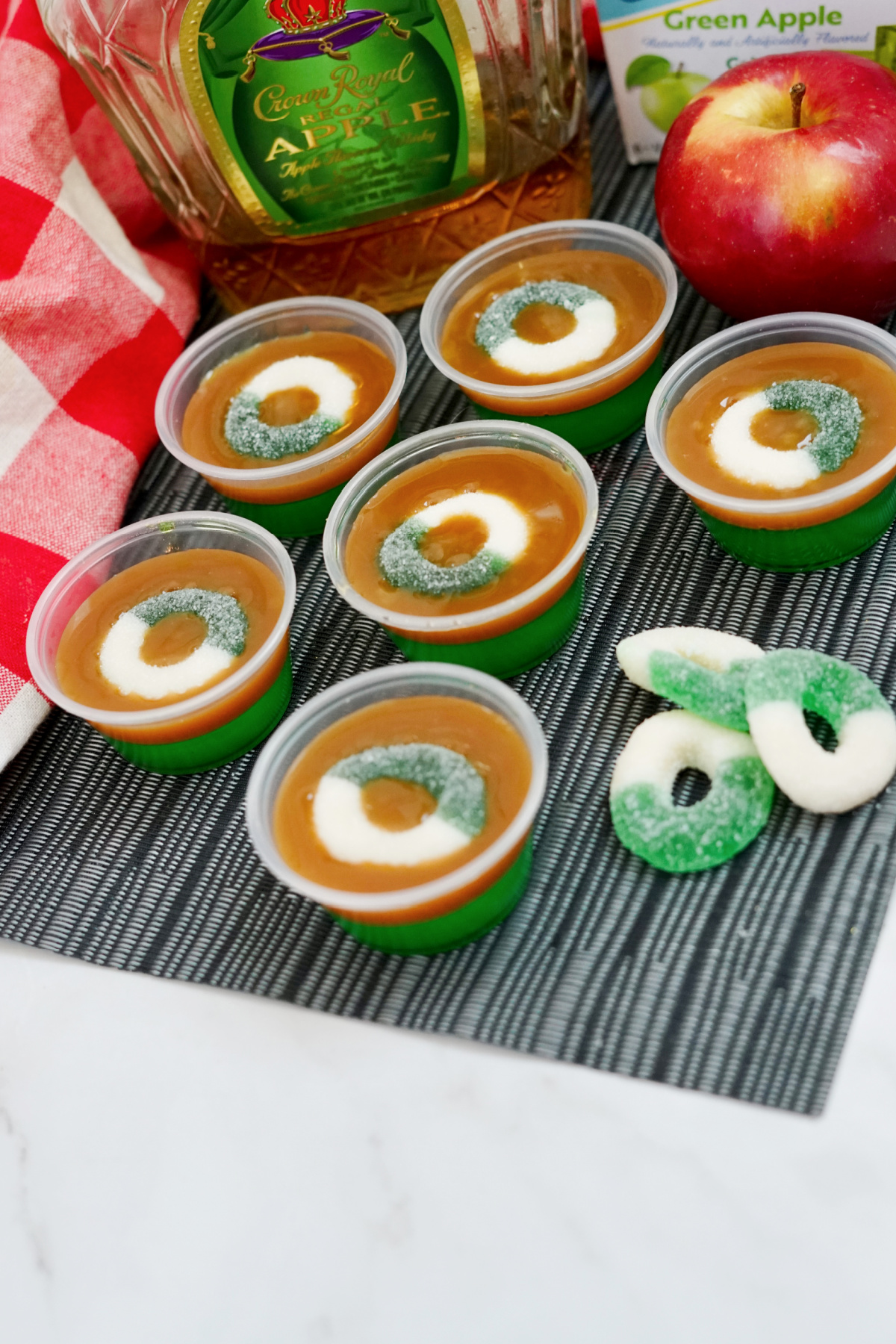 Recommended Items

Jello Shot Cups with Lids: These cups are specifically designed for Jello shots and come with secure lids, making it easy to transport and store the shots.
Measuring Cups and Spoons: High-quality measuring cups and spoons are essential for precise ingredient measurements.
Sauce Squeeze Bottle: To make drizzling caramel sauce onto the shots easier and more precise.
Decorative Shot Glasses: Consider using unique and attractive shot glasses to elevate the presentation of your Caramel Apple Jello Shots.
Whisk or Stirring Utensil: A good whisk or stirring utensil is essential for dissolving the Jello and mixing the ingredients thoroughly.
Candy Apple Rings: If you're using them for garnish, provide a link to purchase candy apple rings.
Party Tray or Platter: A decorative tray or platter can enhance the presentation when serving your shots.
Cooling Rack: If you want to speed up the chilling process, placing the shots on a cooling rack in the fridge allows for better air circulation.
More Tasty Jello Shots: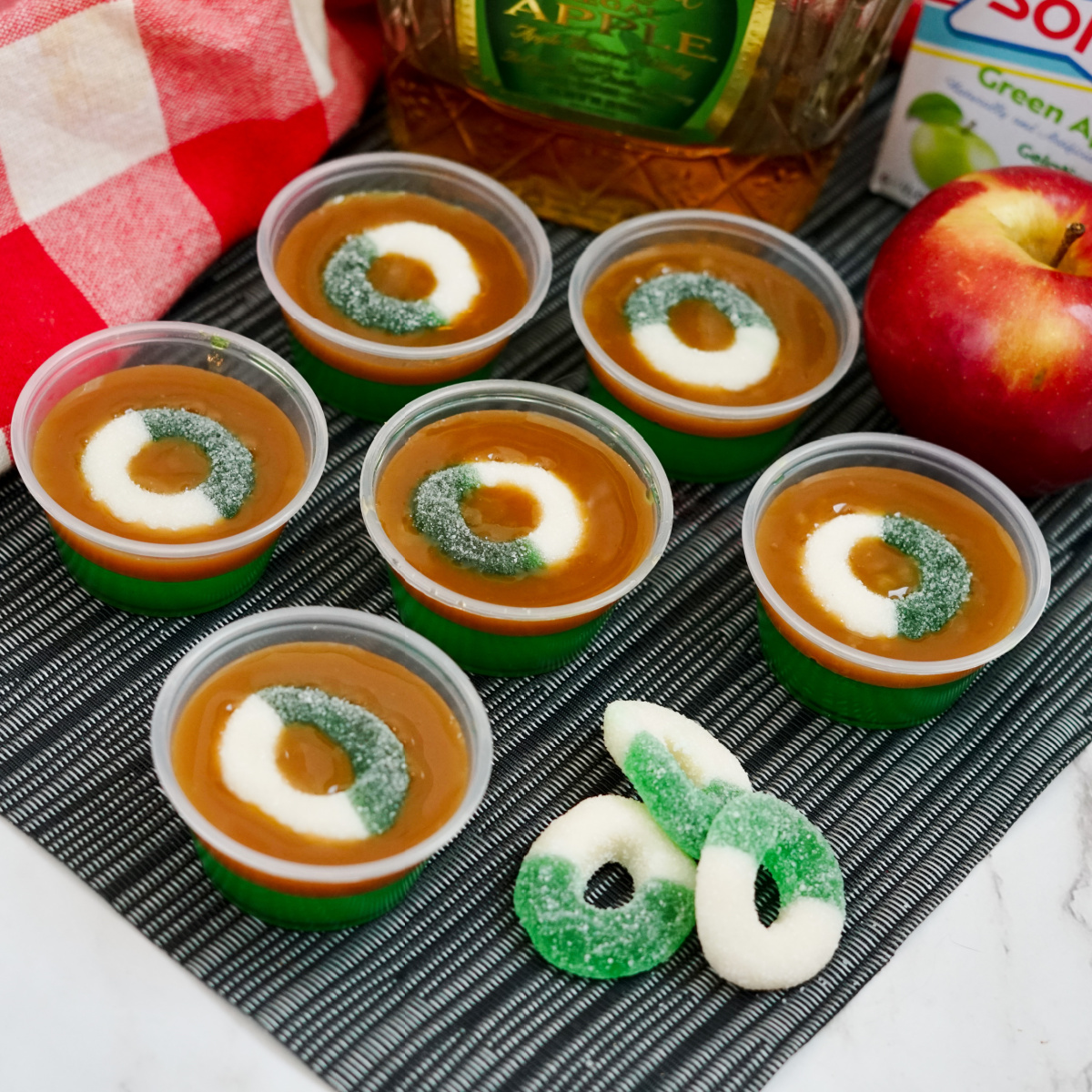 Additional Tips for Your Caramel Apple Jello Shots
Use Proper Measurement: Ensure you measure the ingredients accurately, especially the alcohol and water. This will help maintain the right balance of flavors and consistency.
Chill Adequately: Allow enough time for the Jello shots to chill and set in the refrigerator. It typically takes a few hours, but you can speed up the process by placing them in the freezer for a shorter time.
Caramel Drizzling Technique: When drizzling caramel sauce onto the shots, consider using a squeeze bottle or a small plastic bag with a tiny corner snipped off for precise and attractive drizzles.
Garnish Creatively: Get creative with the garnish. While candy apple rings are the classic choice, you can also experiment with other toppings like diced apple pieces, cinnamon sugar, or even a small slice of fresh apple.
Presentation Matters: Presentation can enhance the overall experience. Serve your shots on a decorative tray or platter, and consider using themed shot glasses or cups for added visual appeal.
Responsible Consumption: Remember that these Jello shots contain alcohol. Remind your guests to consume them responsibly, and be mindful of their alcohol tolerance.
Experiment with Ratios: Feel free to adjust the ratios of Crown Royal Apple and Jello to suit your taste preferences. You can make the shots stronger or milder by varying the amounts.
Prepare in Advance: You can prepare the Jello shots a day or two before your event to save time on the day of the gathering.
Label for Allergens: If you're serving these shots to a group of people, consider labeling them if they contain common allergens like nuts or dairy, especially if you use caramel sauce with additives.
Have Fun: – Lastly, remember that making and enjoying these Caramel Apple Jello Shots should be a fun and enjoyable experience. Get creative, experiment, and have a good time!
By following these instructions and tips, you'll be well-prepared to make delicious Caramel Apple Jello Shots that will impress your guests and make your event memorable.