These homemade Matcha and Spirulina Bath Bombs are the perfect DIY project for a little self care and pampering. They're moisturizing, smell good, and are so easy to make.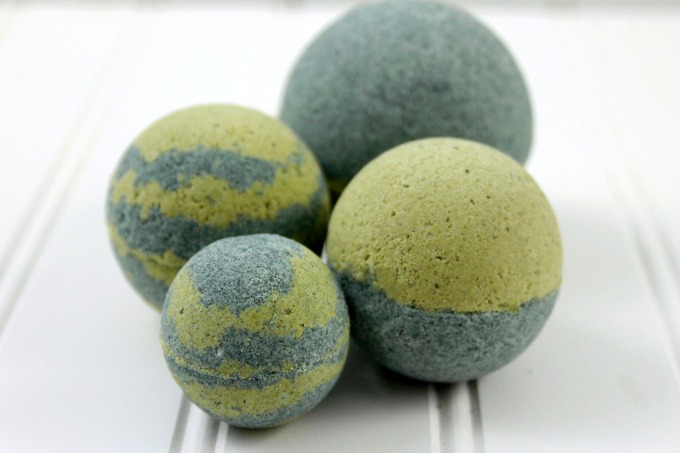 Bath bombs are a great little luxury. They're affordable, make us feel good, and even have some healing benefits. Even better, they're pretty easy and economical to make at home. These DIY Matcha Spirulina Bath Bombs are so pretty, and so easy to make.
The gorgeous green and blue coloring comes from the natural ingredients of spirulina and matcha. They remind me of globes, and are perfect for your Earth Day celebrations. Or just as a reminder to love our Mother Earth.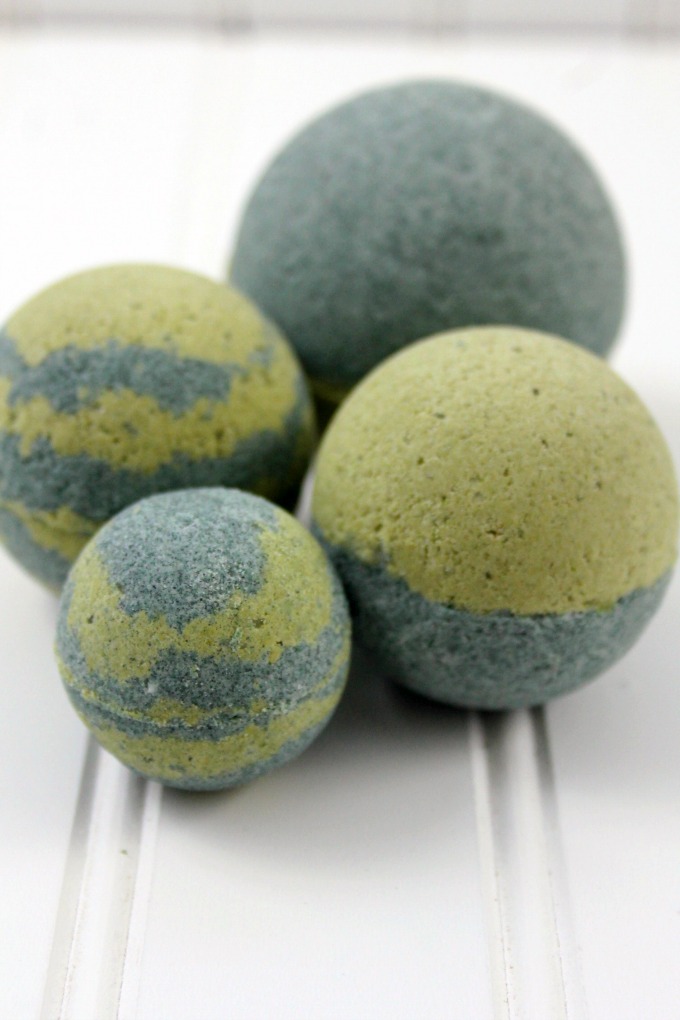 Benefits of matcha
Matcha, the beloved Japanese green tea, has been around, even as a popular flavor, for a while now. But, did you know there were actually skin benefits of matcha? There are! It's believed to help reduce acne and help fight the signs of aging. Matcha is loaded with antioxidants that combat free radicals. Free radicals are basically the air pollution around us that damages our skin cells. Matcha helps combat these, preventing the signs of premature aging.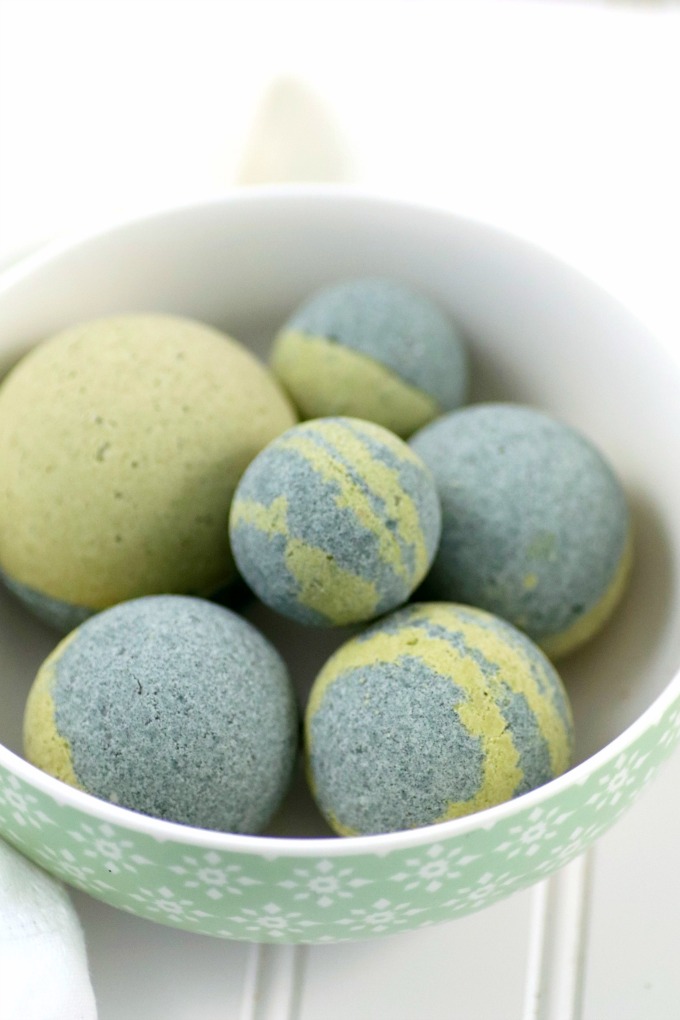 Benefits of spirulina
I'm sue you're asking yourself – what the heck is spirulina? It's an algae that's also known as a superfood, and has been used since Mayan times. Spirulina has a ton of health benefits. Many of these only benefit you if you eat spirulina, and we definitely don't condone eating these bath bombs.
However, there are some great skin benefits of spirulina, too. It helps to detoxify your skin, and helps decrease inflammation. It also helps your body shed dead skin cells, and increases cell renewal. This helps give your skin a gorgeous natural glow.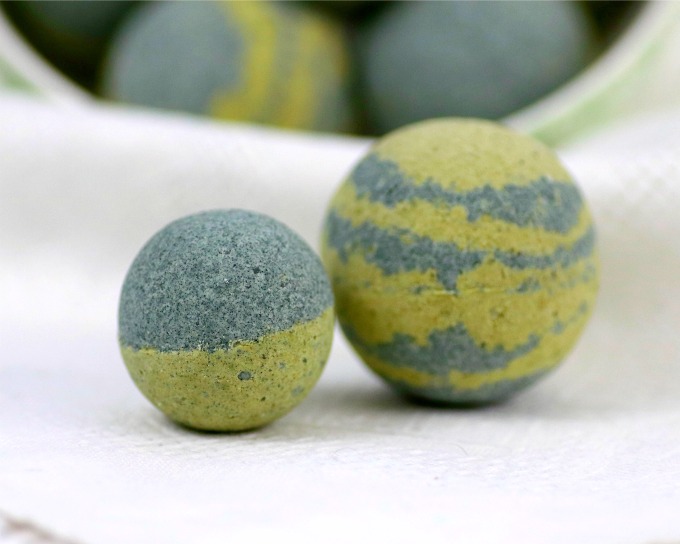 Spirulina Matcha Bath Bombs
Links may be commissioned. We make a small amount if you purchase through them.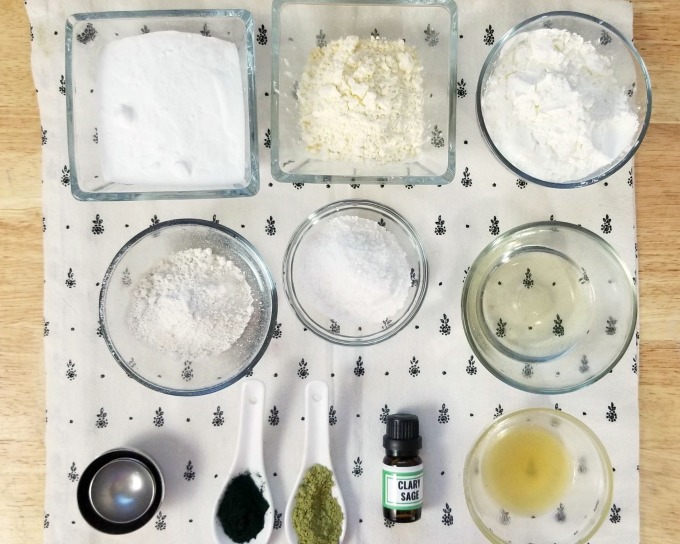 Ingredients
The number of bath bombs this recipe will make completely depends on which size bath bomb mold you use. For me, it made 1 large, 2 medium and 2 small.
Spirulina Matcha Bath Bomb Instructions: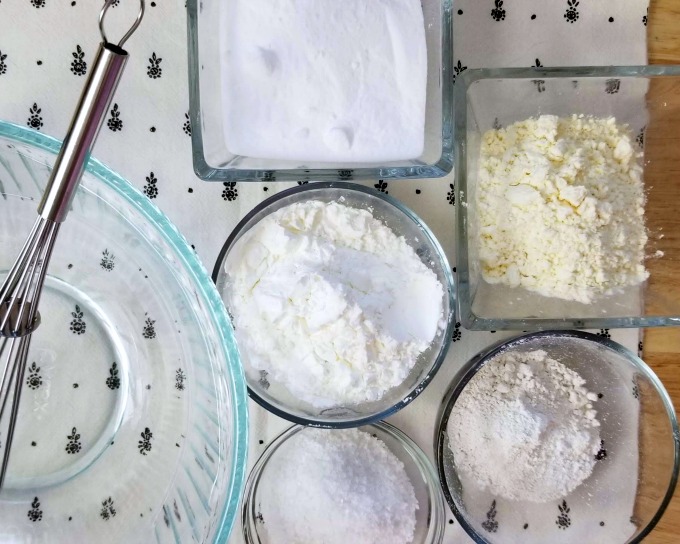 In a large mixing bowl, add the baking soda, citric acid, arrowroot powder (this is an organic and eco-friendly starch), kaolin clay and dead sea salts. Whisk dry ingredients together.
Melt the coconut oil and the cupuacu butter. You can do this in the microwave in short 15-20 second increments. Stir to see if it's melted. If not, microwave for another 10-15 seconds.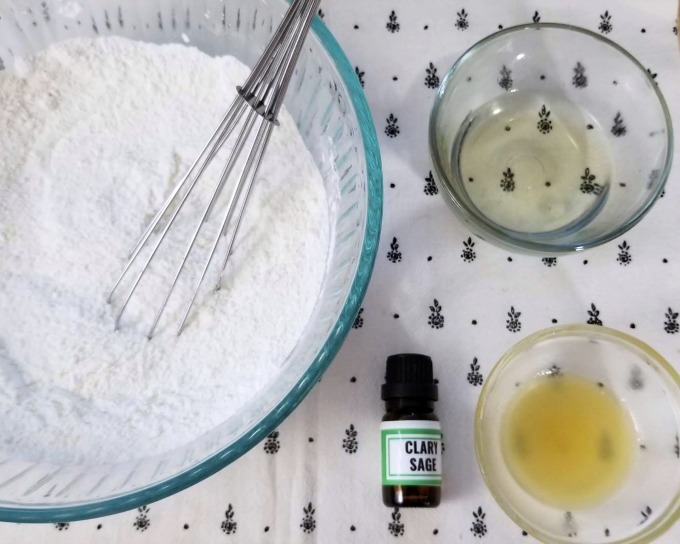 Add the coconut oil. This binds all the ingredients together, so you don't have bath bombs that crumble. You can also use 90% isopropyl alcohol, but I feel the coconut oil holds the mixture together more effectively, and adds a skin loving moisturizing effect.
Add the cupuacu butter. This gives your bath bombs more stability and helps harden them. No one wants a bath bomb that crumbles when you touch it. Cupuacu butter is also excellent for moisturizing your skin.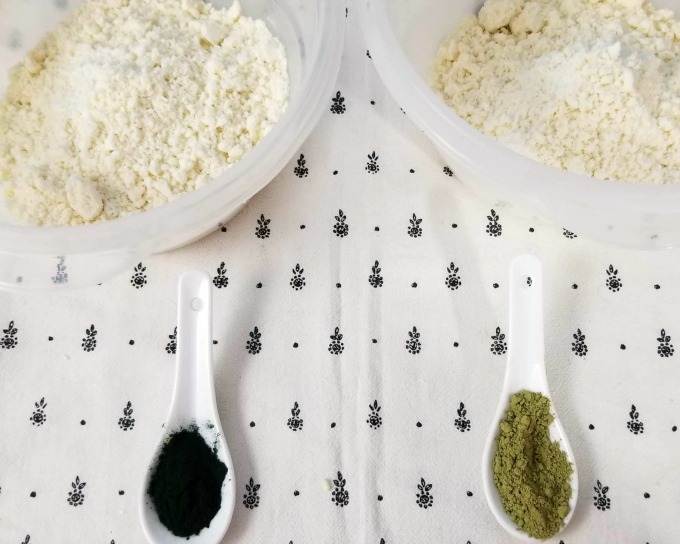 Add the clary sage essential oil. Mix ingredients thoroughly. You may need to use your hands to break down any lumps and make sure everything is mixed together well. The bath bomb mixture is perfect when it holds together when you press it into your hands and feels like wet sand. Separate this mixture into two smaller bowls.
Mix in the spirulina powder in one bowl and the green tea Matcha powder in the other until completely incorporated into the mixture.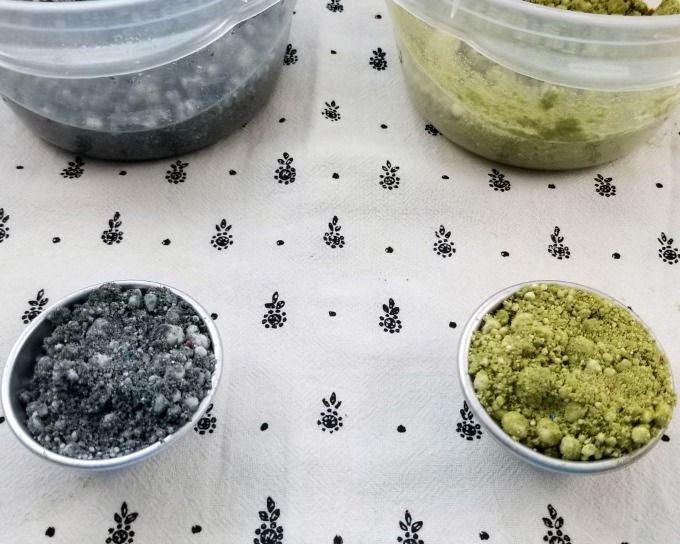 Fill one side of the bath bomb mold with the spirulina mixture and the other side with the green tea Matcha. For a striped effect, you can also layer the mixtures in each side. Press molds together and grind to remove excess mixture and get the two sides to adhere. You may want to spray each side lightly with alcohol, to help them adhere. Gently tap each side of the bath bomb mold to release the bombs.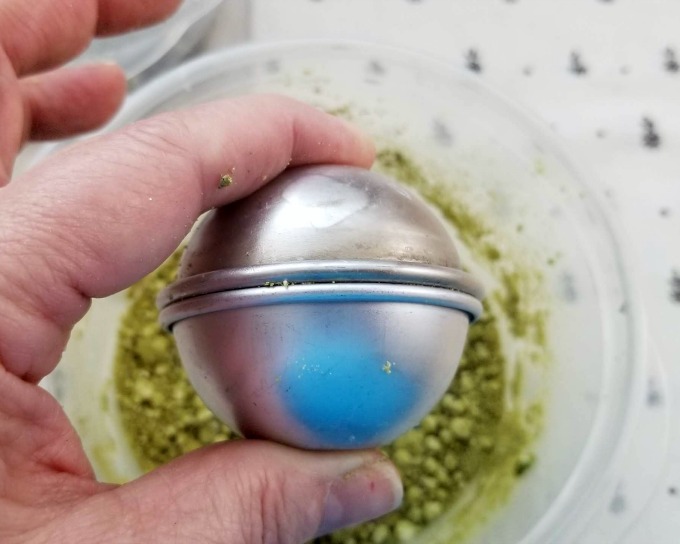 Allow to dry a minimum of 24 hours. Putting your bath bombs in a muffin tin is a great way to prevent them from rolling away. I put them on a shelf in the garage and let them dry out. But, any out of the way place like a utility room or laundry room works great. Sometimes I even use the bookshelves in my living room.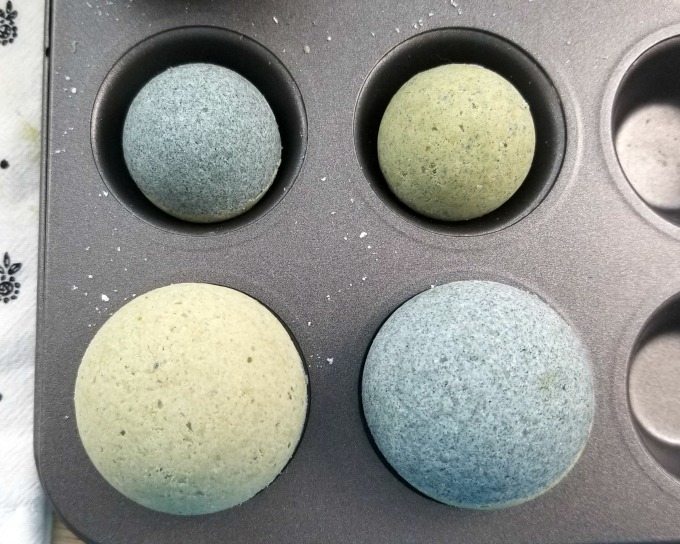 If your climate is humid, damp, or cold, allow an additional 24 hours. A good rule of thumb is that when it is hard to the touch, your bath bombs are ready for the tub! Store in an airtight container until ready for use.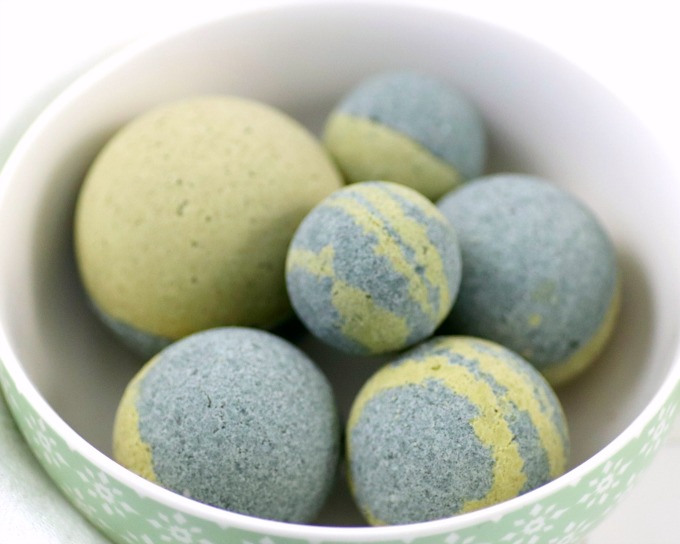 Storing and packaging your matcha spirulina bath bombs
Now that you've made these fantastic bath bombs, you'll want to store them. There are several ways to do this. One way is to store them in a gorgeous glass jar. You can use a decorative jar, or something like a wide mouth canning jar. I love the way a wire baled jar looks full of bath bombs, personally.
Now, if you want to sell your bath bombs, or give them as gifts, you might consider a different way to package them. These heat shrink bath bomb wrappers look really professional, and don't take up a lot of extra space. They'll also help protect your bath bombs by keeping them in one piece, and preventing scents from commingling. These foil wrappers also look really pretty and festive. Add a label to these with your branding, and a scent name, and you're good to go!
Aren't these DIY homemade bath bombs so fun? Will you be making a batch for your own house? Don't forget to pin on Pinterest or share on Facebook if you like this DIY project!