Update your Spring 2020 Wardrobe with these budget friendly accessories from Old Navy. Be on trend without breaking the bank.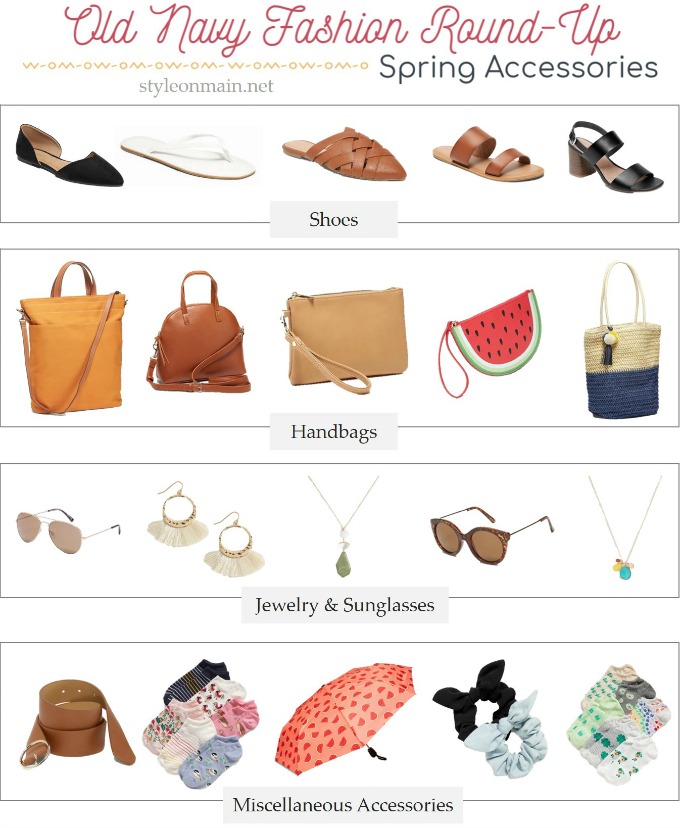 Current times are crazy. Half of us are safe at home, half of us are still having to go out to work. And some of us that are at home are having to work from home while trying to figure out distance learning and being thrown into homeschool.
Sometimes, you just need a break from the chaos, and to treat yo'self. We've rounded up 20 amazing accessories for Spring 2020 from Old Navy. These are items that are totally on trend for Spring and Summer. And since they're from Old Navy, you know these accessories are budget friendly too.
Everything's under $35, and most are under $20. And that's the regular price. You know Old Navy always has a great sale going on. Update your wardrobe without breaking the bank.

Links may be commissioned.
Shoes
1 Pointy Toed D'Orsay Flats – a great basic available in 5 colors. I'm loving the Mustard and the Desert Rose for Spring 2020.
2 Faux Leather Capri Flip Flops – Who doesn't need a great pair of flip flops, especially for the warmer weather? Up your candal game with these faux leather ones.
3 Faux Leather Braided Mule Flats – I love love love these shoes. I used to have a similar pair that were a lot more expensive. They're so easy to throw on with jeans, capris, a skirt, or pretty much anything. And you look polished. Available in 2 colors.
4 Faux Leather Double Strap Slide Sandals – This is another great pair of shoes for spring and summer 2020 that look more expensive than they are. Available in two colors, and you might want to get both colors at this price.
5 Faux leather Slingback Block Heel Sandals – Blocky chunky heels are back. Get ahead of the curve with these fab block heel sandals that look good with pretty much everything.

Handbags and Purses
1 Dual strap Canvas Tote – This bag has sold out, but I've found a couple similar items. The first is from GAP, and it's verrrryyyy similar. I kinda love the Cerise Red shade. The second is from Shopbop, and comes in a really fun grid pattern. Both are around the same price as the original bag.
2 Faux Leather Dome Satchel – This is THE IT BAG for 2020, and probably into 2021 as well. I've seen this modern twist on the classic shape pop up everywhere from Burberry and Dooney & Bourke to Old Navy, apparently. Get it at a much more budget friendly price here.
3 Zip Top Charging Wristlet – A cute wristlet that also charges your devices? Um, sold! I kinda love the glitter pink, especially at this price. But all three colors are great!
4 Faux Leather Watermelon Wristlet – Super cute, and oh so fun! It's exactly what we need in these times. Budget friendly, too at $15.
5 Color Blocked Straw Tote – This is now sold out from Old Navy, but I found a similar color blocked straw tote bag at a reasonable price. Be sure to check out our Straw Pompom Bag roundup, too!

Jewelery & Sunglasses
1 Classic Aviator Sunglasses – Aviators are still in for Spring and Summer 2020. Don't have a pair yet? What are you waiting for?? Pick these up already.
2 Hammered Hoop Tassel Earrings – A great fun style that's the perfect finishing touch for so many outfits. Great with jeans and a tee, or dress it up a little and go boho chic.
3 Jade Multi Stone Pendant Necklace – This super long necklace with an oversized faux stone pendant is perfect for spring and summer. Pair with a chunky sweater on cool days, wear with a jeans and a t shirt during those warmer days. And when it's hot outside? This necklace is perfect with a crop top or even a caftan.
4 Tortoise Round Sunglasses – These have that hybrid not quite round, yet not really a cat's eye shape that's so popular right now. Hop on the trend with these budget friendly sunglasses that won't break the bank. Available in 2 fab colorways, too.
5 Multi Color Pendant Necklace – Another great long necklace that's perfect for the transitioning seasons. The multi colors goes with everything, and is so joyful and springy. A total must have, especially for this price.

Misc Accessories
1 Wide Ring Belt – This is out of stock, but H&M has a belt that's nearly identical. It's a great way to freshen up your wardrobe with something unexpected, like the round belt buckle. Kohl's also has a similar reversible belt with animal print on one side. RAWR!
2 Printed Ankle Socks – We all need socks. They bring us joy when we're at home and practicing social distancing. Get some playful ones that are perfect for your tennies when you're out playing with the kids or getting some fresh air. The Pink Flamingo and Parisian sets are particularly fun.
3 Watermelon Umbrella – You know what they say about April showers. Be prepared with this really cute and fun umbrella. Available in 4 great patterns.
4 Bow Tie Scrunchies – Its so easy to make your ponytail or bun even cuter. No one will even know it was practically effort free. Comes in a set of two color coordinated fabrics. You might like a bow tie headwrap, too, to keep your hair under control, and manageable.
5 Novelty No Show Sneaker Socks – These are especially designed to wear with your sneakers or tennis shoes, and have different patterns than the ones above. I'm kinda digging the Camo or the Mixed Fruit sets.
Aren't these Old Navy fashion finds for Spring and Summer 2020 great? And they're all so budget friendly. Tell me which piece is your favorite in the comments.