When it's time to celebrate a patriotic occasion, you want to create a memorable experience that captures the spirit of the event. What better way to do that than with a delicious and visually stunning Patriotic Champagne Float?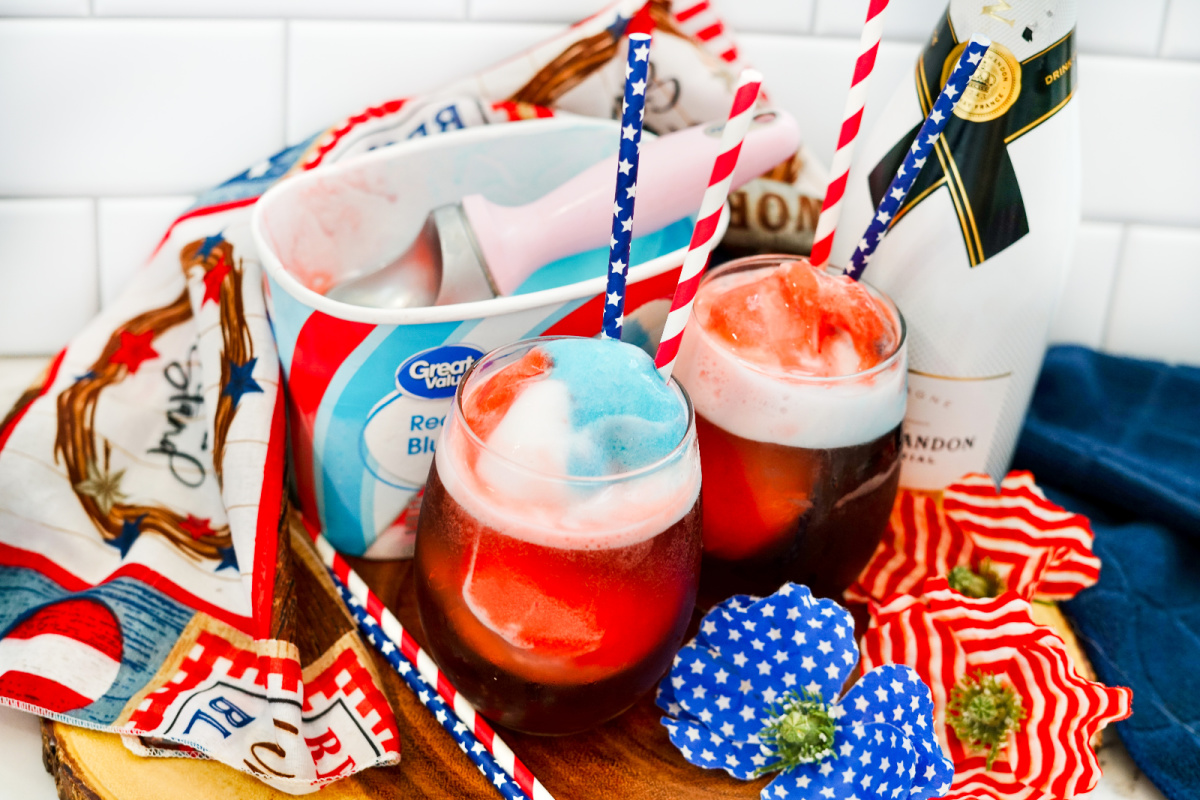 This delightful cocktail combines the vibrant flavors of patriotic sorbet with the effervescence of champagne, creating a refreshing treat that will impress your guests.
We'll dive into the details of the Patriotic Champagne Float recipe, offer some fantastic food and cocktail suggestions, and recommend a few must-have items to enhance your celebration.
Patriotic Champagne Float: A Burst of Flavor and Festivity
Links may be commissioned.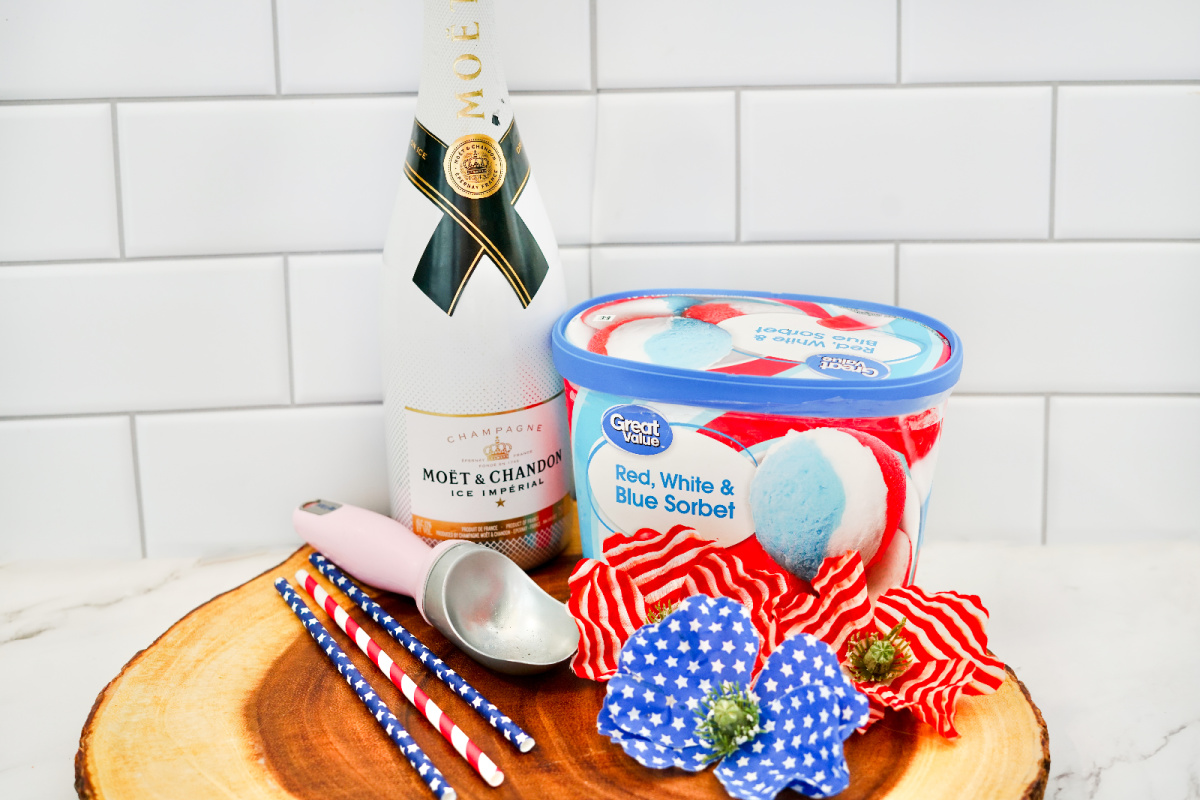 Ingredients:
Patriotic sorbet – This one came from Walmart. However, red berry, blueberry, or raspberry flavors also work well.
Champagne
Optional garnishes: fresh berries, mint leaves
Instructions:
To start, gather all the necessary ingredients for your Patriotic Champagne Float.
Find an elegant wine glass or a tall glass that will showcase the vibrant colors of your drink. Champagne coupes work wonderfully for this as well.
Add two generous scoops of patriotic sorbet to the glass, allowing it to settle at the bottom.
Slowly pour champagne over the sorbet, filling the glass until it's almost full. Take care not to overflow.
For an extra touch of visual appeal, garnish your float with a few fresh berries or a sprig of mint.
Serve immediately, and toast to the joyous occasion with your delightful Patriotic Champagne Float!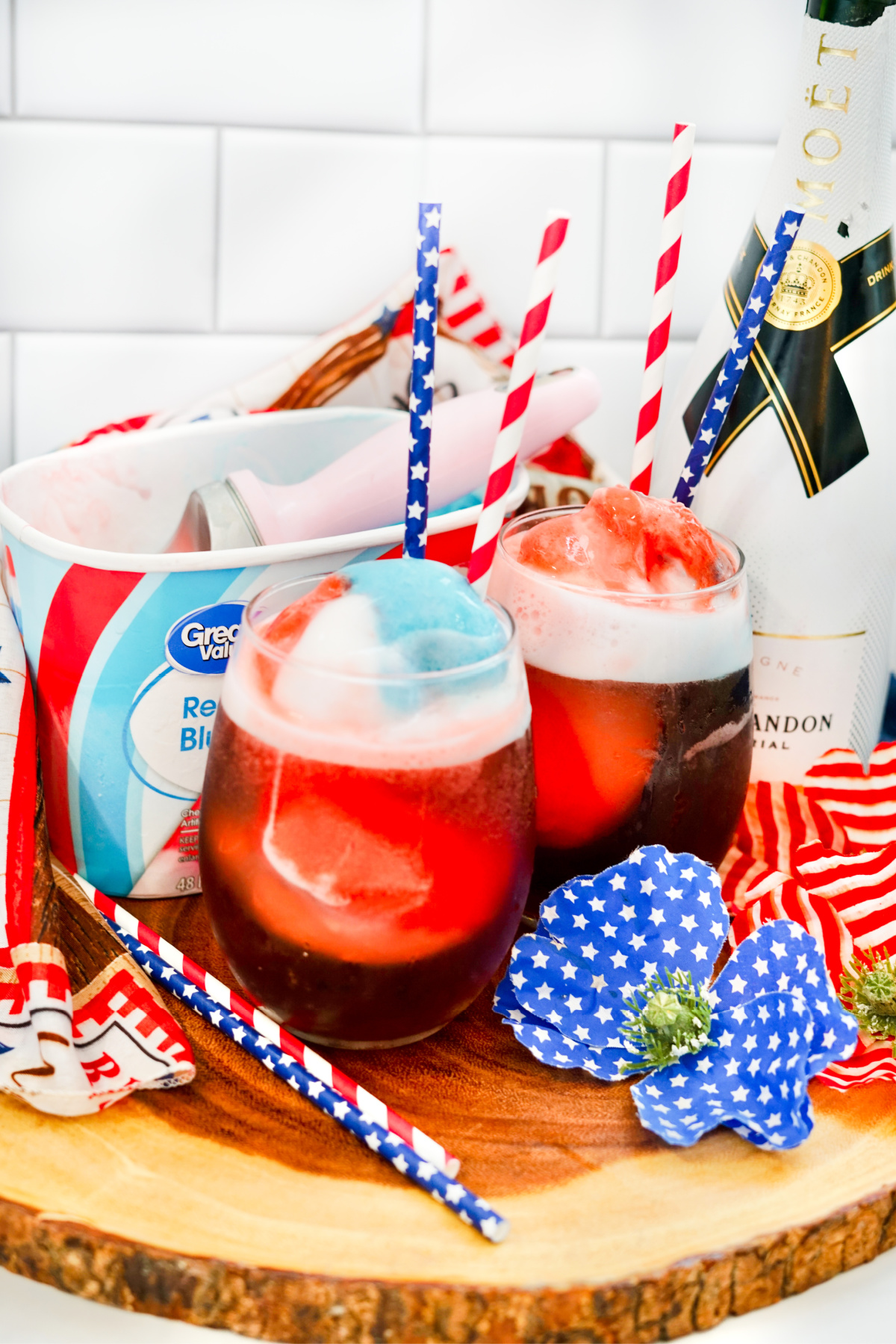 Food Pairing: A Symphony of Flavors
To elevate your celebration further, consider pairing your Patriotic Champagne Float with complementary food options. Here are some suggestions:
Cheese Platter: Create a tantalizing cheese platter with a variety of options like creamy Brie, tangy goat cheese, and sharp cheddar. Accompany them with crackers, bread slices, and a selection of fresh fruits.
Grilled Shrimp Skewers: Fire up the grill and prepare succulent shrimp skewers marinated in a zesty garlic and lemon dressing. The combination of juicy shrimp and the refreshing float will tantalize your taste buds.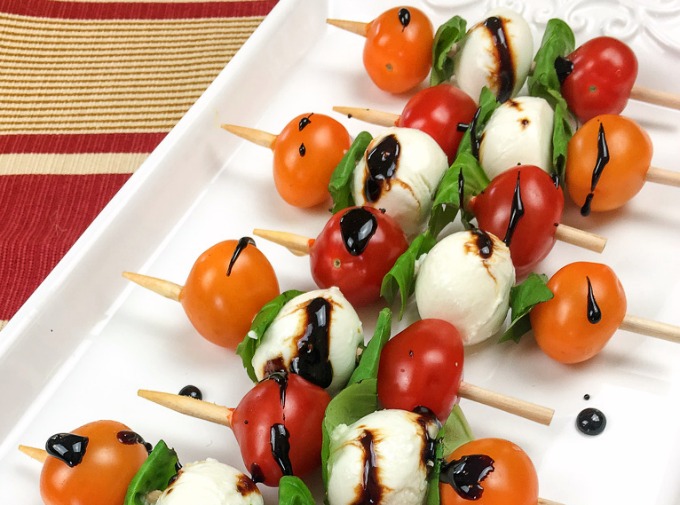 Caprese Skewers: For a lighter option, thread cherry tomatoes, fresh basil leaves, and bite-sized mozzarella balls onto skewers. Drizzle them with a balsamic glaze for an extra burst of flavor.
Additional Cocktail Suggestions: Raise the Bar!
To add more variety to your celebration, here are a few cocktail suggestions that go hand-in-hand with the Patriotic Champagne Float:
Spicy Jalapeno Avocado Margarita: Combine tequila, lime juice, jalapenos, and a bit of avocado for a twist on a classic margarita.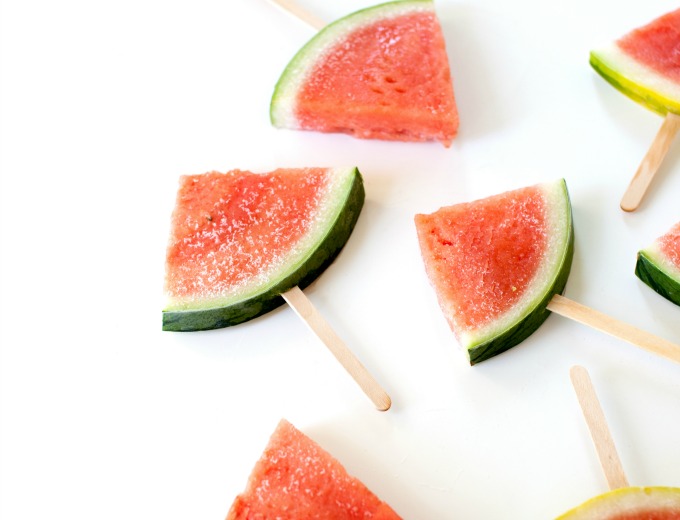 Boozy Watermelon Margarita Pops: Soak slices of watermelon in tequila, and then freeze. They make a delicious adult popsicle.
Sparkling Berry Lemonade: Create a refreshing non-alcoholic option by mixing lemonade with sparkling water and adding a handful of fresh berries. Serve it over ice for a delightful summer beverage.
Red, White, and Blue Sangria: Combine red and blue fruits such as strawberries, blueberries, and sliced apples with white wine and a splash of sparkling water. Let it chill for a few hours to allow the flavors to meld together.
Champagne Bomb Pops: Champagne and a classic Bomb Pop. Name a more iconic duo.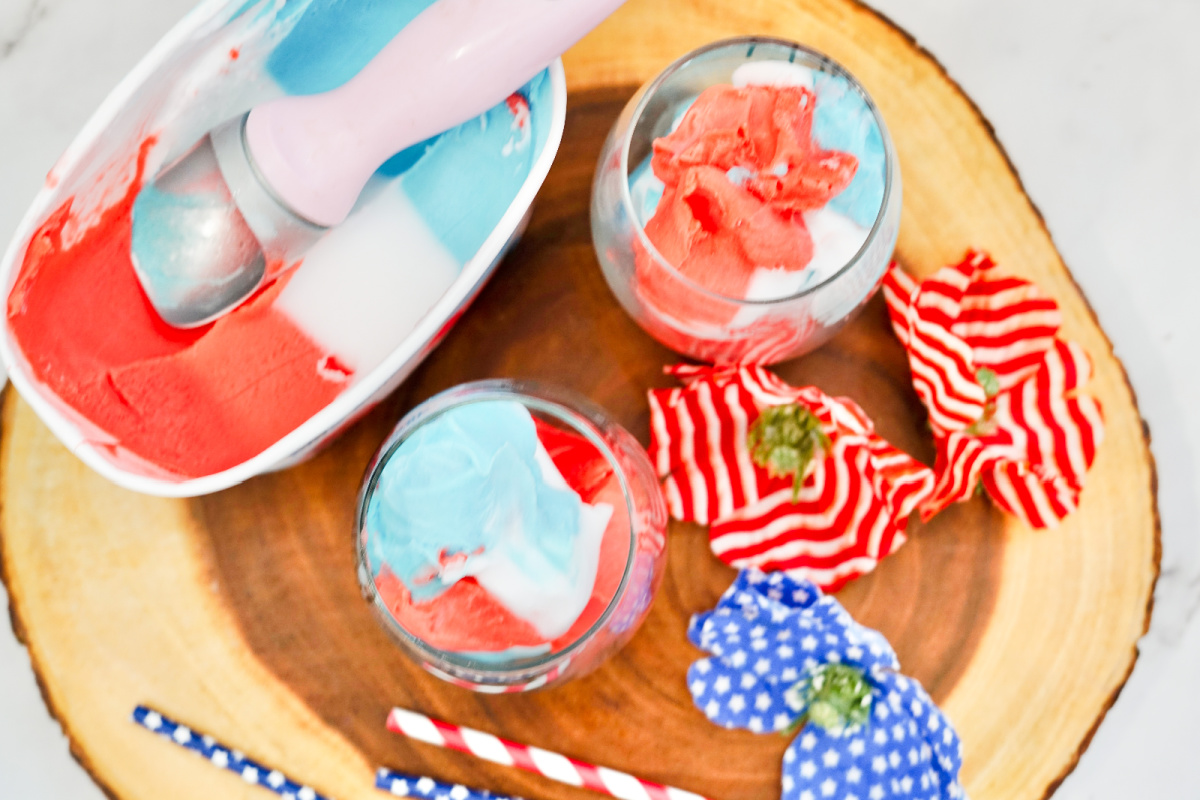 Must-Have Items for a Stylish Celebration:
Champagne Flutes: Elevate your presentation with elegant champagne flutes that showcase the beautiful colors and effervescence of your cocktail. Check out Wayfair for a selection of stylish and high-quality options. These plastic champagne coupes are great options if you're concerned about breakage or cleaning up afterward.
Sorbet Scoops: Ensure perfect scoops of sorbet by investing in high-quality sorbet scoops like these. These sturdy and efficient scoops will make serving the sorbet a breeze.
Garnish Picks: Add a touch of sophistication to your cocktails with decorative garnish picks. Look for patriotic cocktail picks to find an assortment of picks that will enhance the visual appeal of your drinks.
Festive Paper Straws: Enhance the celebratory atmosphere with festive paper straws. Amazon offers a range of colorful and themed straws that will add flair to your patriotic cocktails.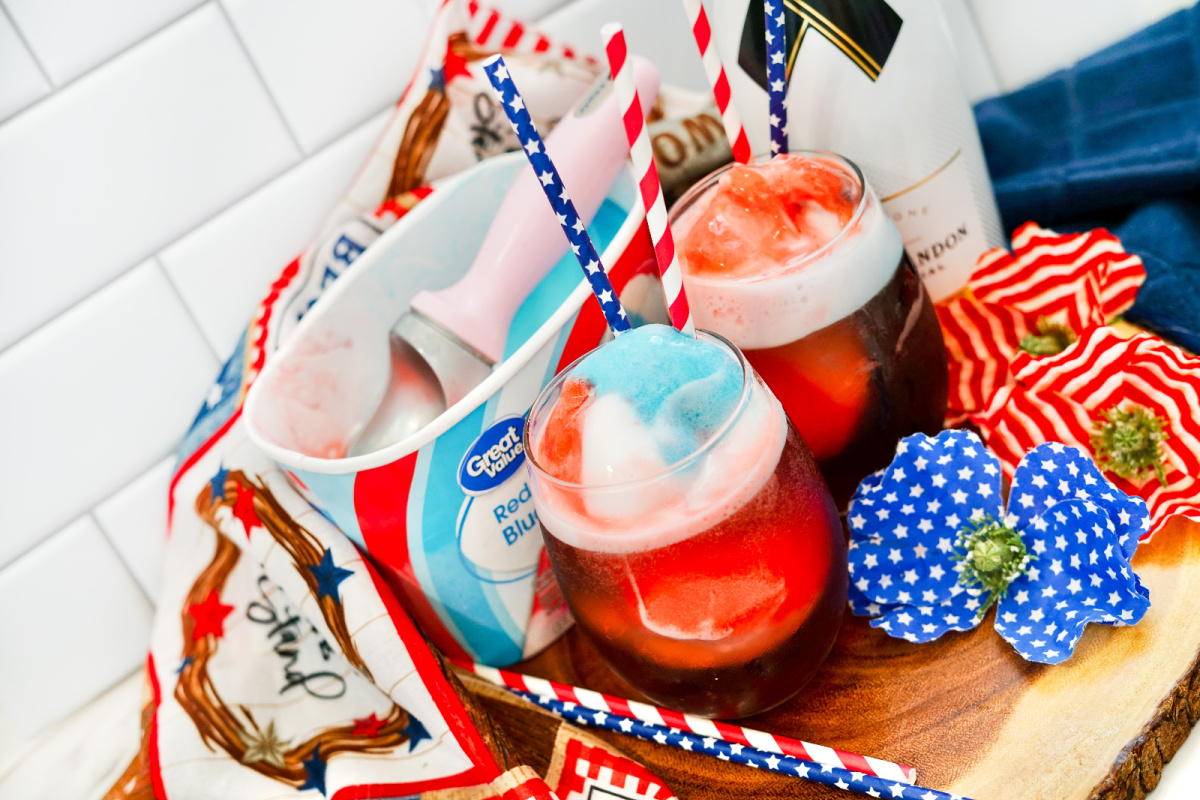 Cheers to Unforgettable Celebrations!
The Patriotic Champagne Float is the perfect centerpiece for your patriotic celebration. With its vibrant colors, delightful combination of sorbet and champagne, and easy preparation, it's sure to impress your guests.
Pair it with a delicious food spread and consider adding other cocktail suggestions to your menu to create a truly memorable event. Don't forget to equip yourself with the must-have items mentioned above, ensuring your celebration is stylish and sophisticated. Raise your glass, toast to joyous moments, and create lasting memories with your loved ones. Cheers to unforgettable celebrations!