Summer is in full effect, and some days can be absolutely unbearable. What do you do when you want to indulge and imbibe a little, but you're not necessarily looking for a frozen concoction?  This copycat Mason Jar Sangria from Cabo Flats is just what the doctor ordered.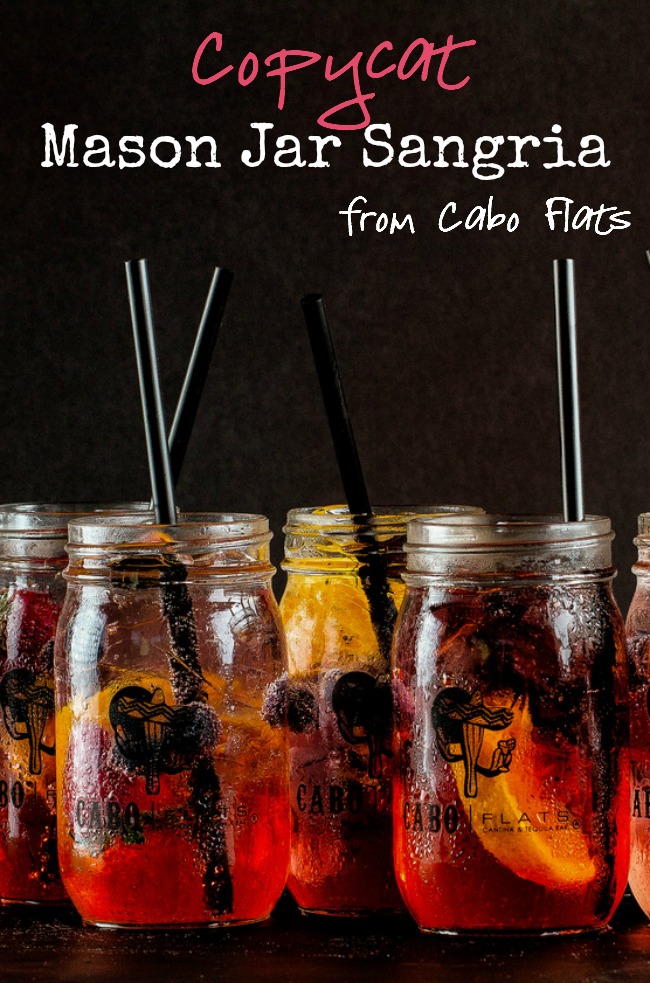 The best part of this Mason Jar Sangria is that you can make as much or as little as you want.  No more making endless pitchers of sangria, or only making sangria when you're having company. Now, the downfall is that like all sangrias, this still needs a little time to come together. But it's so easy to make.
Copycat Mason Jar Sangria from Cabo Flats
Links may be affiliate links.
There are a few things you'll need for this sangria.  The first is, of course, some mason jar mugs. Now, I have to admit, I was kind of against these for a long time, but I've come around.  They're really kind of great, especially for casual gatherings.  You'll also want some straws. I think these look super cute with striped straws, or patterned straws and you can get plastic ones that won't dissolve like paper straws do.
Copycat Mason Jar Sangria from Cabo Flats
Author:
Prep time:
Cook time:
Total time:
We're all familiar with Sangria, as a fruity infused wine drink that's made by the pitcher. This one is a little different, as we're making individual portions. They still take time to meld and infuse, though. Use your favorite white or red wine, too.
Ingredients
3 – Fresh Blackberries
3 – Fresh Blueberries
3 – Fresh Strawberries
Half moon of Orange
2 oz Riunitti Lambrusco (red wine) OR Riunitti Moscato (white)
1 oz Veev Acai Spirit
1 oz Peach Puree
1 oz Cointreau
Ice
Instructions
Combine all ingredients, except the ice, in the Mason Jar and store in the cooler/fridge overnight.
Make each to order by filling to the rim with ice and shake to mix
See how easy that is?  This Mason Jar Sangria would make a great drink for a patio party, brunch, bachelorette party, or even a wedding. Check out our Pineapple Mint Berry Sangria, too!