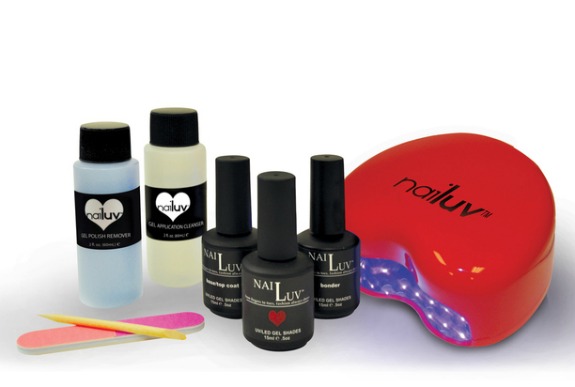 By now, I'm sure you've either been to the nail salon where they're doing gel manicures, or you've seen the DIY kits they have to do your own gel manicure at home.  If you've been around here for any amount of time, you know that I love nail polish.  There's just something about all those little bottles of vivid colors that I just can't resist.  One of the things that I do not love, however, is how messy it can be.  If you're not careful, you can have nail polish all over your hands, and your table surface.
One other complaint I have about nail polish is the wear time.  I mean, I spend all this time to do my nails, and they end up chipping or gouging in no time flat.
Recently, I had the opportunity to test drive the Nailuv Professional Gel Polish Starter kit.  In fact, I gave you a sneak peek a couple weeks ago.  The kit consists of several components
UV light – This cures the base, polish, and top coat.
Nailuv bonder – This is what bonds the polish to your nails
Nailuv Dual Purpose Base & Top Coat – Preps the nail for the polish, and seals the polish.
Nailuv Gel Polish Shade – The color.
Nailuv Gel Polish remover
Nailuv Cleanser – Preps your nail for the gel manicure, and removes residue.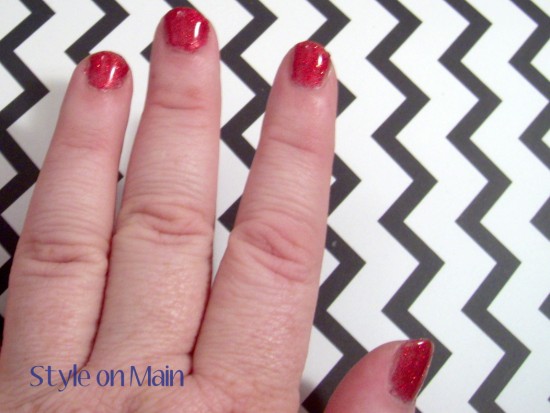 When you first look at the Nailuv kit, it looks a little intimidating.  There's all these bottles and the curing light, and a list of instructions that's as long as your arm.  And you just know that you're gonna make a mistake.
Relax!
It's really pretty easy to get this done.  The first thing you do is clean your nails off with the Nailuv Cleanser and a lint free cloth.  For some reason, the lint free cloth isn't provided in the kit, which I found slightly odd.  I used a scrap of fabric and went on my way.  Next, rough up the surface of your nails.  You do this to help the gel base adhere.  Apply the gel base, taking care to get it all the way to the edges and tips of your nails.  Cure that layer, and then add the color.
Adding the color takes a bit of skill and practice.  I was expecting it to flow like regular nail polish, but it doesn't.  It's somewhat thick and sticky, so you really need to brush the polish where you want it.  Cure the color.  If you want a deeper shade, add another layer of color and cure again.  I was thinking that since Nailuv has many shades that are glitter in a clear base, you could probably do a color with a glitter coat.  Ooh la la!
After you get the color coat applied & cured, add another coat of the Dual Base and Top Coat, then cure that.  This final coat has a little bit of a sticky residue, but you just use the same cleanser you used to prep your nails to get rid of the stickiness.  This top coat creates a finish that is ultra smooth and glass-like.  I could not stop petting my nails!
This is all pretty easy peasy, no? I mean, you could totally do this on your own!  And it easily looks as good as the salon.
There were some things I liked about the Nailuv Professional Gel Polish Starter kit and some things I didn't.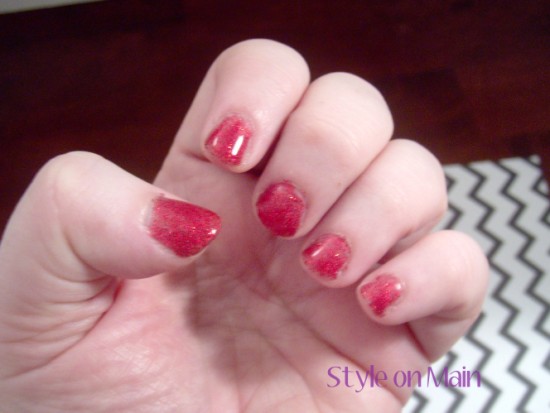 Pic before I did the final clean up, btw. 🙂
Pros:
Easy to use
Lots of color choices
Long lasting
Wears well
Cons
The UV light didn't have a timer.  I did the gel nail manicure while I was watching TV, and that was a little difficult to remember to keep track of how long I was curing it for.  I'm sure some layers were cured for 2-3 minutes rather than the recommended 30 seconds.
It was difficult to get off when I was ready to change the manicure I had.  I ended up having to do the foil method and scraping with and orange stick to remove the polish.
I got close to three weeks of wear out of one manicure, which is practically unheard of.  The polish was still going strong, but I was really ready for a different look.  I had one nail that peeled off on about day 8, but it had been sealed to the side of my finger.  I had another couple nails that started to lift around day 12 or so, which had been sealed to my cuticle.
All in all, I would totally recommend the Nailuv Professional Gel Polish Starter Kit.