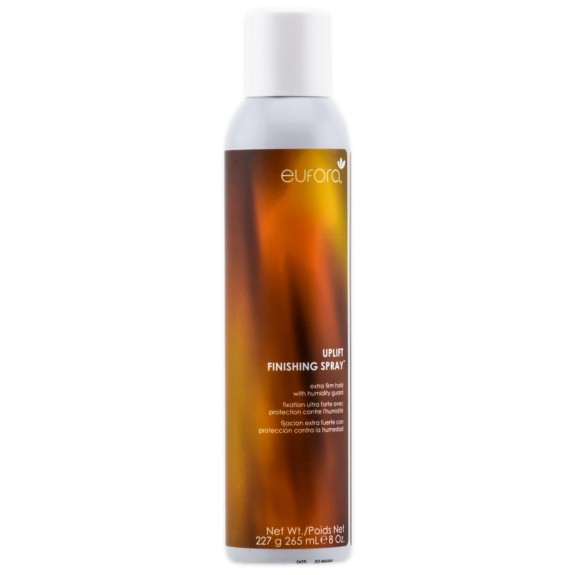 When it comes to my hair, I'm generally a pretty natural kind of girl.  For every day, that is.  When I have to go somewhere or when the weekend comes, I'm ready to play!  I want to try new hairstyles, without having to live with it all day, like I would at work.
One of the things that you need when trying out a new 'do, is a good quality hairspray. Or a great quality hairspray, as the case may be.  At least, I need a good quality hairspray.  That's where the Uplift Finishing Spray from Eufora comes in.
The Uplifting Finishing Spray isn't that old-school hairspray, though.  It's powerful enough to hold your hairstyle, yet doesn't give you the helmet-head look.  You still want your hair to look soft and be touchable, don't you?  Yes you do.  No one wants crunchy hair.
What makes the Eufora Uplift Finishing Spray so great?
There's lots of things that makes this hairspray wonderful.  First, it works!  Eufora uses a fantastic blend of  botanicals, including aloe vera, wheat protein, vitamin E, horsetail, chamomile, nettle, and henna.  The Uplift Finishing Spray seals out humidity, too.  What does that mean for you & me?  It means no frizz!  That's always a good thing.  And if you color your hair, like, ummm…most of us?, the Uplifting Spray helps to shield your hair from color loss.
It doesn't have one of those really great "mmmm" smells, but it doesn't smell bad.  The scent also dissipates rather quickly, so you don't smell it all day.
Not only is the Eufora Uplift Finishing Spray great for everyday use, but it's absolutely fantastic for events like weddings, formal dances, and holiday parties.