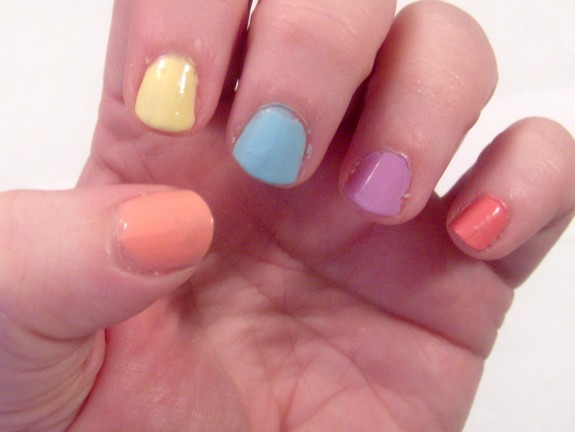 I love nail polish, I really do.  But it can't be plain and boring.  No, no it can't.  I'm also a busy person and I don't have hours to devote to elaborate nail art.  Well, that's not true.  I may just be too lazy to devote hours to elaborate nail art.
Anyway, I wanted something cute and fun for Spring and for Easter.  When I saw these pastel nail polishes from Sinful Colors, I knew that they were perfect for some Easter nail art.  I thought about them every single day for two weeks (!), and looked at several other lines before finally going back to pick them up.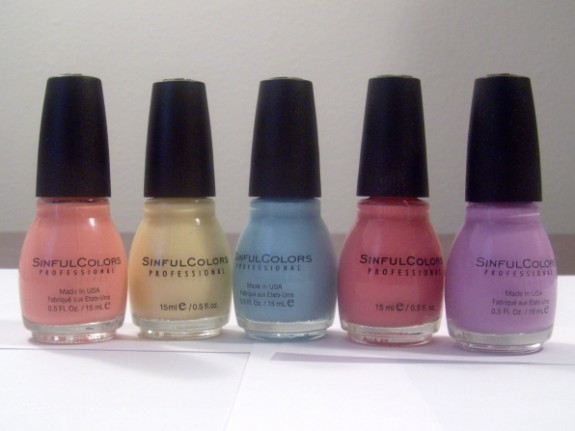 They were the perfect shades, and I already knew that I liked the Sinful Colors formulation.  They're easy to work with, dry fairly quickly, and are 3-free.  Oh, and they're like $2 each!  Talk about a winning combination.
Anyhoo, I bought the full line of the Sugar Rush collection, except for the pinks, as I felt they looked like dupes of colors I already had.  However, looking on line, I may be wrong and may need to go pick those two colors up.
For this look, I used 4 of the Sugar Rush shades –
Orange Cream – A crelly corally-orange shade.
Unicorn – a pale creamy yellow
Sugar Rush –  A great pastel sky blue
Sweet Tooth – A gorgeous pale lavender purple
I also used Soul Mate, which is a medium coraly-pink shade,  from my collection.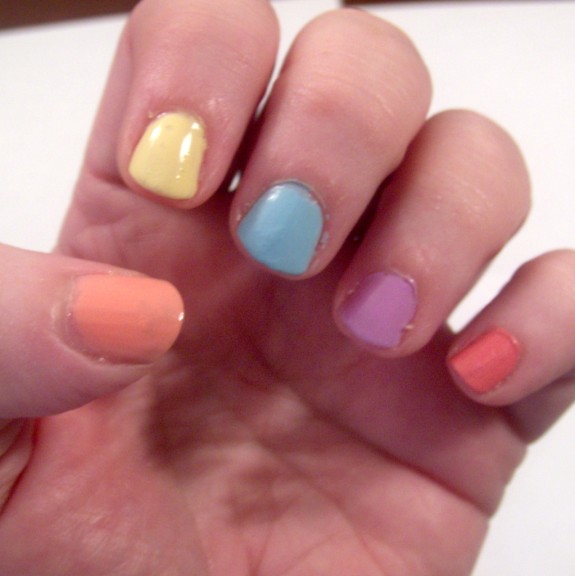 I chose one color to paint each finger.  For me, I chose Orange Cream for the thumb, Unicorn for the index finger, Sugar Rush for the middle finger, Sweet Tooth for my ring finger, and Soul Mate for my pinky.
I used two coats on each, with a base coat.  See, easy peasy!  Are you going to be doing any Easter nail art?