San Francisco is one of those cities that you can never get enough of.  Part of that is just the vibrancy of the town. There's so much to do and see, and there's almost no way to get it all done in one trip.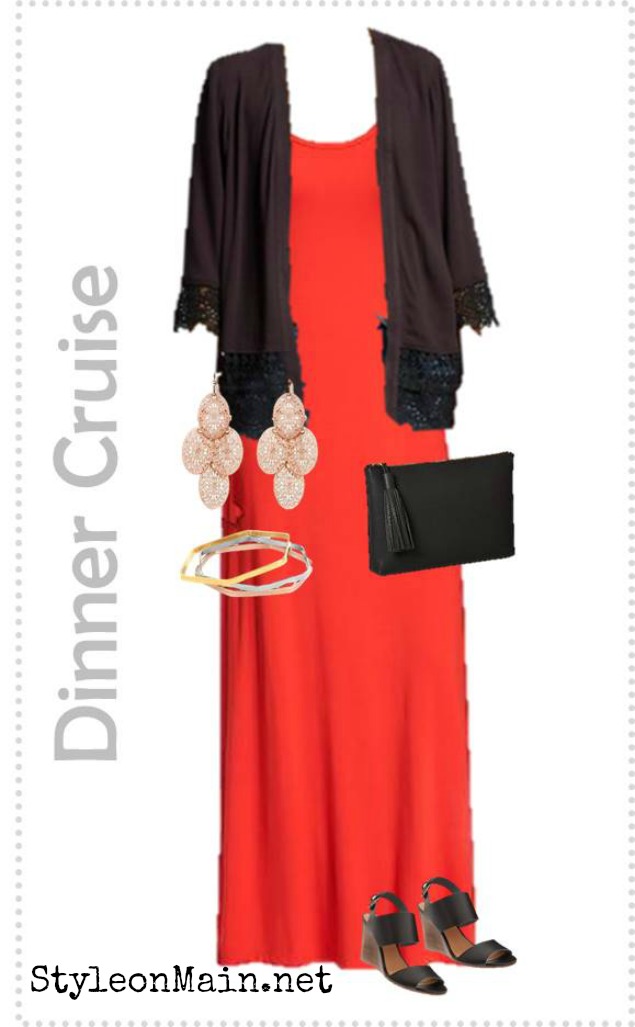 From Chinatown to the Financial District, The Mission District to Fisherman's Wharf, there's just so much to do and see. One of the highlights of any visit to San Francisco is a dinner cruise in the bay. Seeing the city at night is such a memorable experience!
Dinner Cruise in the Bay Outfit of the Day
All items are from Old Navy and Target. Links may be affiliate links. Prices quoted are regular prices, but you know Old Navy.  Always having a sale.
Maxi Tank Dress ($30) – Who doesn't love a maxi dress? They're so versatile, so comfy, and if you're unhappy with your body, hide a multitude of issues. They can also be dressed up or down so easily.  Shown in Ambrosia Apple, but also available in a navy stripe and black.
Lace Trim Kimono ($23) – Kimonos are so popular right now.  It's like a modern, bohemian version of a cardigan, that goes with oh so many things.  Dress it up or dress it down.  The lace edging adds a touch of femininity to it. This is perfect for a dinner cruise.
Faux Leather Double Strap Wedges ($40) – Wedges are such a great shoe for taking on vacation.  They give a little bit of height, and that flattering elongation of the leg.  Plus they're great for a night out (ahem) or a more casual look. Shown in black, also available in brown.
Faux Leather Zip Top Clutch ($20) – Of course you need a great little clutch for the evening.  This one is super cute, and pretty timeless.  The tassel detailing is so on trend, and the price point can't be beat. Shown in black, but also available in a great grey ombre.
Elya Set of 3 Multicolor Hexagon Bangles ($22) – Bangles are one of those classic trends that never goes out of style.  They just have ebbs and flows. I am digging these modern interpretations, and the mixed metals.  So modern.
Rose Gold Filigree Chandelier Earrings ($8) – LOVE these! So much movement, and they catch the light so well.  But still totally lightweight.  And at this price, you really can't go wrong.
Don't miss these other really great San Francisco outfit ideas, either.
Dinner Cruise around the Bay
Hiking Angel Island