When I lived on the West Coast, San Francisco was always one of my favorite weekend getaways.  There's so much to do, and always something going on. Plus, it was a quick jaunt from wherever I was.  Whether living in SoCal or the Pacific Northwest, it was an easy destination.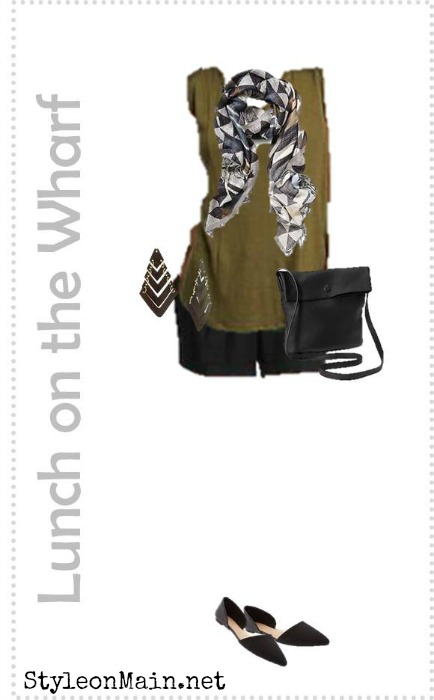 One of my favorite activities is having lunch on the wharf.  You can do this one of two ways – find yourself a great little restaurant or go get some food from one of the tons of vendors.  Mmm…fresh cioppino and sourdough bread.  Yum yum!
Lunch on the Wharf Outfit of the Day
All items are from Old Navy and Target. Links may be affiliate links. Prices quoted are regular prices, but you know Old Navy.  Always having a sale.
Relaxed Chiffon Back Tank ($20) – Such a cute top that can really be dressed up or dressed down.  The sheer chiffon back adds that little sumtin-sumtin.  Shown in Pasture Present, and available in 3 colors.
Linen Tie Waist Shorts ($23) – Linen is one of my go-to fabrics when I travel. I love the crispness of the fabric, and the fact that it gives just about any outfit a little pump up in sophistication. These shorts are a perfect example. Shown in Blackjack, available in 4 shades.
D'Orsay Flats ($25) – I love a good flat with just about any outfit.  This shoe, much like the linen shorts, give this outfit a bump up in style. So cute, and perfect for traveling.
Geo Print Scarf ($19) – A scarf makes everything better, don't you think?  San Francisco can be chilly, even in the summer.  It's always a good idea to have something you can use as a wrap.
Foldover Cross Body Bag ($30) – Cross body bags are one of my favorite travel items.  You can carry it across your body for a real hands free experience.  Plus, it's close to you, so you have less chance of theft. Also available in red.
Drop Earrings with Textured Diamond and V Shape ($8) – These earrings are so super cute. They have a ton of movement, and add a touch of fun.  Best of all, they're still lightweight and don't get in the way.

Don't miss these other really great San Francisco outfit ideas, either.
Lunch on the Wharf
Dinner Cruise around the Bay
Hiking Angel Island