San Francisco is one of the great cities of the world.  There's pretty much everything that someone could possibly hope to find available within a stone's throw. Great shopping?  Check.  Fabulous food?  Yup. World class entertainment?  mmmhhhmmm.  Professional sports?  You bet! Plus, you're only like an hour from Napa Valley.  Hello!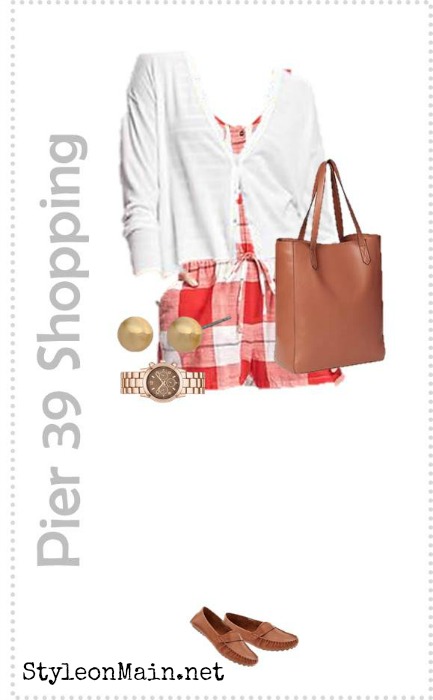 With all of this great stuff around, who wouldn't want to take a trip to San Francisco.  We'll be showing you what to pack on a trip to the Bay Area of Northern California.
Shopping at Pier 39 Outfit of the Day
All items are from Old Navy and Target. Links may be affiliate links.
Plaid Romper ($35) – Jumpsuits and rompers have been popular for about 18 months, but are still riding high. This is a great item to pack for a trip, as you can dress it up, or dress it down. Available in 3 colorways
Relaxed Hi Lo Cardigan ($23) – Sometimes it gets a bit chilly down by the water. It's nice to have a lightweight cardigan to toss on. Shown in white, available in 6 colors.
Faux Leather Driving Loafers ($23) – Loafers are another trend that shows no sign of dying out. These are adorable, and look so much more expensive than they are. Shown in Sand, but also available in Navy.
Faux Leather Tall Tote ($35) – Having a large bag that you can toss all of your crap in is so convenient, especially when you're walking around.  Did I say crap?  I meant treasures.
Stud Earrings ($3) – These just set off your outfit and make it complete.  Simple, elegant, and understated.
Women's Merona Rose Gold Watch with Decorative Dials ($20) – This watch looks like a mid range watch, but only we know the real truth.  $20 for a rose gold tone colored watch?  HECK YES! Snatch this one up!
Don't miss these other really great San Francisco outfit ideas, either.
Dinner Cruise around the Bay
Hiking Angel Island