Summer is still here, in all of its blazing hot glory.  But, we're starting to notice the days getting shorter, and there are days that are cooler mixed in. If you've been shopping lately, you've seen that sweaters, jeans, and boots are starting to fill store shelves and shopping racks.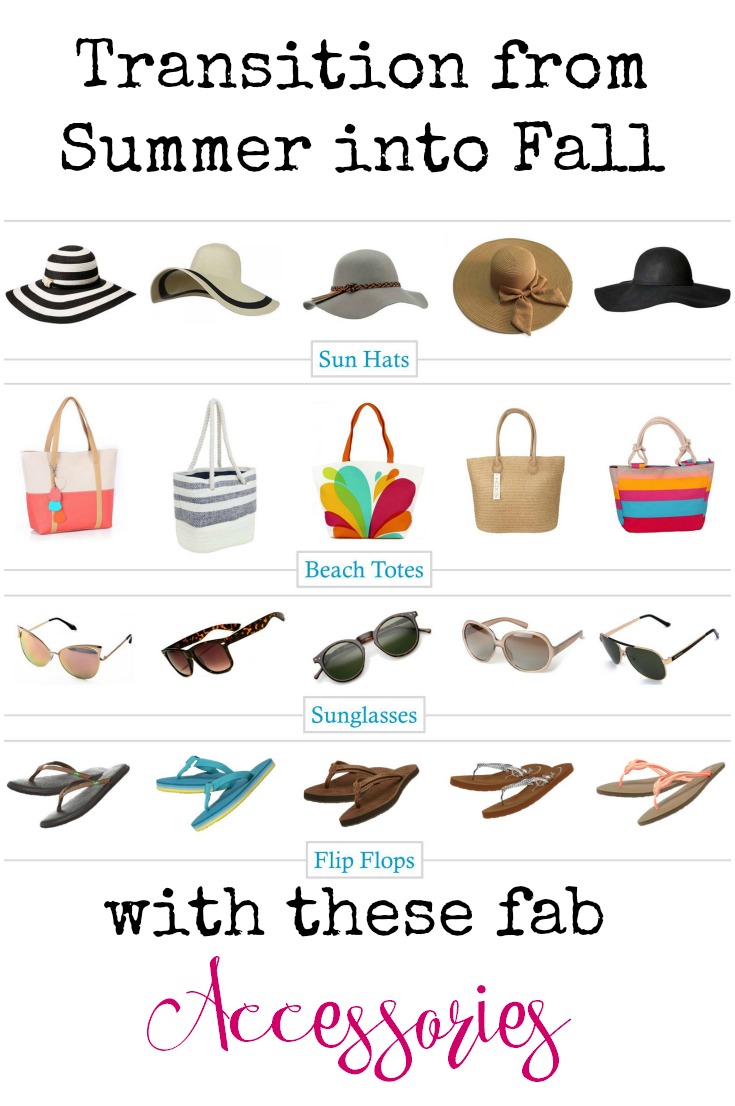 Transitioning from summer to fall can be difficult, so we're here to help. We've rounded up 20 great accessories that are great for summer, but are a total fit for fall, too. Even better, they're under $30, with many around the $15 mark! You can't beat that. Check out our Summer into Fall mix and match wardrobe, too!
20 Great Fashion Accessories to Help You Transition from Summer to Fall
These items are all from Amazon. We all know that their prices fluctuate quite a bit, so prices may not be the same when you go to purchase. Links may be affiliate links, which helps us buy Pumpkin Spice Lattes.

Hats
Who doesn't love a great hat?  These are great for the beach, shopping on vacation, or a day out at the flea market. They also transition beautifully for fall, sweater weather, and pumpkin spice everything.
1 Vince Camuto Wide Stripe Floppy Hat ($22)
2 MG Solid Peak Large Brim Sun Hat (From $19.55, available in 4 colors)
3 NYFashion101 Felt Floppy Wool Hat with Braided Trim (From $21, in 3 colors
4 Funnywe Straw Derby Cap with Bow ($26, available in 23 color/styles)
5 Luxury Divas Wide Brim Wool Hat ($28, available in 8 colors)

Tote Bags
A great tote bag is always on trend. Whether you're packing for the pool, or bringing stuff back and forth from work, tote bags can be a girl's best friend. Find even more great tote bags here.
1 CFanny Women's Colorblock Tote (from $18, in 4 color combos)
2 MG Collection Nautical Style Tote ($24.50)
 3  Peacock Splash Tote ($20)
4 Hoxis Summer Beach Rattan Tote ($20, in 4 colors)
5 Marca West Print Tote Satchel ($20, in 7 patterns)

Sunglasses
You need sunglasses.  End of story.  They protect your eyes, they're a great fashion statement, and sometimes they break or get lost.  Sooo…you need several pairs. These 5 great styles will take you from summer to fall effortlessly, and fit in with the sunglasses trends for 2016.
1 Pession Sunny&Love Oversized Cat's Eye Sunglasses with Mirror Lenses (From $10, in 5 colors)
2 Retro Optix Classic 1980's Wayfarer Style Sunglasses (from $6.50 in about 50 different colors)
3 ZeroUV Retro Round Lens Sunglasses ($10)
4 Corciova Oversized Sunglasses ($17, in 4 colors)
5 Veithdia Classic Polarized Aviator Sunglasses ($22 in 4 colors)

Flip Flops
Ahhh…flip flops.  So many people live in flip flops year round. We've got five great styles that will keep your feet cool, and your style on point.  Check out our must have flip flops, too!
1 Sanuk Yoga Spree Two Flip Flop (from $20, in 5 colors)
2 Teva Deckers Flip Flop (from $7.33, in 9 colorways)
3 Reef Swing 2 Thong Sandal (from $26, in 3 colors)
4 Roxy Cabo Flip Flop (From $8, available in 6 colors)
5 Volcom Have Fun Flip Flop Sandal (from $10, available in 7 colors)