It seems that during the summer, we have more stuff to carry with us to more places. A change of clothes for after work. Sunscreen, a towel, and a book that we're dragging to the pool. Snacks and a drink to the kids' games. Whatever it is, we need a way to bring the stuff with us.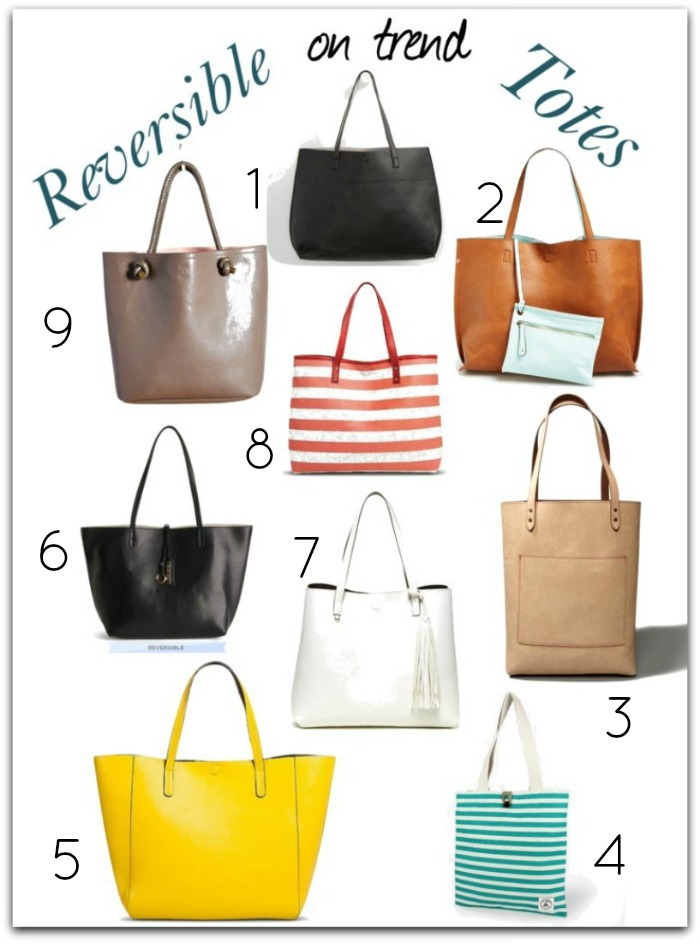 Tote bags are super trendy this season. Why? Maybe it's because we NEED them. These super stylish totes are reversible, so it's like you're getting a two-fer. Even better? They're all under $50. Ummm…yeah! Go grab one or two. Or all of them. No judgement here.
This post may contain affiliate links. They help support our nail polish and shoes habit.
1. Faux Leather Reversible Tote ($26) 2. Vegan Leather Tote with Wristlet ($48) 3. Faux Leather Reversible Tote in Black/Silver ($29) 4. Teal Striped Reversible Tote ($42) 5. Target Dual Colored Faux Leather Reversible Tote 6. ModCloth Grip It and Reverse It Bag ($42) 7. Carlos Santana Reversible Tote with Tassel ($45) 8. Perforated Reversible Print to Solid Tote Bag ($40) 9. BDG Reversible Braid Knot Tote ($40)
For more summer style ideas, visit a few of my favorite blogs: