During the summer, we seem to live in flip flops. A lot of people do during other times of the year, as well. But during summer – there's nary a real shoe to be seen! At least it feels that way a lot of the time.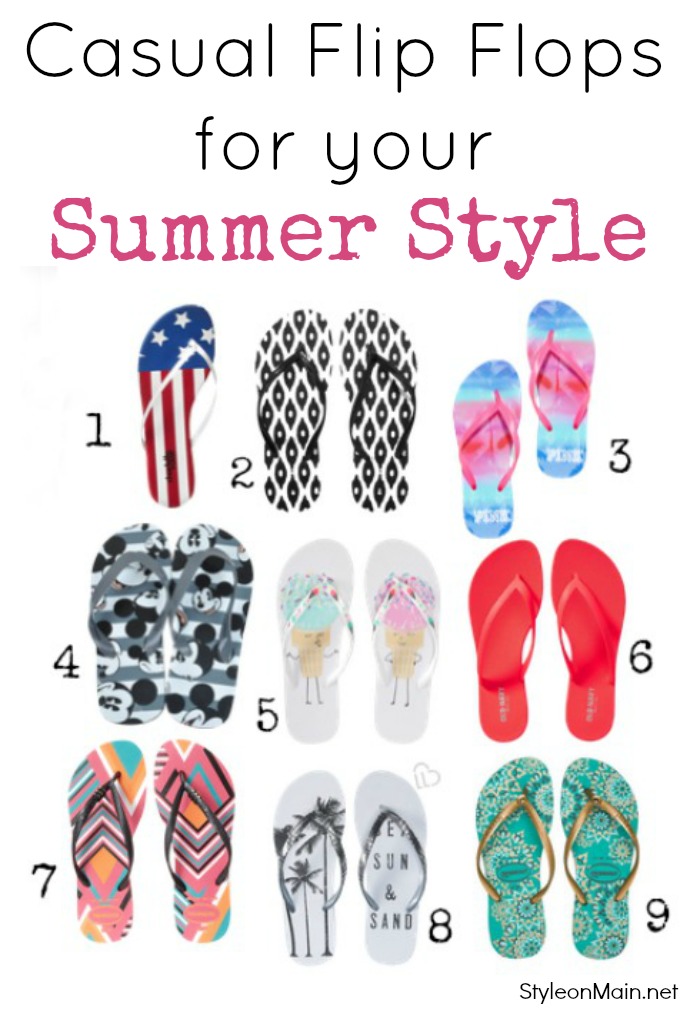 We're featuring some of our favorite flip flops – both casual ones that are great for the pool – and dressy ones. Dressy flip flops. I never thought I'd say those words.
This post may contain affiliate links. If you make a purchase, we get a few cents at no cost to you.
1. Charlotte Russe Americana Flip Flops ($7.99) 2. Old Navy Ikat Patterned Flip Flops ($6.94) 3. Love Pink Flip Flops in Americana ($14.95) 4. Mickey Mouse Flip Flops ($15) 5. Ice Cream Flip Flops (sold out, but these popsicle ones are cute, too!) $5 6. Old Navy Elevated Flip Flops ($6.94) 7. Havianas Tribal Flip Flops ($32) 8. Aeropostale Sand Sea & Sun Flip Flops ($5) 9 Havianas Slim Illusion Flip Flops ($32)
Now for the fancy flip flops. I can't even say that without giggling! These are the ones you're wearing to dinner, or brunch, or on vacation. Maybe even to work, depending on your work environment.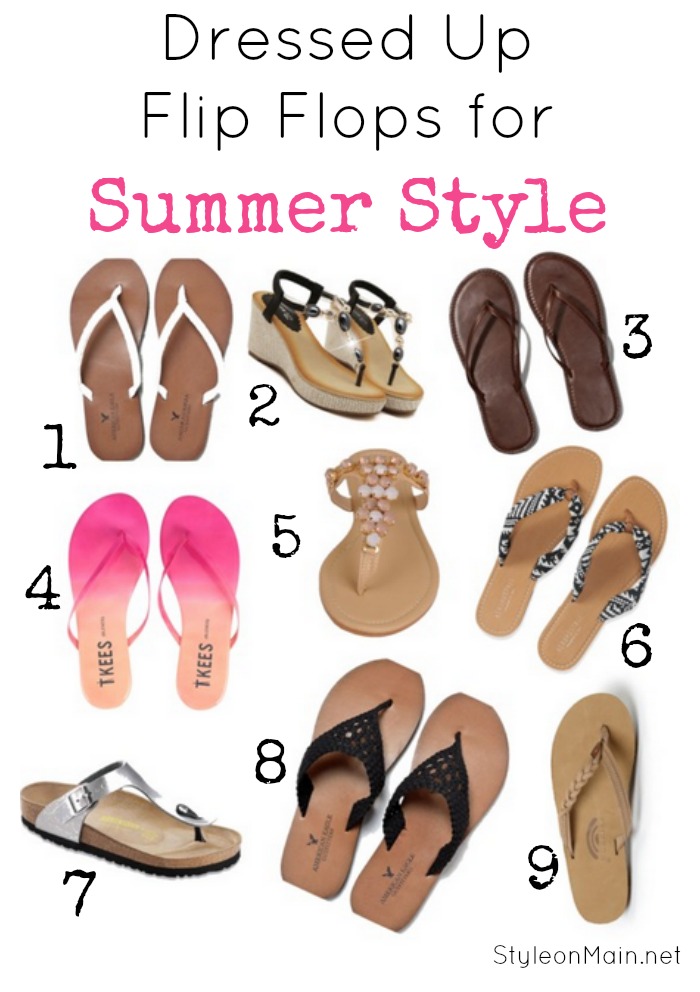 1. Metallic Leather Flip Flops ($25) 2. Wedge Flip Flops with beaded accents ($25) 3. Abercrombie Leather Flip Flops ($30) 4. Tkees Blends Flip Flops ($50) 5. Black Rivet Beaded Flip Flops ($24) 6. American Eagle Fabric Flip Flops ($18) 7. Birkenstock Gizeh in Silver ($95) 8 American Eagle Crocheted Leather Flip Flops ($25) 9. Rainbow Braided Leather Flip Flops ($52)
Which are your favorite? How many pairs of flip flops do you own?