Special thanks to Whole Foods for providing us product for a Whole Foods gift basket.
Sometimes, when you have someone that's a little hard to shop for, you have to think outside of the box.  My mom happens to be one of those people.  She doesn't really want anything, but I don't want to not get her a gift.  What is a fantastic daughter to do?
I put together a gift basket of things that I know she'll love.  I chose a relaxing theme, and all of the items shown can be found at Whole Foods.  Well everything except the napkins, which are from Hen House, and the mug, which i picked up at a local store.  Pretty great, right?!?!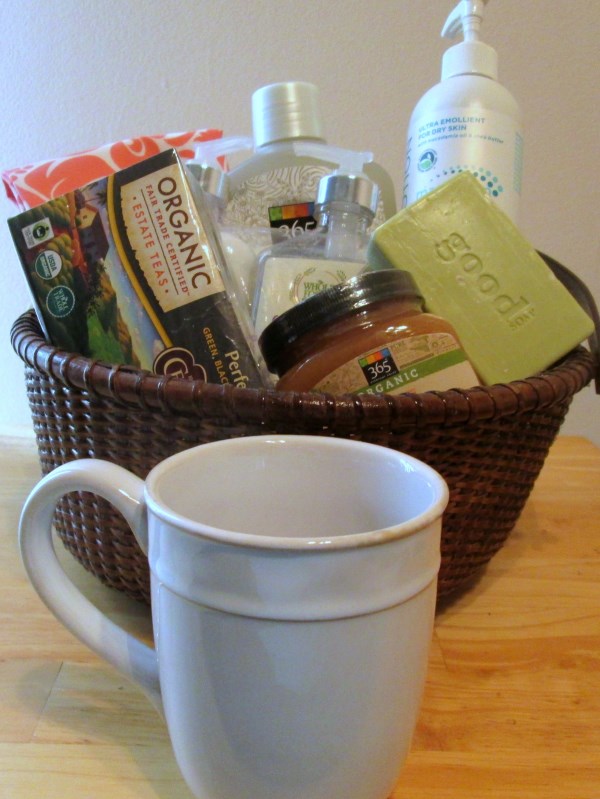 What's in the Whole Foods gift basket?
Perfect Trio Teas from Celestial Seasonings. These are organic, fair trade certified, and natural fiber teabags.
365 Everyday Value Organic White Raw Honey – Mmmm…Honey.  It's so good for so many things.  Raw honey hasn't been filtered, so it still has all of those good nutrients included.  This is fair trade, too.
good Soap – A great soap that's made from fair trade shea butter, which is sooo moisturizing.
Whole Foods Market Premium Body Care Lavender Hand Lotion & Hand Soap Set.  This set comes in a chrome caddy that will be great in a powder room or by the kitchen sink.  The products are paraben free, non-comedogenic, and hypoallergenic.  They're gluten free, too.
365 Everyday Value Relaxing Lavender Bubble Bath – Who doesn't like a good, long, relaxing bath?  Free from parabens, SLS/SLES free, and hypoallergenic.  It's gluten free, as well.
365 Everyday Value Body Lotion – Made with shea butter and macadamia oil, this lotion is so rich!  It's absorbed by your body quickly, but doesn't feel greasy.   No animal ingredients, nor was it tested on animals.
Now, just find a cute basket or other type of container, arrange the items, and voila!  A practically instant gift for your mom, or the other women in your life. Even though it was quick, the Whole Foods Gift Basket is still filled with love.
What would you include in your Whole Foods gift basket?