Lately, I've been noticing a trend in makeup palettes. This trend is that there are more all in one palettes hitting the market. These generally have a few eye shadow shades, a blush or two, and maybe a highlighter and/or bronzers. These can be great, if the colors are right for you. Of course, if the blush isn't quite right, these all in one palettes can feel like a let down.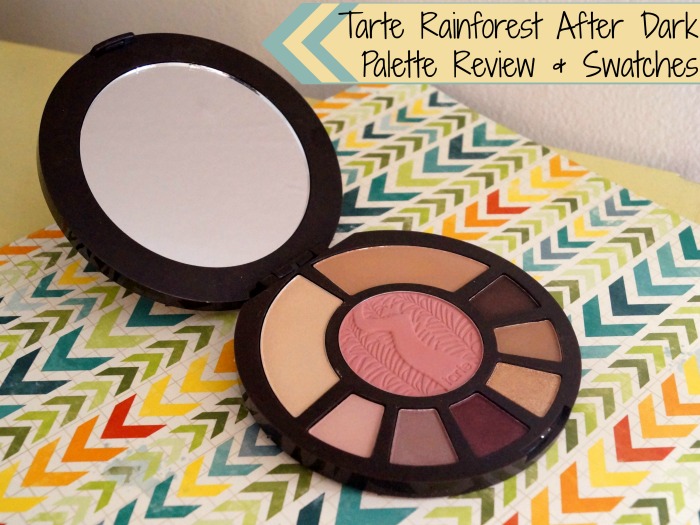 As someone who is super fair, I have the palette letdown more than I'd like to admit. I always think "This is the one that's going to be great." And…no. This disappointment doesn't stop me from trying out more all in one palettes. The latest on this list is the Tarte Rainforest After Dark all in one palette.  The fab folks in the QVC Beauty Department were kind enough to send me this palette.

Tarte Rainforest After Dark palette
Consisting of 6 eyeshadows, a blush, a highlighter, and a bronzer, this palette is really one that you can just grab and go. Pretty much all you need to add is a foundation, mascara, and lip color. Colors included are:
Bare to Explore – Perfect nude shade
Make a Mauve – Shimmery taupe with a pinky-purple undertone
Plum Away with Me – Smoky purple-plum with some shimmer.
Up to No Gold – Shimmery metallic gold-copper.
Tan-gled Up in You – Matte tan that's a great neutral shade.
Don't Turn a Brown – Great matte dark brown shade. Slightly chalky texture
Unleashed Blush – Beautiful peachy blush shade.
Champagne Highlighter – Iridescent shimmering ivory.
Park Avenue Princess Bronzer –Iridescent shimmery tan color that's natural looking. Not orange at all.
My thoughts on the Tarte Rainforest After Dark Palette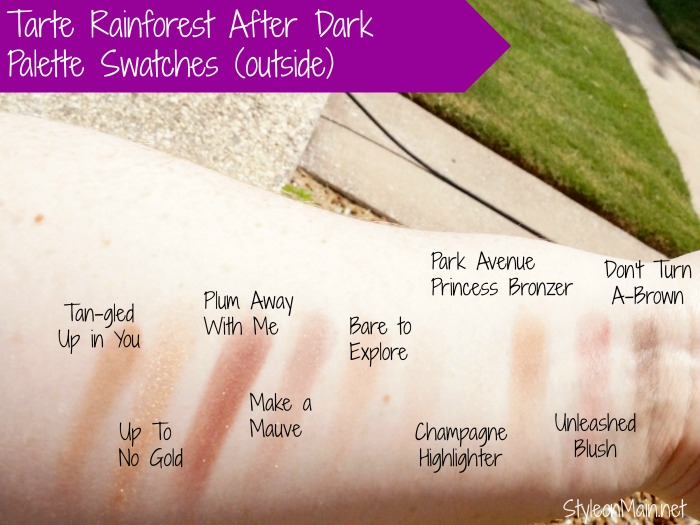 I love this! I don't wear a lot of neutrals in my makeup. I used to, but then color became popular, and well…neutrals took a backseat. The Rainforest After dark palette is loaded with modern neutrals that can take you from day to night. The colors are fabulous for my fair skin – not too intense or strange. The only color I was sort of meh about is the Don't Turn a Brown eye shadow, as I felt it was kind of chalky.
Of course, since it is a Tarte Rainforest After Dark palette, the colors are all made with their fab color correcting & skin nourishing clays. These clays help to create long lasting colors that look great on everyone. Would I recommend the Tarte Rainforest After Dark palette? An emphatic YES! You can get this palette just about everywhere, including QVC!