Without fail, it seems like every year of my life I've received socks and/or underwear as a gift for Christmas. I think at this point in time it's kind of a family joke, but hey. It's something useful we all need.
We've put together this socks and underwear holiday gift guide because if you're gonna get undies, you might as well get some really fab ones. Learn how to care for your new undies, too.
Socks and Underwear They Really Want – For Guys and Gals
We've rounded up some of our favorite socks and underwear companies for both men and women. Editorial samples and/or paid placements. Links may be commissioned. Thanks for shopping through them and supporting our site,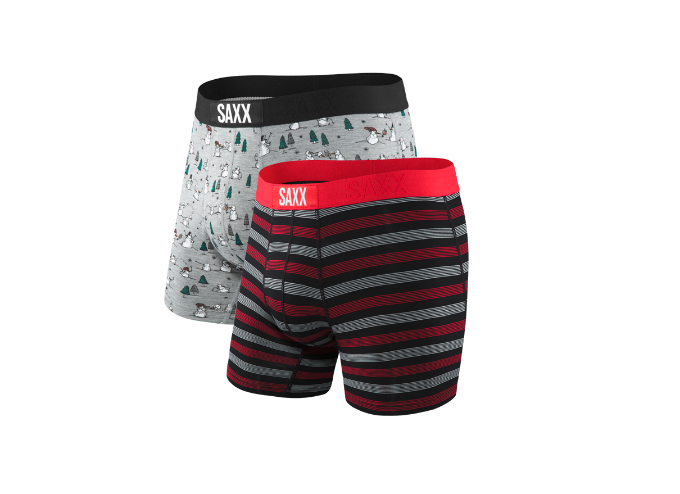 Saxx Underwear Co
Guys come in basically two versions. The version that is always looking for the next best, latest greatest or the version that found something in Jr High, and has stuck with it since then. Upgrade his game with Saxx Underwear. They're a boxer brief style that is designed to fit him better. The patented BallPark pouch provides support without friction or chafing. This was unheard of and totally revolutionary, and more than a little risqué. Now, though, other brands are hopping on this bandwagon. Saxx is the original though.
Christmas Socks
Fun socks are fun. Jazz up your holidays a little with these great holiday socks from Davco. They're great quality, and the kind you see in better stores. We're really digging their Real Ugly Socks that are basically a DIY collage project. The socks come with all kinds of craft items, and glue, so you can create your own. How fun would it be to get everyone in the family or group a pair, and have a contest to make the Ugliest Christmas Socks?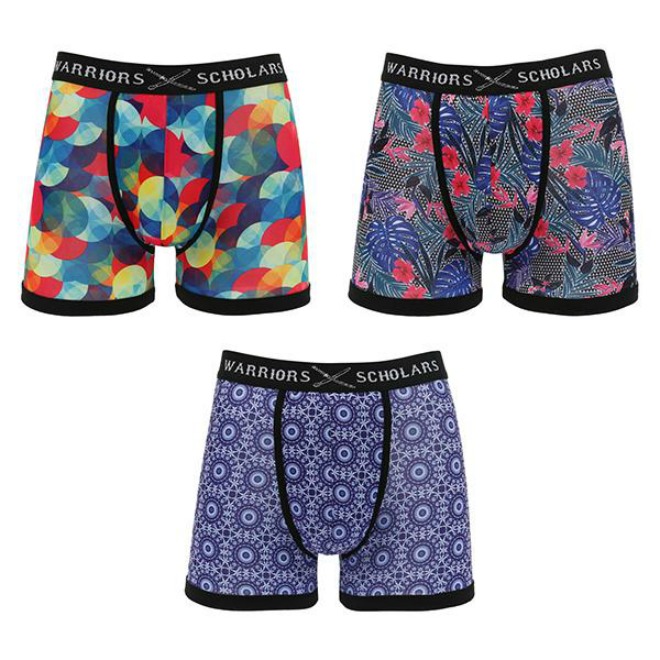 Warriors and Scholars Underwear
We all want comfy undies, and the men in our lives are no different. Warriors and Scholars underwear may just be what he's looking for. They have an athletic fit with moisture wicking temperature control. This keeps you cooler and drier. The fabric composition is more comfortable than silk, and they won't ride up. That's right – Warriors and Scholars are designed to stay in place. Plus, they come in such really fun prints and patterns.
Shinesty
Shinesty is a brand known for their sense of humor. They started with those crazy Christmas suits that look kind of like wrapping paper, and have run with that idea. Well, one of the things they do well is fun and wild undies – for both guys and gals. Several times a year, they bring out new patterns and prints. They can be as subtle as a plaid or as wild as you can imagine. The fabrics are soft, and comfortable to wear, too.
Exec Socks
Many men work in offices where they have to adhere to some form of a dress code. Unleash his personality with wild and crazy socks when you give him a subscription to Exec Socks. They're a great talking point, and give a little sneak peek into his inner workings. Exec Socks makes some of the most fun socks for men I've seen in a while. From argyle with totally unexpected colors to stripes with one being animal print every so often, there's something for the more serious man. If he loves to let loose, try the pink and blue camo, anchors, or even wild Greek keys prints.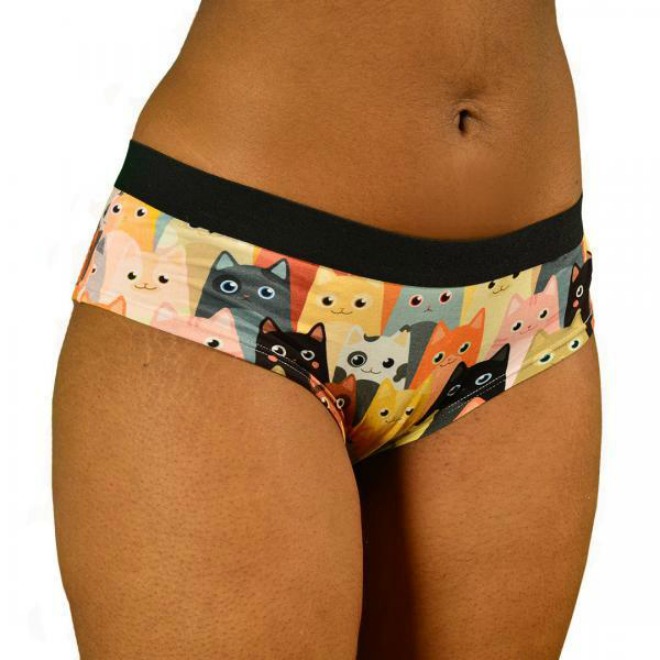 Moxy & Zen
Moxy & Zen makes great undies that are comfortable. They have 4 styles for women ranging from bikinis to boyshorts to regular panties. For the guys, there's a brief, a trunk, and they even have boxer briefs that are designed especially for him and one for her. Moxy & Zen underwear are made from organic bamboo, and they are amazingly soft. The fit is great, and they have such fun patterns. I'm kinda loving the Cosmic Exploration print.
Marc Skid
Marc Skid makes old school undies that are thoroughly modern. Their designs look like tighty whities that every man or boy wore back in the day. BUT – they're in totally fun, vivid colors, and made from organic pima cotton. They have designs for both men and women, all in this totally retro feel. Even better, Marc Skid is a brand that puts their money where their mouth is. $4 from every pair sold is donated to one of their charitable partners, and you get to choose the charity.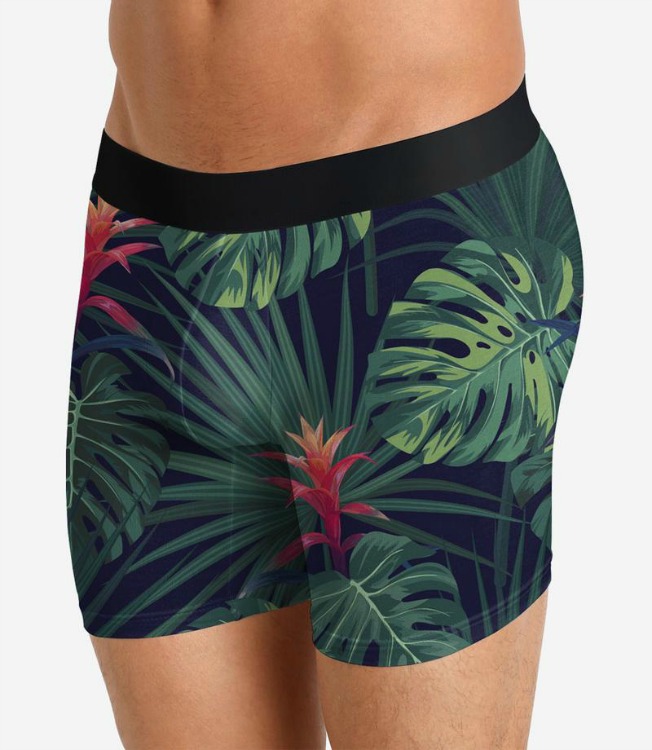 Bunch of Animals Underwear
Go beyond the expected plaid in your undies. Bunch of Animals has crazy prints like Tropical Leaves and Flamingoes in the softest fabrics. They use Micro Modal for their undies, which is three times more breathable than cotton, and a renewable resource. They'll keep him cool, and he'll look good, too.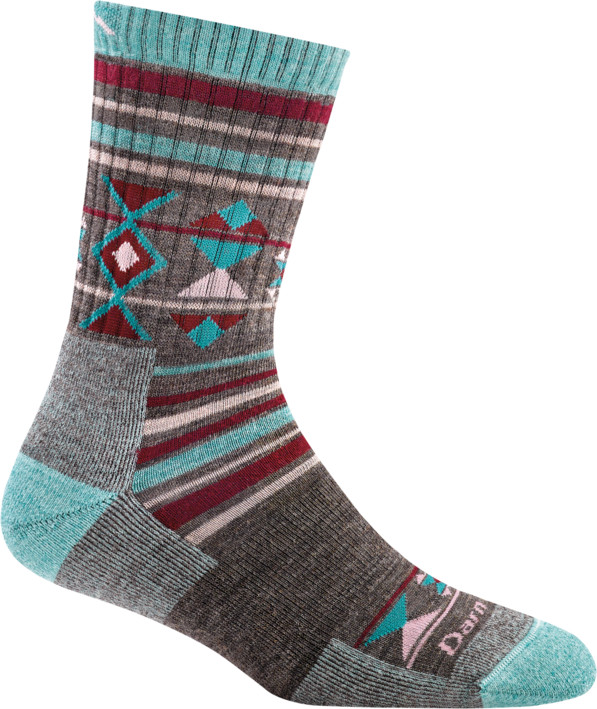 Darn Tough Socks
Darn Tough is a sock line made in Vermont. Their socks are made from merino wool, so they keep you warm in the winter, and cool in the summer. Not only that, they also have a cushioned sole like your favorite athletic socks do. Plus, they're available in great patterns or simple stripes. They're so comfortable that you'll want to replace all your socks with theirs. Darn Tough knows this, and that's why they guarantee their socks for life.
Aren't these brands a great way to up your socks and underwear game? Let me know what you think of them!