Women of all sizes want to wear swimsuits. And we should. Personally, I love to swim and be in the water.

I know that some people are really self conscious in a swimsuit, though. Never fear, we've rounded up 10 great slimming swimsuits that are sure to look amazing on all body types.
The best part of these slimming swimsuits is that they're all affordable. I think they all clock in under $35. At that price, you'll want to buy several. This also says plus sized, but most of the bathing suits do come in smaller sizes, starting at about a US 8. Be sure to check out our retro bikini choices, too.
10 Slimming Swimsuits from Amazon
Links may be commissioned. Thanks for supporting our site by shopping through them. You'll also want to check out our plus sized swimwear guide.

Top Row 1-5
1 Unisweet One Piece Retro Halter Bathing Suit – This style is extremely flattering, and has a lot of panache. It has a fab retro vibe, and comes in about 25 colors and patterns.
2 Vintage Ruched High Neck One Piece Swimsuit – This suit also has a lot of retro flair, but has an elegant feel to it. I think it's the high neck mesh. This is a suit that goes from lounging by the pool to drinks at the bar by adding shorts or a skirt. Comes in 3 colors, with the choice of a tummy control panel or not, too.
3 HDE Women's One Piece Swim Dress – A little more modest styling while still staying totally cool and hip. Has attached boy short bottoms for full coverage. Available in three fun prints.
4 QZUnique Retro One Piece Swimwear – Retro styling with fab ruching in a totally modern print. The underwire cups provide a lot of support and the lacing allows you to adjust the bust a little. I love the florals, but really like the leopard/peacock mashup one.
5 Cocoship Retro Solid One Piece Swimsuit – This just screams Marilyn Monroe. It's another suit that goes straight from the pool to the bar or a lunch date with a pair of shorts or skirt. Available in 4 solid colors.

Bottom Row 6-10
6 Runtlly One Shoulder Mesh Swim Suit – This combines several modern trends at once, and does it really well. The mesh inserts provide that little bit of peekaboo while still being covered and modest. The bathing suit is engineered to keep your breasts in place, and with some tummy control. Super chic at a great affordable price. Available in 5 colors.
7 Mycoco V Neck Swimsuit with Macrame Back – This suit has a deep plunging V and a high back so it stays up. There's a ton of style, and is sure to look amazing on. Available in 7 fab solid colors.
8 Cocoship 50's Retro One Piece Swimsuit – This is full on vintage retro. From the cherry or polkadot pattern to the cut to the ruching. If you love pinup style, this is the suit for you.
9 Wavely Woman Off the Shoulder Ruffle Swimsuit – I am totally in love with this bathing suit. I adore the off the shoulder ruffle. It's great for hiding your upper arms, if that's something you're self conscious about. There's aso a tummy control panel. While I'm not sure it'd be great for swimming, I can totally see this on a cruise ship or on a fab vacation.
10 Runtlly One Shoulder One Piece Swimsuit – Another really cute modern suit. The one shoulder style isn't for everyone, but at this pricepoint, it's totally worth a try. The ruffle adds a little flair, and the tummy control panel helps keep everything smooth.
Aren't these suits fabulous? You'll definitely want to pick up a couple at these prices, too. Tell me – what are your plans for summer?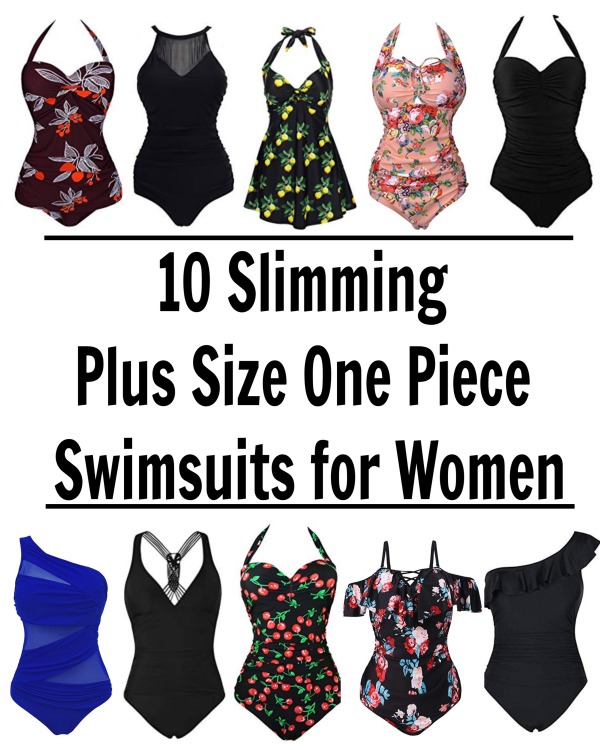 You might also like