Jumpsuits and rompers have been one of the major fashion trends of 2015.  Personally, I am sitting on the sidelines for this trend.  While it looks great on a lot of people, it's not a trend I can participate in.  Mainly because of my extra long torso.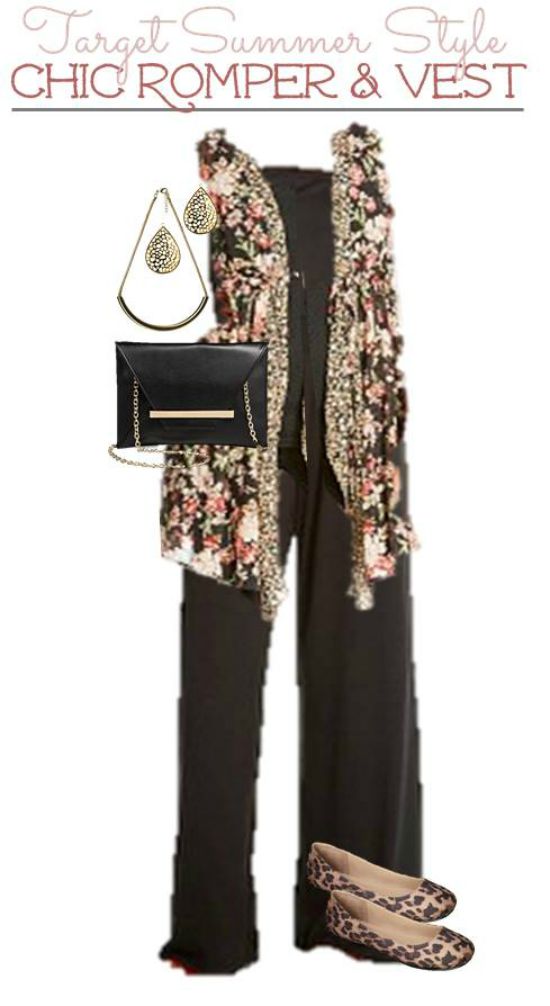 When I wear rompers and jumpsuits, they are either riding up or sagging low – or both! And let's face it – NONE of that is a good look. I see so many ladies that look FAB in a jumpsuit though.  We've put together a super chic look with a jumpsuit.
All of these pieces are from Target. Affiliate links.
Jumpsuit Chic Outfit of the Day
Mossimo Supply Co Strapless Jumpsuit – $12.50-25.  Available in 6 great colors that will take you into fall.
Ikat Woven Vest – $20. This is a similar style to the one shown, but a different fabric.  This could become a super popular piece from your closet.
Odell Ballet Flats – $15.  Available in Cheetah, Black, or Pewter. At this price, you should pick up a pair in each shade.
Black Envelope Clutch – $19. So cute, so classically stylish.  Perfect for so many outings. Also available in black/white snakeskin.
Goldtone Statement Necklace – $10. Sleek and stylish, this necklace  will become one of your favorites.
Goldtone Drop Earrings – $8. These earrings are going to be such a wardrobe staple.
So tell me – have you been jumping on the jumpsuit and romper trend?