Here in the Midwest, our weather is totally screwy.  One day it's in the 80's, and two days later it's snowing.  What's that about? Rather than having to keep changing back and forth from winter boots to spring boots, I'm busting out the ones that are great transition pieces.
That means the Uggs and Bearpaws are going back into the closet, and the shooties and booties are busting out. The good thing is that these are fabulous pieces that are on-trend, and transition well.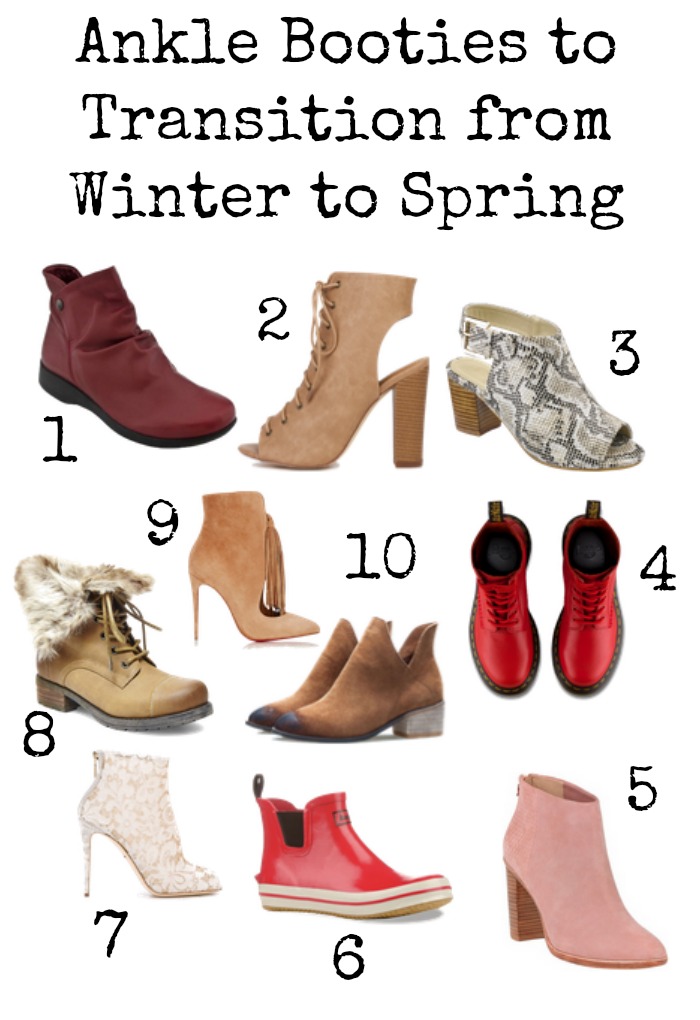 Booties to Transition from Winter to Spring
Editorial samples may have been received of some styles.  Links may be affiliate links.
1 Arcopedico N42 Boots ($165) – These are adorable, and remind me of elf boots.  The leather is so super soft, and the insole is absolutely amazingly comfortable. The also have a very similar style that is vegan friendly.
2 Peep Toe Lace Up Ankle Boots ($45) – Cut outs are very in.  I'm sort of conflicted about this.  I like it, but then again, I don't. I think I'm gonna try to get with this style this year. At $45, you can't go wrong.  Plus, these will transition into summer nicely.
3 Sole Diva Cut Out Shoe Boots ($50) – Another fun cut out style that will be great for spring and on into summer as well. Even better – these come in wide widths. HECK YES!  Also available in black and brown.
4 Dr Martens Pascal ($81) – who doesn't need a pair of amazing Dr Martens in their life? These aren't like the ones of your youth, though.  The Pascal style is an 8 hole boot that uses a soft leather.  Combat boots are still SO HOT and Docs last for-ev-er.
5 Ted Baker Lorcan Ankle Boots ($255) – These babies are just hot!  I am in love with them, from the style and shape on down to the fabulous color.
6 Kamik Sharon Women's Ankle Boots ($55) – These are really cute low rain boots.  They're great for light showers or that little bit of snow that's on the ground.  Available in 6 fun colorways
7 Dolce and Gabbana Floral Lace Booties ($955) – Lace is still running as such a super hot trend. These booties are all kinds of amazing, and are worth a peek.  Even if just to lust after.  Also available in black.
8 Steve Madden Maybrey Boots ($100) – It's still cold outside a lot of days.  Cold enough to justify wearing a cute hiking inspired bootie with a fur collar.  These take the lumberjack trend and just make it a little more girly.
9 Christian Louboutin Fringed Ottocarl Ankle Boots ($1345) – Fringe and tassels are another trend that is major for spring. These ankle booties are more like a stiletto with an ankle collar.  Very unique, and oh so chic.
10 Brown V Cut Pointed Toe Bootie ($40) – These are a great take on the western wear trend.  Another fab year round choice, these will be cute with shorts, dresses, skirts, or pants.
Are you ready for spring yet?  What's your favorite style of bootie that transitions from winter to spring?