This post brought to you by Tree Hut. All opinions are 100% mine.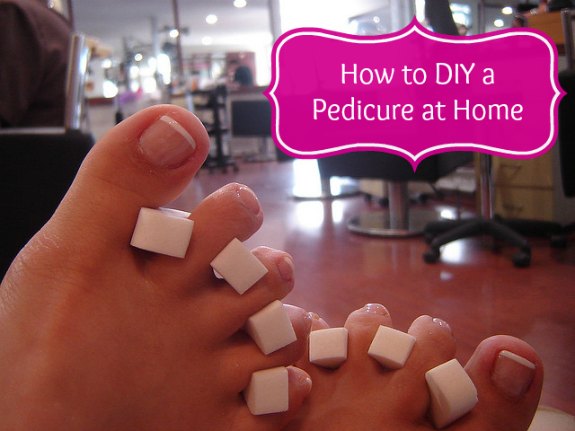 In the Midwest, Memorial Day weekend is basically the kickoff of summer. This is the weekend that the pools open, school's out, and every one spends the weekend at the lake. You're gonna be hanging out on the boat or around the pool , and wearing sandals around town. Make sure your feet are ready to be seen with a fabulous pedicure.
You don't have to go out and spend big bucks to do this, though. Nope. You can do it yourself quickly, easily, and at a reasonable price.
Here's what you need:
Pumice Stone
Nail Clippers
Nail File
Soaking Tub
Exfoliating scrub
Foot Cream
Nail Polish
The first thing you need to do is remove any nail color you may have on your toes.
While it's easiest to do a pedicure right after a bath or shower, it's not a deal breaker. If necessary, soak your feet in a basin. You can add essential oils like lavender, rosemary, or peppermint to creating a relaxing experience.
Tree Hut foot scrub
While in the shower, wash your feet with the exfoliating scrub. You can do this right before you get out of the shower. If you're soaking your feet, do this after the soak, and wash off.
After the scrub, use the pumice stone to remove the dead skin cells from your feet. Wipe them off with a clean, plush towel.
Clip your toenails & file them.
Slather your feet with a luxurious foot cream. Personally, I like the Tree Hut foot cream, as it's reasonably priced and full of natural and organic products. You can put on a pair of cotton socks to help the cream absorb, if desired. I do this occasionally, probably once a month or every 6 weeks. It all depends on my feet, and what I have coming up.
Paint your nails, if desired. I like to use a good base coat and a top coat, too. This will help your polish last a good, long time.
Voila! Show off your tootsies in a great pair of strappy sandals.
Socialize with Tree Hut
Tree Hut products contain certified organic Shea & Mango butters, essential oils, and real sugar in their scrubs. They don't test on animals, and contain no parabens, either. That's pretty great for any company, but especially for a budget company found at mass retailers.
Tree Hut products can be found all over. You can buy them online, or at mass retailers like CVS, Target, and Walmart.
like Tree Hut on Facebook
Tree Hut on Twitter