Last week, the new series of project Runway All Stars debuted. Now, I love me some Project Runway, and the All Stars competitions just seems to amp up everything I love about the show.
If you missed the show, the contestants were divided into two teams – boys vs girls. Each team had to create a collection based on either Uptown or Downtown. And we all know that means a trip to the Mary Kay makeup studio.
Today, I'll be showing you how to get the Downtown Chic makeup look featured on Project Runway All Stars.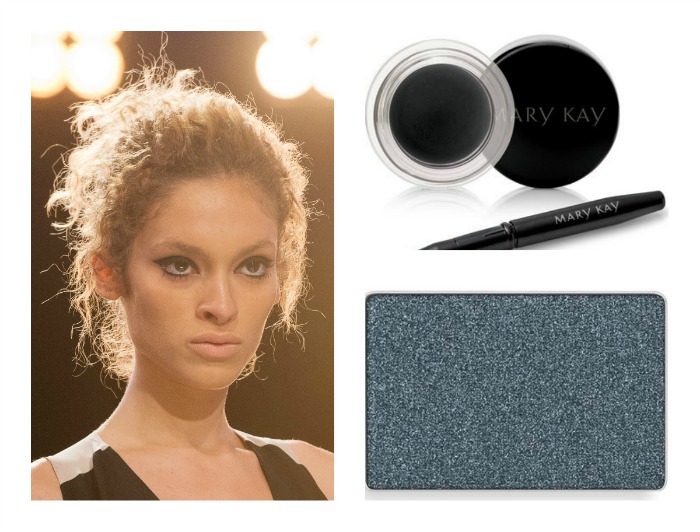 Get the Look: Downtown Chic
Outline the entire eye with Mary Kay® Gel Eyeliner in Jet Black and flick outward at the corner to create a small wing. Personally, I love a gel liner. It has the benefits of a pencil with the staying power of a liquid. It takes a bit of practice, but it's not hard.
Gently smudge the liner with a smudging brush to give it an imperfect, edgy feel and finish with two coats of black mascara.
For added dimension and a long-lasting effect, sweep a dark, sparkly eye shadow like Mary Kay® Mineral Eye Color in Brilliant Black across the eyelid and blend outward to exaggerate the winged effect.
These Mary Kay Mineral Eye Color eye shadows are fab. They have a lot of color impact, are crease resistant, absorbs oil, and help fight the aging free radicals. Say what? Who knew your eye shadow could do all of that?
Balance the eyes with a hint of bronzer on the cheeks and a nude lip like Mary Kay At Play® Lip Crayon in Toasted. Go by the rule of thumb to play up your eyes or your lips. Not both. And who doesn't love a lip crayon? Let's be honest!
This Downtown Chic makeup look from Project Runway All Stars is an easy to do face that just about anyone can pull off.  The most difficult part is the eye, but a light hand and blending the shadow will do wonders for you.
 Is this Project Runway All Stars Downtown Chic a look that you'll be testing out?