Are you a fellow self-care enthusiast? Life can get pretty hectic, but it's important to set aside some "me-time" for rejuvenation.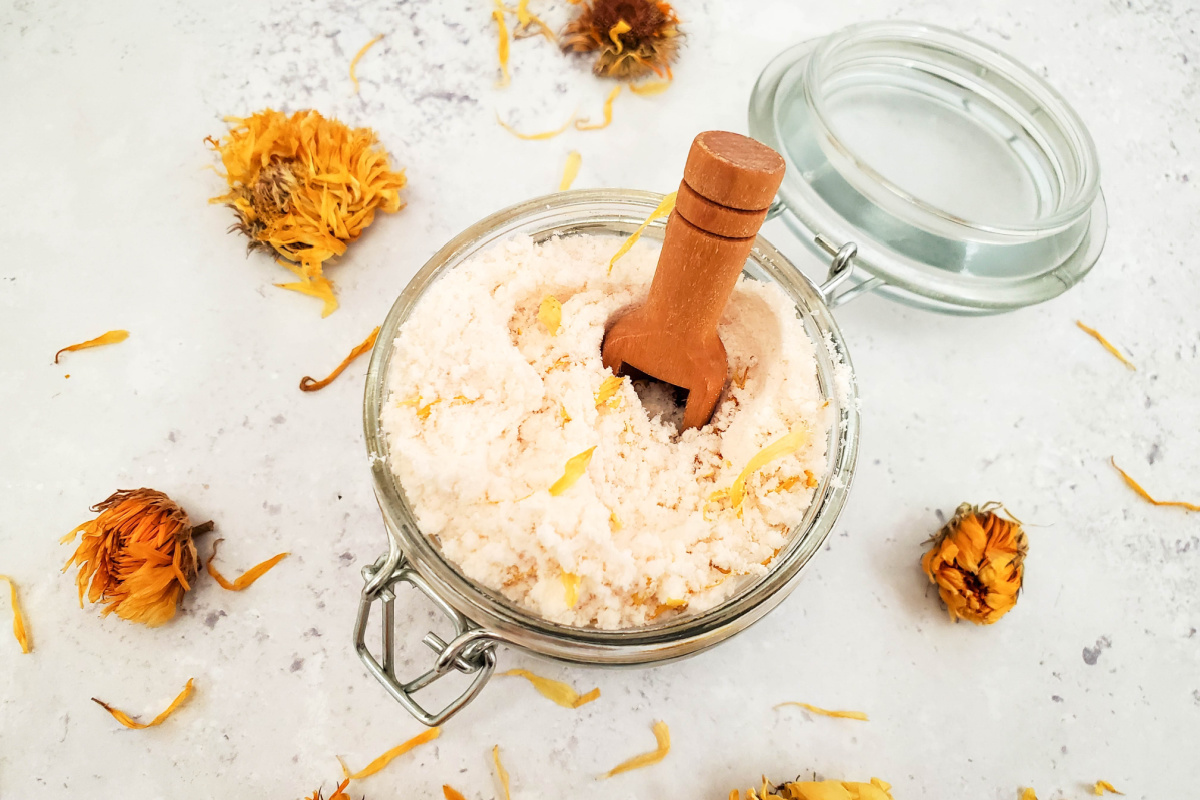 Picture this: a luxurious bath experience that transports you to a tranquil spa, surrounded by the delicate scent of calendula. Intrigued? We'll walk you through the simple steps of making your very own Calendula Fizzing Bath Powder.
Prepare to pamper yourself and discover how this heavenly soak can elevate your self-care game.
Links may be commissioned.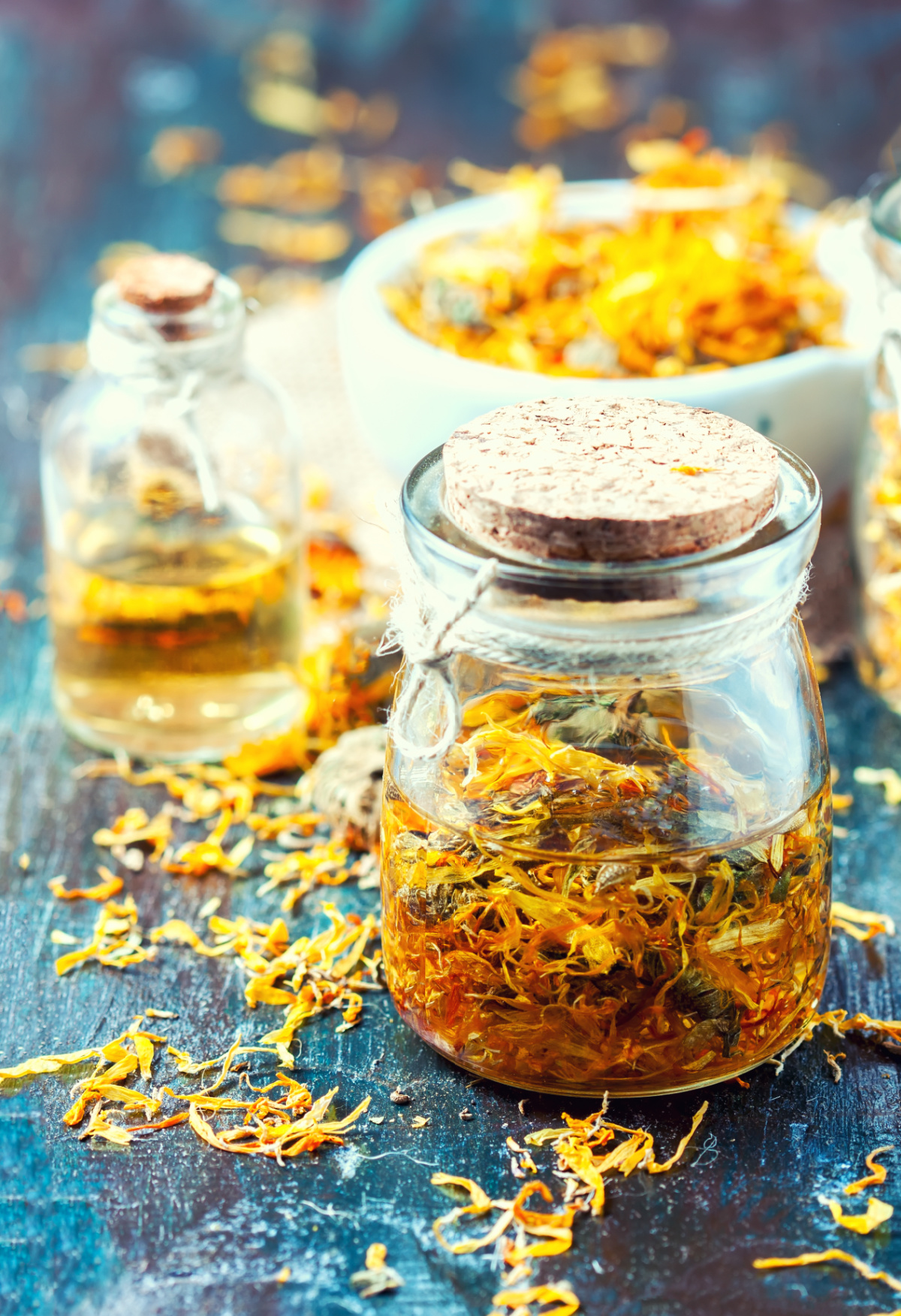 The Wonders of Calendula
Let's talk about calendula, the star ingredient of our bath powder. This vibrant flower has been cherished for ages due to its remarkable healing properties. It's like a superhero for your skin! Calendula is known for its anti-inflammatory, antibacterial, and antioxidant qualities, making it an ideal addition to your bath routine. When infused in warm water, calendula releases a cascade of benefits that leave your skin feeling rejuvenated and your spirit uplifted.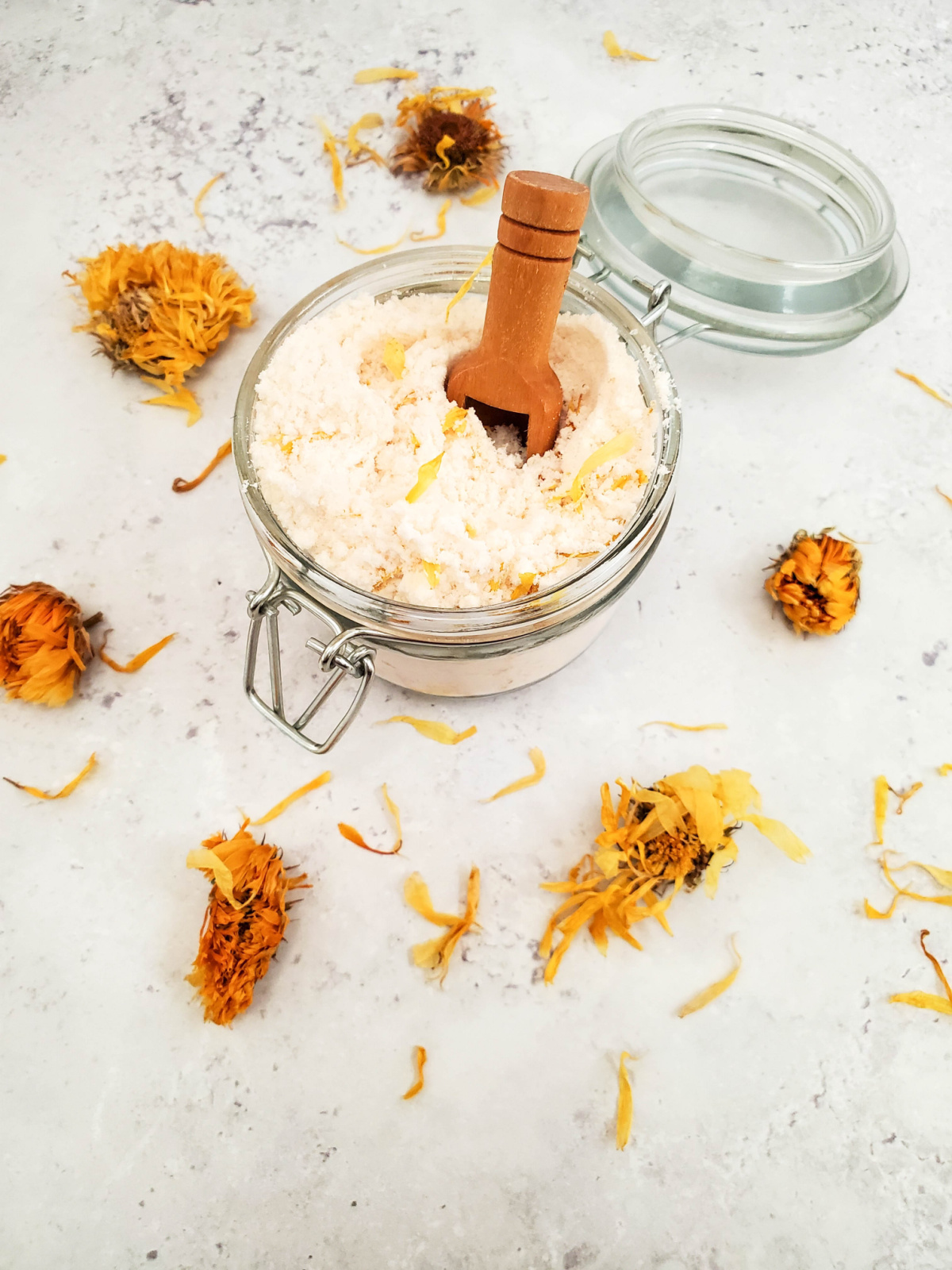 Benefits of a Calendula Soak
Say Bye-bye to Skin Woes: Dry, irritated skin? Not on our watch! Calendula is a gentle hydrator that soothes and nourishes your skin, leaving it feeling supple and revitalized. Soaking in a warm bath with our Calendula Fizzing Bath Powder can calm itchiness, redness, and inflammation, giving your skin the TLC it deserves.
Unwind and Let Go: Life can be stressful, but we've got your back. Calendula's delicate aroma has a magical way of easing your mind and melting away tension. When you sink into a relaxing bath infused with our bath powder, you create a serene environment that invites you to release the day's stress and find inner peace.
Healing, One Soak at a Time: Calendula isn't just a pretty flower; it's a natural wound-healing champion! Its antibacterial and anti-inflammatory properties make it perfect for promoting the healing process of minor cuts, scrapes, and skin irritations. Soaking in a Calendula Fizzing Bath can provide a gentle and soothing approach to wound care.
DIY Calendula Fizzing Bath Powder Recipe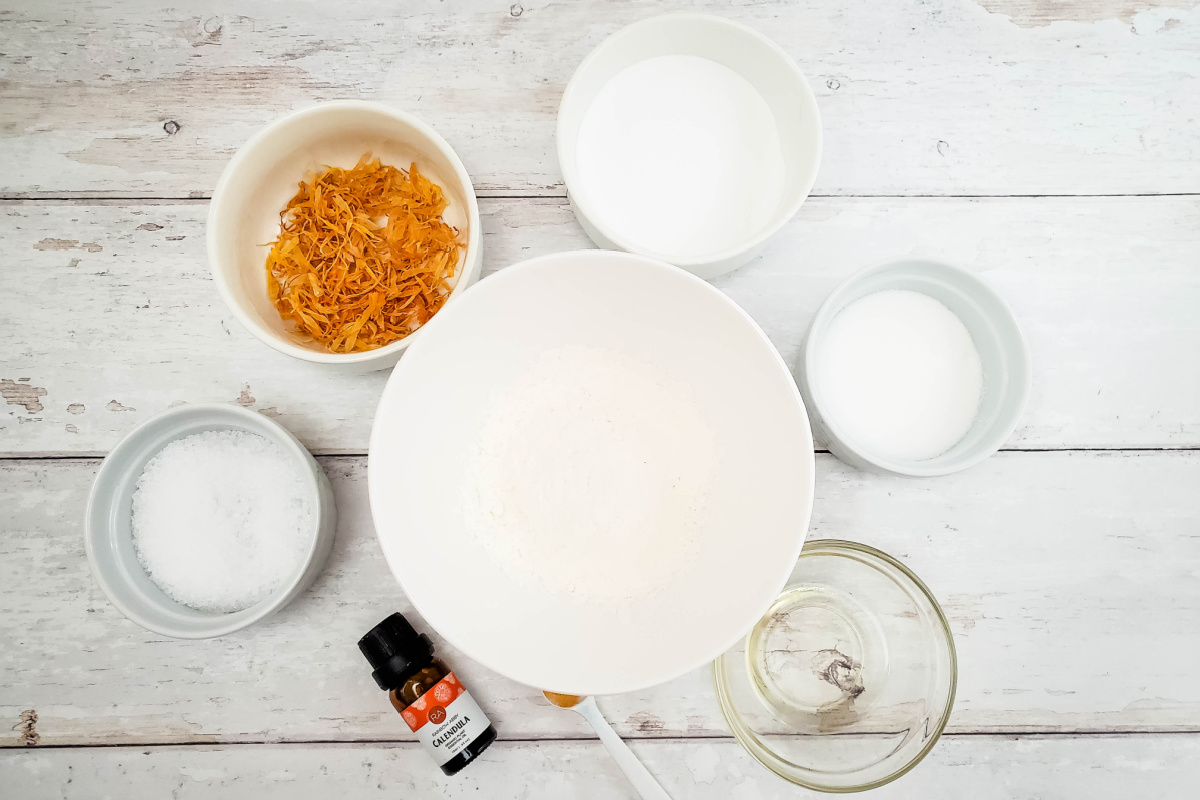 Ingredients:
Step-by-Step Instructions:
Grab a medium bowl and whisk together the baking soda, Epsom salts, corn starch, citric acid, and Golden Mica Powder. This ensures a delightful base for your bath powder.
In a separate small bowl, combine the calendula essential oil with sweet almond oil. Slowly pour this magical mixture into the dry ingredients while whisking away. We want those oils to dance with the rest of the ingredients.
Gently stir in the dried calendula petals, giving your bath powder that extra touch of beauty and fragrance. Spread those petals throughout the mixture like confetti!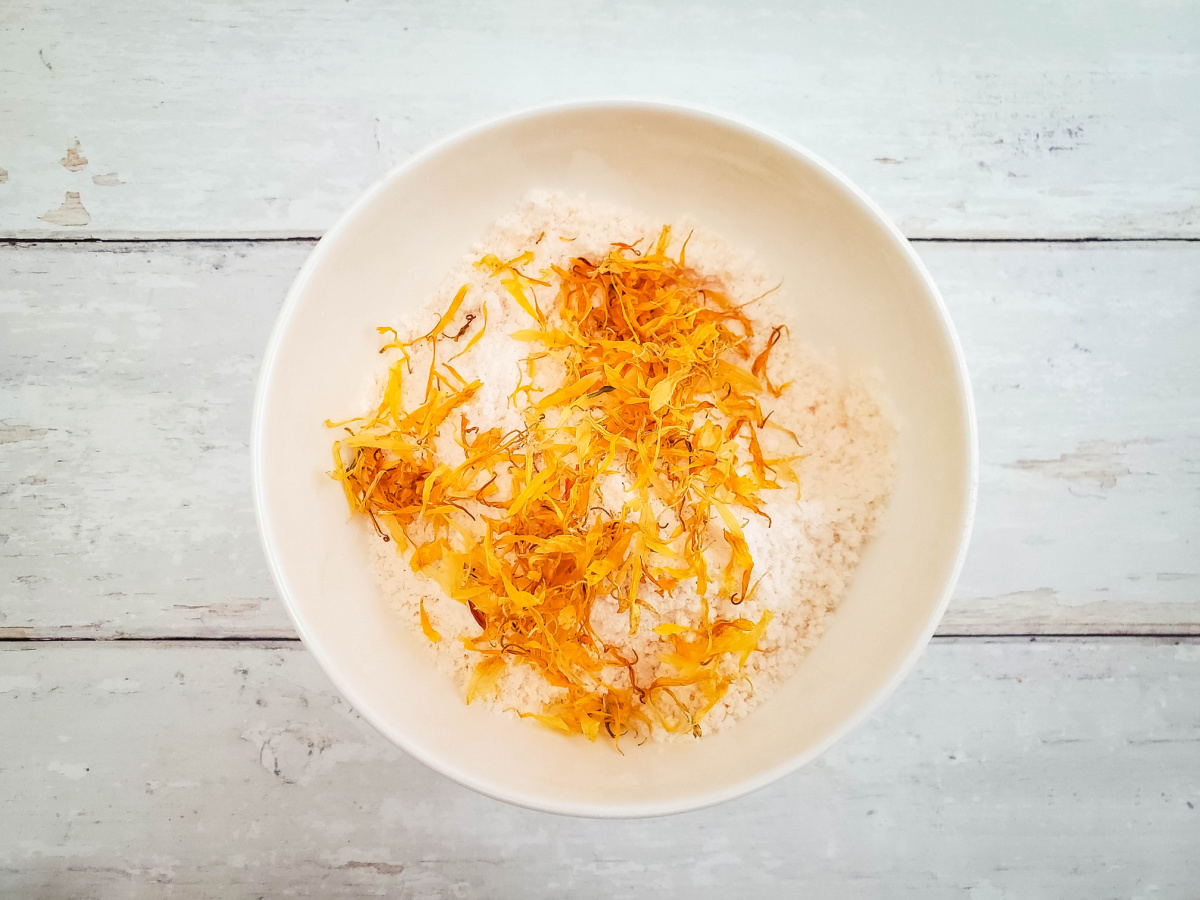 Transfer your freshly made Calendula Fizzing Bath Powder to an airtight container. This ensures it stays fresh and potent until your next pampering session. Don't forget to label it with the ingredients and creation date. Bathroom Organization can be pretty, too!
When you're ready to indulge, add 1-3 tablespoons of your handmade bath powder to warm bathwater. Watch as it fizzes and releases the intoxicating scent of calendula. Sink in, relax, and let the worries of the world dissolve.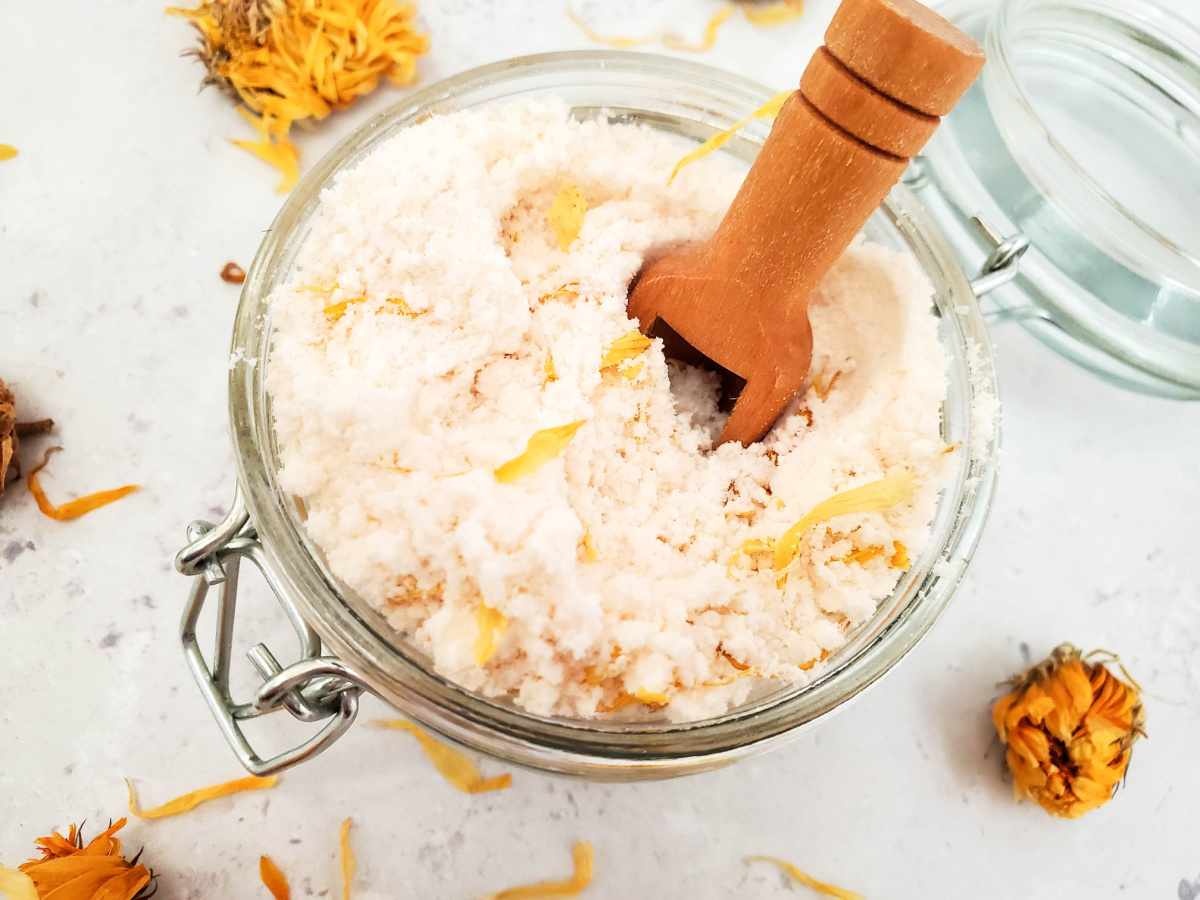 Conclusion
You deserve a little luxury in your life! With our DIY Calendula Fizzing Bath Powder, you can take self-care to a whole new level. Calendula's natural benefits combined with the soothing properties of this bath soak will rejuvenate your skin and provide that much-needed escape from the daily grind.
Remember, self-care isn't selfish—it's essential! Create a personal sanctuary, fill your tub with warm water, and let the Calendula Fizzing Bath Powder work its magic. Allow yourself to unwind, breathe deeply, and embrace the blissful tranquility of your own spa retreat.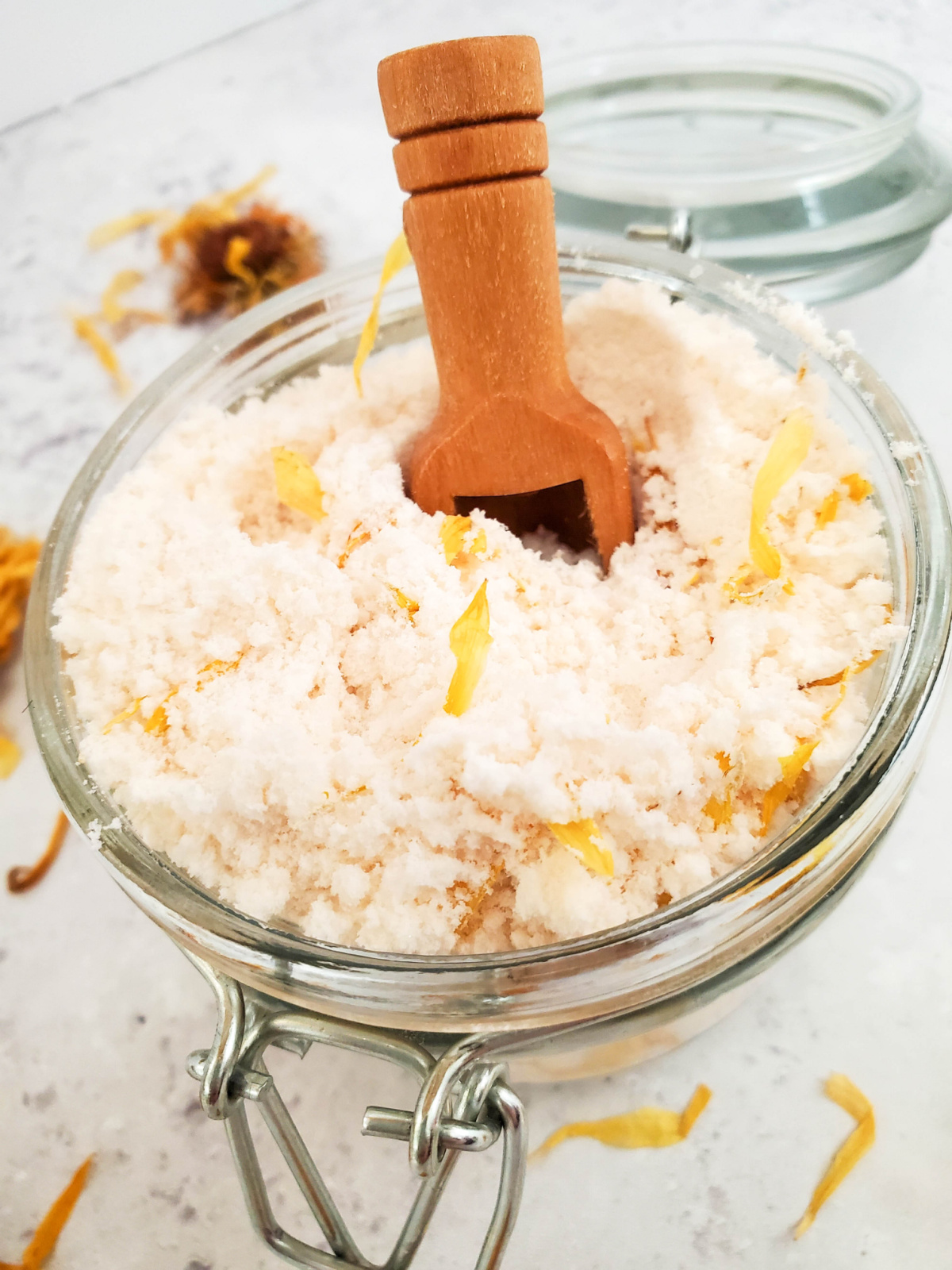 Before incorporating any new skincare product into your routine, it's always a good idea to perform a patch test and consult with a healthcare professional if you have known allergies or skin conditions. Prioritize self-care and experience the transformative effects of a Calendula Fizzing Bath Powder soak. Your mind, body, and spirit will thank you!
Note: This blog post is for informational purposes only. It is not intended to replace professional medical advice. If you have any concerns or specific health conditions, consult with a healthcare professional before using the bath powder.