I've been travelling a lot this summer. Some of it has been for pleasure, some has been for business. One thing remains somewhat constant though – my travel makeup bag. The reason it stays the same varies from "I'm too busy/lazy to change it out" to "It works for so many different occasions."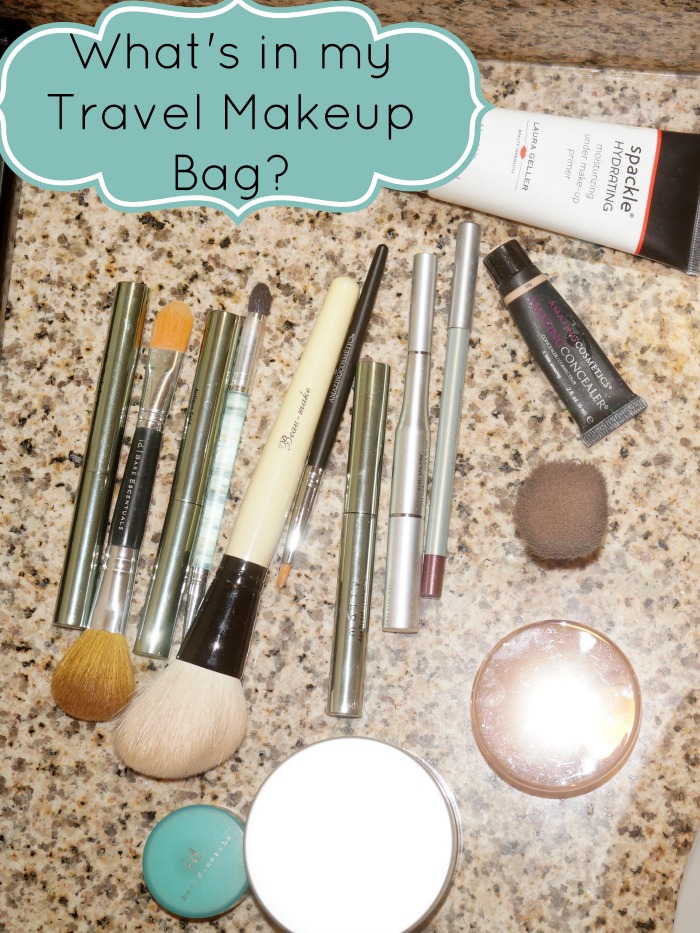 My travel makeup bag doesn't have a ton of pieces, yet at the same time it does. Some of these pieces can be ditched, and some are only used if I'm planning on attending a special event or a really nice dinner. Of course, the items in my makeup bag vary a little every time I go somewhere. I like to try new makeup, or even just change it up a little. This is what was in my travel makeup bag on a recent weekend trip to Fayetteville, AR.
What's in My Travel Makeup Bag? Fayetteville, AR Edition
Laura Geller Hydrating Spackle – I'm making a confession here. I use the hydrating spackle as my moisturizer, too, when I'm traveling. Scandalous, right? For me, it works really well, and primes my face for mineral makeup. $30
Amazing Cosmetics Concealer – My skin is really clear, but sometimes I need a little extra help, especially when traveling. That's why I have this in my travel makeup bag, along with a small concealer brush. A little dab will do ya. $28
Aubrey Organics Mineral makeup – For a really long time, I only used mineral makeup, and usually only Bare Minerals. I use a lot of different formulations now, but I till really like mineral makeup for traveling. I can get a light coverage or a heavier coverage easily. Aubrey Organics Mineral Makeup is every bit as good as BE, and a lot more affordable. Plus, it's a brand I love. I also bring a small kabuki brush for applying.
Mally Age Rebel Eye Shadow – I love the stick formulation of these. They have a little bit of shimmer, and they're stuck until you decide to remove them. You have a little bit of time to allow for blending, but once they're set, they're set. The duo linked has two of the shades that I have in my travel makeup bag. $30 for the duo.
Ramy Perfect Brow Wand – This is magic. Seriously magic. It has a highlighter in one end and an eyebrow pencil in the other end that looks great with any color brows. A groomed eyebrow really does make a difference in your appearance.
Bare Minerals Blush in Balance – I love love love this coral colored blush. It came in a Bare Escentuals kit a while back. I'm gonna be so sad when it's gone.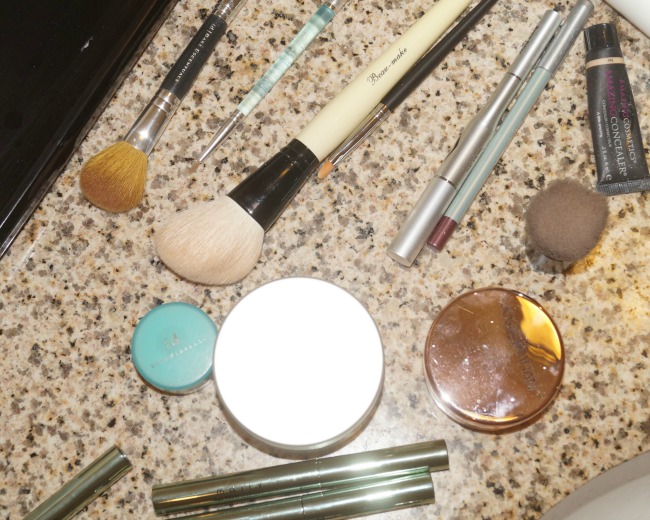 Eyeliner. It's pretty self-explanatory, no?
Josie Maran Argan Oil Finishing Powder – This powder is super light and just floats on your face. It gives an amazing, almost airbrushed finish without weighing you down. To go with this, I have a large powder brush. $38
I keep all these goodies in a great little cosmetic bag from The Luncheonette Boutique.
That's pretty much it. What's in your travel makeup bag?