It's time to start transitioning our summer wardrobes to fall. While it's definitely still summer, the first signs of fall are starting to creep in.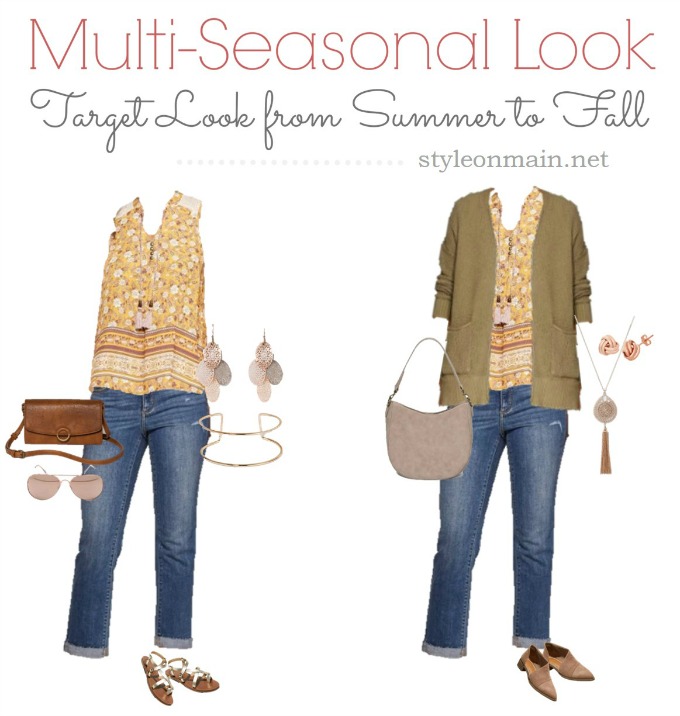 Cooler days, days are starting to get noticeably shorter, and well, pumpkin spice is making its valiant return. We're showing you how to transition a fab summer outfit and keep it going right into fall.
This summer to fall transition outfit uses pieces that are all from Target. That means they're easy to get, and pretty affordable. I'm all about investing in good pieces, but seasonal things like accessories can definitely be picked up at places like Target. Links may be commissioned, and we make a small amount if you purchase through them.
The Base Outfit
Floral Print Sleeveless Button Tank – This top is super cute. I can definitely see this under a blazer for the office or a jean jacket for a more casual look.
High Rise Cropped Straight Jeans– The Universal Thread denim line at Target is pretty legit. Good fit, nice quality, and budget friendly. I bought a couple pairs in winter, and I wear them at least a couple times a week.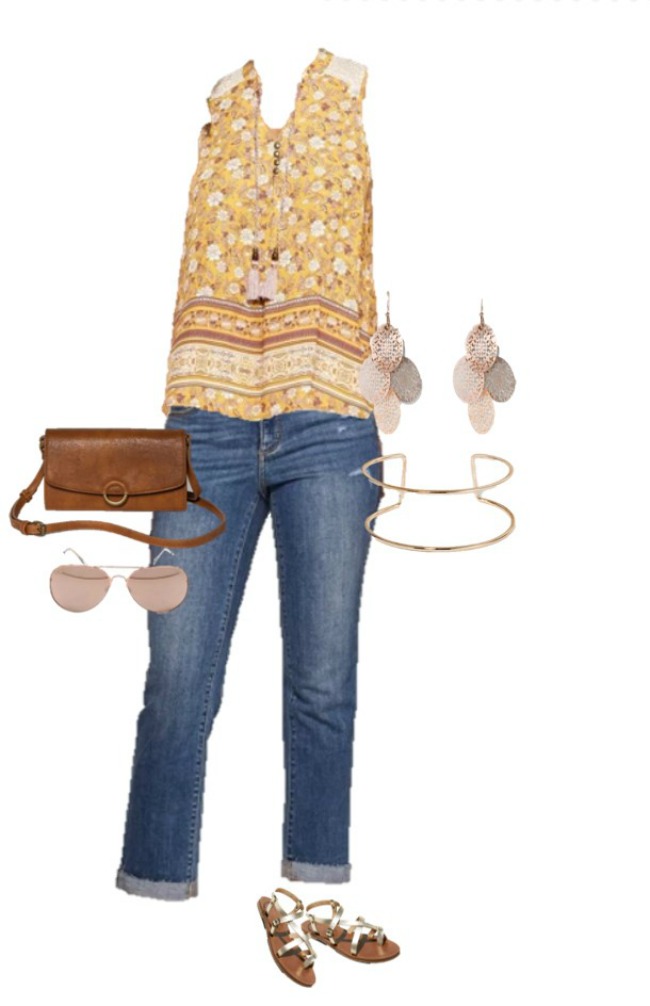 The summer outfit has a definite boho casual vibe. It's looks effortless, and totally put together.
Summer Accessories
Lavinia Toe Wrap Thong Sandals in Gold – Shoes are a great place to add a pop of metallic. They pretty much read as a pumped up neutral and not like the ruby slippers. Not a fan of the gold? Never fear, these sandals come in 4 great shades.
Filigree Chandelier Earrings – For this price point, you can't go wrong. These earrings look like they came from a designer's line and they're gonna run you about the price of a coffee.
Double Wire Bangle – This shape of bracelet has been all over this year. And it's rose gold??? COME ON!! Pick one up for your accessory collection.
Wild Fable Rose Gold Aviator Sunglasses – These pretty much up your cool factor immediately. Plus, the shape is almost universally flattering.
Ring Wallet on a String Clutch – Ditch the giant oversized bag and bring just what you need. This small crossbody bag helps you do that in style. Shown in cognac, but also available in a fab blush color.
The fall outfit looks put together, too, but in a different way. It has less of a carefree vibe, and more of a "Let's get these errands done, so we can go to the football game or the movies." kind of feel.
Fall Accessories
Wenda Cut Out Bootie – This is really more of a flat, but okay. The cut out side was a trend last year. I'm not sure about it, but this is a low commitment way to try the trend. Shown in Taupe, available in 6 colors.
Long Open Layering Sweater – A great way to ad a little style and a lot of warmth to a sleeveless blouse. The seed stitch makes it casual enough for running around town. Shown in Moss, comes in 5 colors.
Tassel and Filigree Long Necklace – A fab layering piece for fall. The small stones add just the right amount of sparkle.
Rose Gold Vermeil Love Knot Earrings – These stud earrings are a classic style that's been modernized. Get them, wear them.
Faux Leather Hobo Bag – A hobo bag is a classic. This one is soft and scrunchy and will go everywhere with you.
There you have it. One basic outfit styled two ways, with a completely different feel. And the good news is that neither one breaks the bank. I think the most expensive item here is $35. That's a great, easy, and affordable way to update your wardrobe for fall.