When fall and winter come around, we all want cute boots. I know my heart goes pitter patter for shooties, booties, and the like. One of the things that I always lust after, but can't always find, are tall boots like knee highs or riding boots.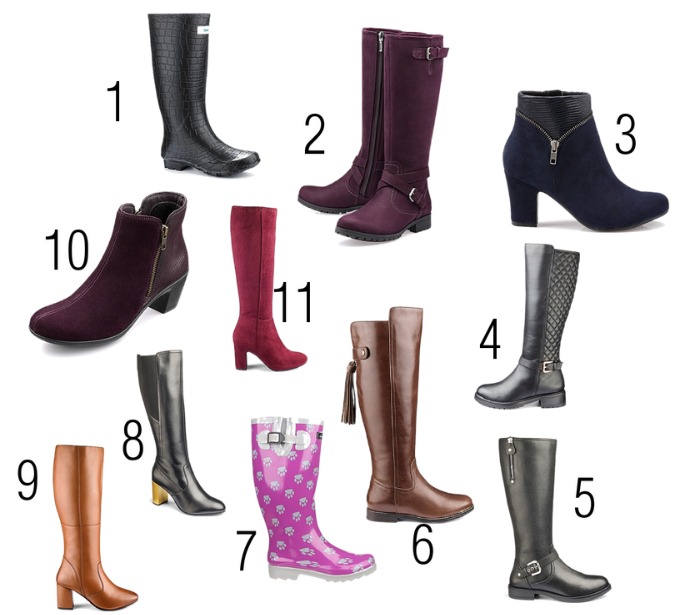 Why is that, you ask?  It's not like the selection is lacking. Nope, it's because I need wide shaft boots. And those can be difficult to find.  We've rounded up some really great styles of wide shaft boots, that are perfect for those that need wide calf boots.
All of these boots come from JD Williams. Not familiar with them?  They're mainly a UK brand that's been making in-roads to the US in recent years. They have great quality and styles that are a little more unique. I've ordered many an item from the brand, and have yet to be disappointed by the quality.
3 Hotter Vanity Ankle Boot – An adjustable ankle boot. Shown in Navy, available in 3 shades.
4 Quinn Quilted Detail High Leg Boot – Also available in Tan
5 Heavenly Soles Milled Leather Extra Wide Boot
6 Katie Leather Tassel Extra Wide Boot – Also available in black.
8 Heavenly Soles Metallic Heel Wide Fit Boot
9 Heavenly Soles Leather High Leg Boots – Available in 3 colors
10 Hotter Samia Ankle Boot – Technically not a tall boot, but this style has two sippers that are totally adjustable.
11 Heavenly Soles Stretch High Leg Boots – Available in 3 colors
See, it is possible to have cute tall boots, and note break the bank doing it. Which of these are your favorites?