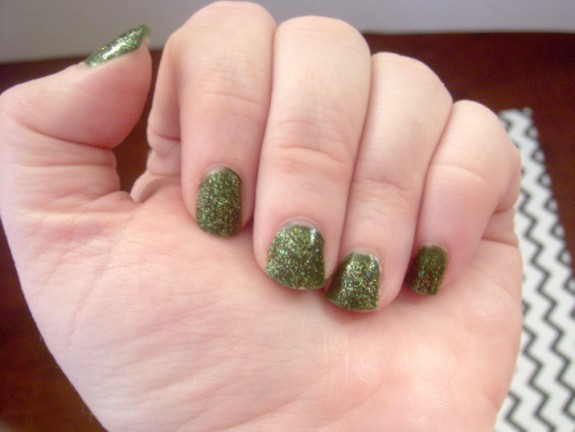 This is a super easy nail look that is packing a real punch.  This is perfect for St Patrick's Day nails.  It's just 2 polishes, both of which dried super fast and were crazy-forgiving.  Sound like your type of nail?  It's definitely mine!
I started off with a base of Nailtiques Formula 2 Nail Protein strengthener.  I had a bit of damage to my nails, and figured it couldn't hurt.
Next, I added two coats of Tough Art to Follow by Fingerpaints. It looked like a brownish green at first, but after two coats, it was the perfect pine green.  Almost a dark kelly green.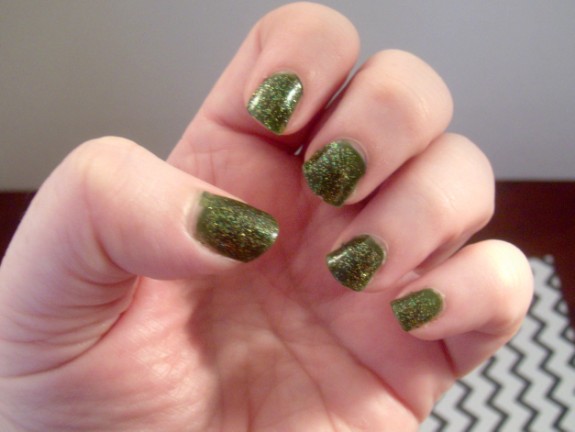 I topped it with one coat of Spoiled's Show Me the Money.  This one has a ton of green and gold glitter in a clear gel.  It's hard to see in the pictures, but this is so sparkly!
I didn't top-coat the nails, and it's held up beautifully.  The pictures were taken about 3 days after the nails were done.
Will you be going out on St Patrick's Day?  Are you going to try a fun nail?