If you've turned on a tv, looked on the internet, or even walked by a newsstand the past 10 days, you know that New York Fashion Week is going on. They're featuring the Spring shows for 2015 – boy it feels weird saying that! Here are some of the hot Spring nail trends for 2015
Spring Nail Trends for 2015
Linear Nail Art
One of the Spring nail trends was linear nail art and stripes.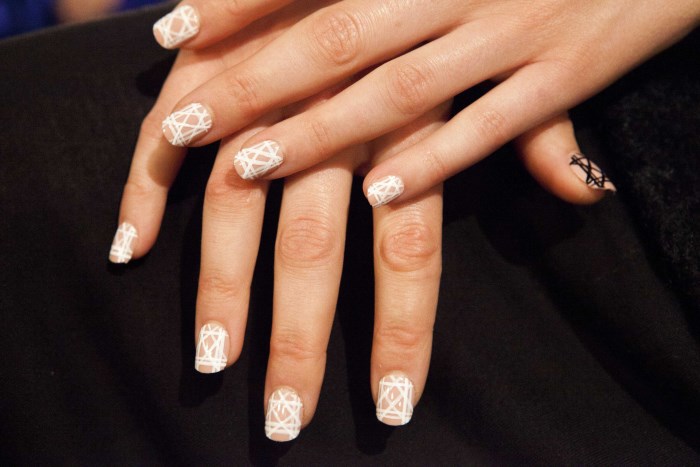 At the Bibhu Mohapatra show, linear nail art was all the rage. A nude nail was accented with straight white lines that intersect. For a bit more interest, thumbs had a nude nail with black lines. At first glance, the look is difficult. But really, it's quite simple.  The products used to get this look were from KISS Nails.  Yep, the same ones we can get in mass merchandise stores!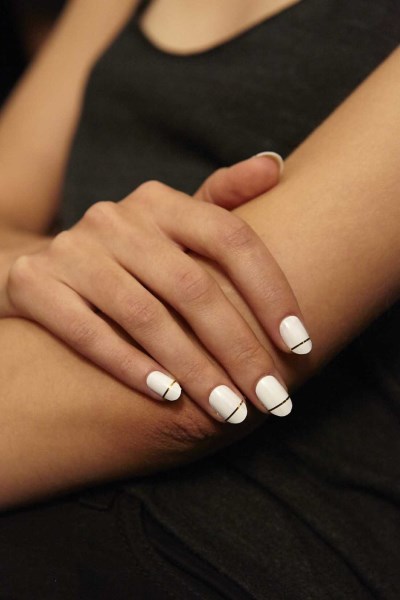 Meanwhile, at the Erin Featherston show, the look was linear with a bit of a classic edge. A simple oval shaped nail was painted white. The manicurist then took gold nail tape and applied it near the fingertips. Simple, clean, classic, but with a modern edge.  The nails, polish, and nail tape are from KISS Nails, too.
Nude Nails
Both of the linear nail art designs were seriously understated. Nude and neutral nails were popular at other shows, too.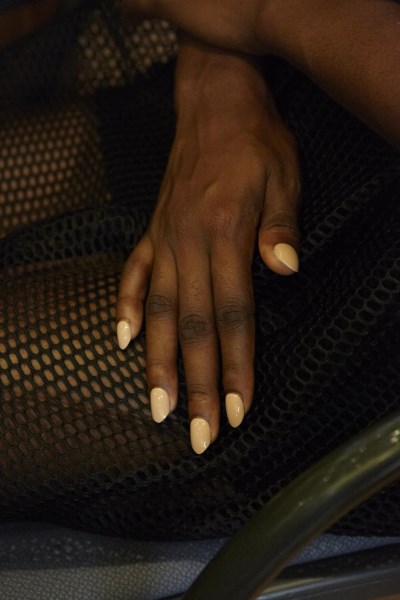 Models at the Kaelen Spring 2015 show were spotted with neutral, oval nails. The nails were almost an almond shape, with a nudish-peachy shade of polish.
Bold Shades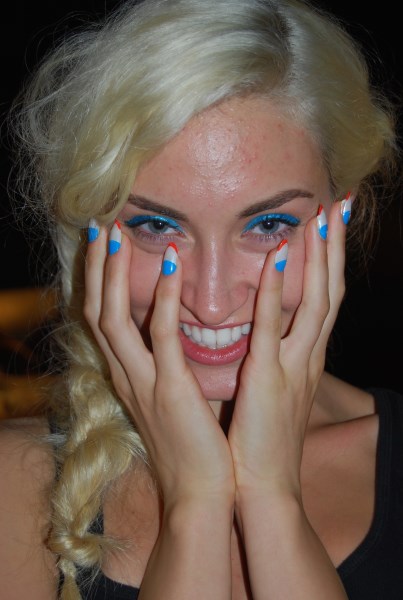 Nails at the CUTECIRCUIT show were bold. They were basically sectioned in half, with bold stripes of CUCCIO polishes St Barth's in a Bottle and Tahitian Vanilla. Cupid in Capri was a highlight and added a pinch of color near the tips.
It seems that nails and nail art may be taking a turn back towards the normal.
What is your favorite spring nail art trend from New York Fashion Week?