I am slightly addicted to nail polish. When I see new colors, I tend to scoop them up without a second thought. They're so pretty, and they sparkle in the bottle, and…I must have them.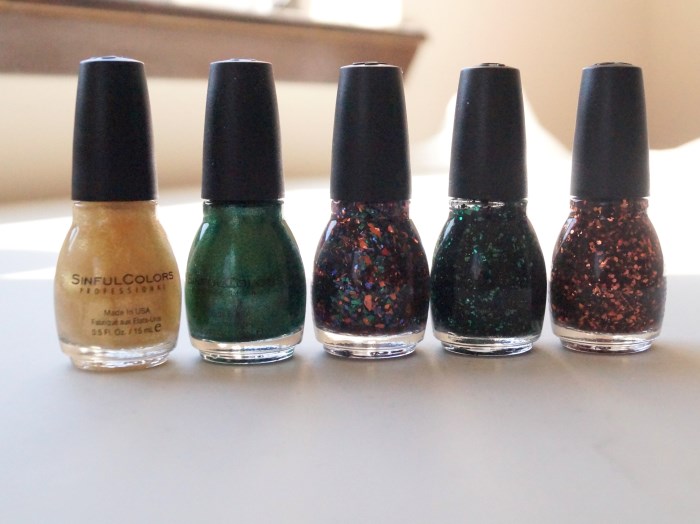 Recently, I came across the Sinful Colors Halloween 2014 collection of nail polishes. There were a ton of polishes as part of this release. Maybe 15 different shades of nail polish.  However, when I started looking at them, there were a lot of re-releases or colors that are always available. I ended up picking up 5 of the colors.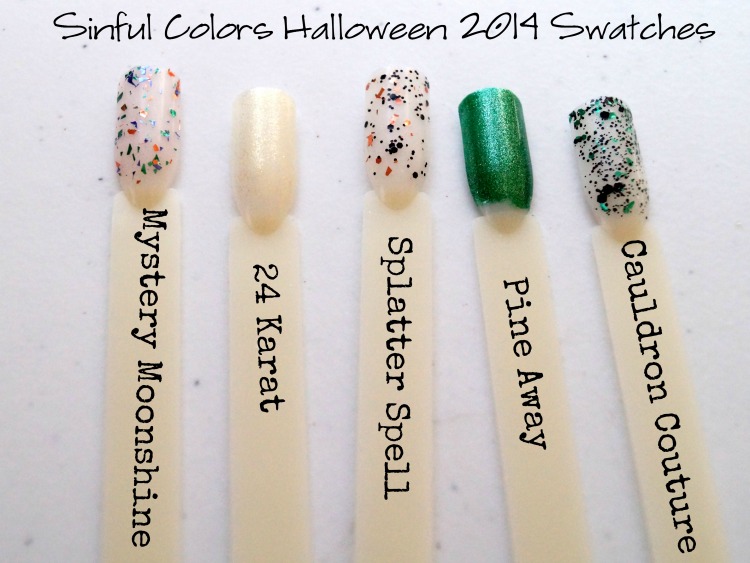 Splatter Spell – Irregular copper-orange glitter with large and small black dot glitter in a clear base.
Pine Away – Green with a very fine green glitter. This will be great for Christmas, too.
Cauldron Couture – Irregular green glitter with large and small black dot glitter in a clear base.
24 Karat – Fine sheer light gold color with fine light gold glitter. I think this will be amazing as a topper for Fall and Winter.
Mystery Moonshine – Irregular copper-orange, green, and purple glitter and black dot glitter in a clear base.
My Impressions of Sinful Colors Halloween Nail Polish
These are very Halloween colors, but they will also be good for the rest of the fall. I think 24 Karat might look amazing over a dark polish, but haven't had a chance to play with that yet. Pine Away will be perfect for Christmas.
The glitters stayed down with no curling, peeling, or sticking up edges. Would I buy them again? Yes – they're only $2 each!
What do you think? Are you going to pick up any of the Sinful Colors Halloween nail polishes?