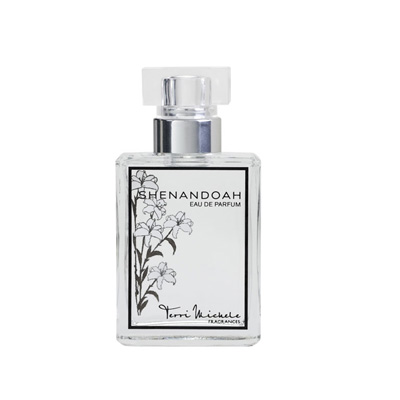 One of the great things that we love is fragrances and perfumes.  They can instantly set the tone for the day or change your mood.  Are you in a fun and flirty mood?  Go with something playful!  Feeling sensuous?  Choose a deep, mysterious scent.
Of course, you need an everyday scent, too.  One that you just reach for and apply without having to think about.  Shenandoah is one of these kinds of fragrances.  Shenandoah, the signature scent by Terri Michele Fragrances, is fresh and clean, but not overly floral or sweet.  It doesn't smell like a young girl or an old lady.

The scent  notes of Bergamot, White Lily, White Musk, Freesia, Lotus, Ylang Ylang, and Sandalwood lend an earthy feel to Shenandoah.
One of the things that really turns me off from a fragrance is the artificial or cheap smell that it may have.  No one wants to go around smelling like air freshener or bug spray.  That's one reason I like Terri Michele Fragrances.  Their fragrances are luxe quality and made with good quality ingredients.  And they last a long time.  I didn't find myself having to re-apply the scent all day long.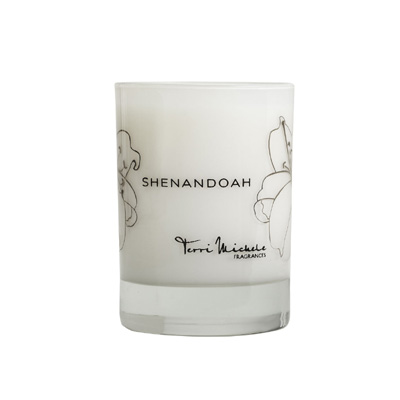 Perfume is not your thing, you say?  The scent of Shenandoah is also available in several other products.  In addition to the Eau de Parfum spray and roll-on, there's a body lotion and a body wash for your scent layering.  And for the home, Terri Michele offers a Shenandoah scented candle.
Terri Michele products can be found in upscale boutiques including Fred Segal, DASH(the Kardashian's store), and Blue Eyed Girl.  They're also available in department stores like Von Maur, Nordstrom, and Henri Bendel.