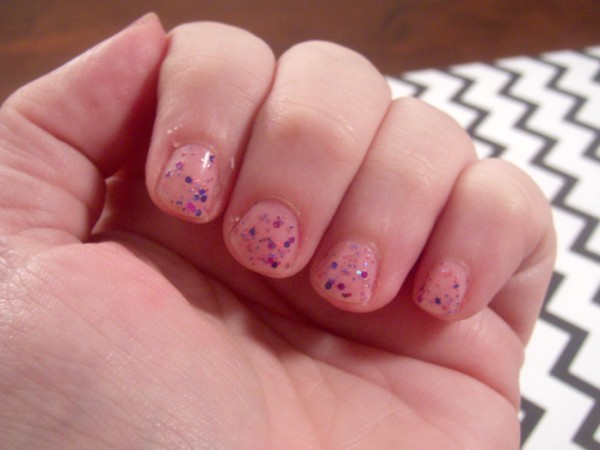 This is Girly by Revlon.  Girly is a mix of large and small glitters in oh so feminine shades of pinks and purples.  There's also a little tiny bit of holo for some flares and flashes of color.  I'm not totally sure, but I think one of the pink glitters is the holo.  The carrier is a soft pink gel, which leaves just the faintest blush of pink on your nails.  It doesn't interfere with a base color, either.
Swatch is two coats of Girly over a standard issue colorless base coat.  This is great for Valentine's Day nails.
I happened upon Girly by accident.  I'm on a buy ban right now, unless I see something that I can't live without.  I wanted something sort of Valentine-y, and I was really looking for a pink shade to do an ombre nail.  I wasn't having much luck, and I decided I'd find something in my stash to make it work. Fast forward to waiting for a prescription and killing time at the drug store.  I saw Girly and instantly knew that it would become part of a Valentine's Day manicure.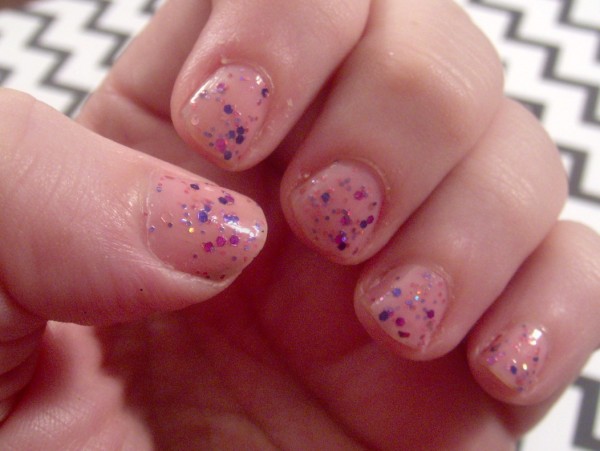 I didn't have much of an issue with the application of the nail polish either.  Some chunky glitter polishes are kind of a royal pain.  Girly glides on nicely, dries fairly quickly, and layers beautifully.  After drying, it was a bit rough, but I imagine a good top coat would solve that issue.  It also wears pretty decently.  I did these Friday evening and took the pictures Sunday night.  I haven't had any chipping or peeling as of yet.
Girly should be available at any mass market retailer for somewhere in the neighborhood of $5.
Have a great manicure or nail art post?  Or a nail polish review?  Link up!