Mehron is known in the theater makeup world for having fabulous products that are packed full of color. These pigments are intense and bright, long lasting, and, most importantly, easy to use.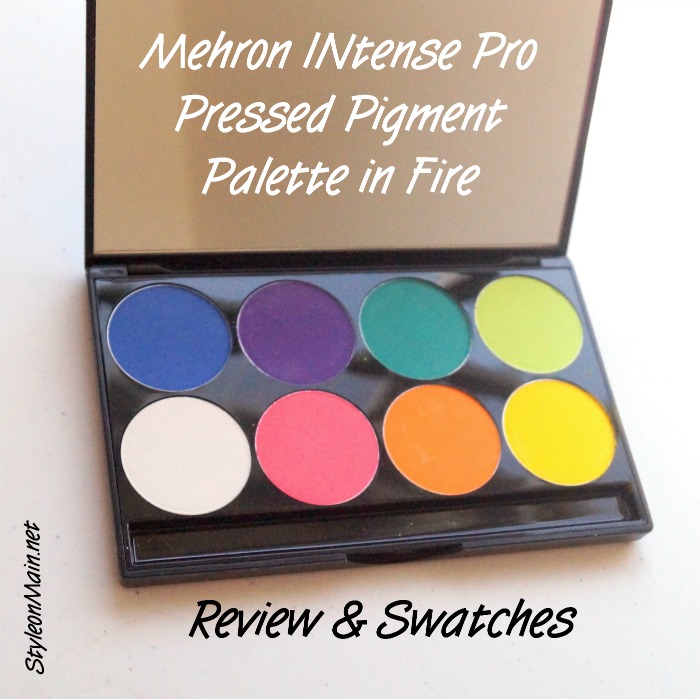 Recently, the great folks at Mehron sent me one of their Intense PRO Pressed Powder Pigments palettes to play with. Whew! Say that 10 times fast. Anyway…I opened it up, and there were eight of the most vibrant, intense colors of shadows I had ever seen. And I'm someone that likes color in their makeup.
The Mehron Intense Pro Pressed Powder Pigments aren't just vivid, vibrant colors though. Oh no. They have great velvety textures. They're also completely matte. Not just not glittery, but they're not shimmery or have a sheen. Nope. Totally matte. We all know how hard it is to find a perfectly matte shadow.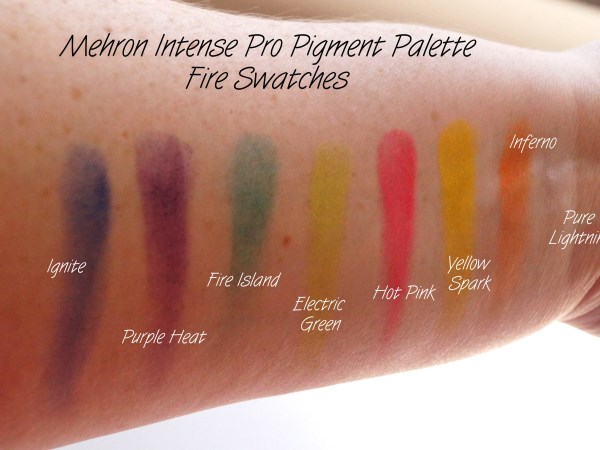 Mehron Intense Pro Pressed Powder Pigments Palette in Fire
I received the Fire palette, which was loaded with shades that leaned more towards tropical colors. Included was
Ignite: Royal Blue
Purple Heat: Perfect royal –grape purple
Fire Island: Teal-y jade green
Electric Green: Lime green
Pure Lightning: White
Hot Pink: Sort of a neon pink with a slight coral cast to it. This one is also a tad bit grainy, at first.
Inferno: Perfect citrus orange
Yellow Spark: Fabulous sunny yellow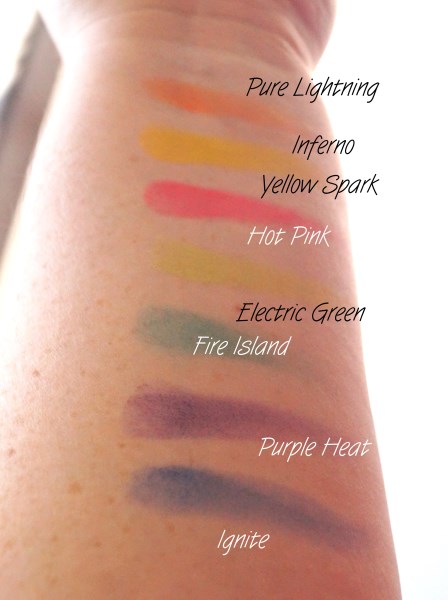 My thoughts on the Mehron INtense Pro Palette in Fire
The colors were bright and intense, but not so intense that they were unwearable. In fact, I found the Mehron Intense Pro Pressed Powder Pigments to be quite wearable. They blended together well, yet kept their own color, too, rather than getting muddy. I also noticed zero eye irritation with these. I have super sensitive eyes, so if they didn't bother me, they probably won't irritate you, either.
I also found out that Mehron has been making their products in the USA for more than 80 years. No wonder their items are so different. You can purchase Mehron online, or use their handy store search function to find a location in your area.