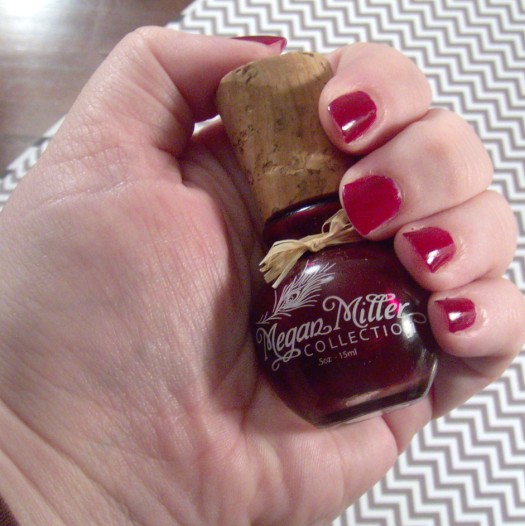 In case you can't tell, I really love nail polish.  While I can appreciate the amazingly detailed nail art designs, I think most people are either painting their nails a solid color, or doing a simple design.  That's what I do at least.  I recently had the chance to check out a nail lacquer from Megan Miller Collection in Framboise.
I had seen the very distinctive, very pretty bottles, but had never seen one in person.  I had also heard, through the beauty grapevine, that the Megan Miller nail polish was very sheer.  This is very true.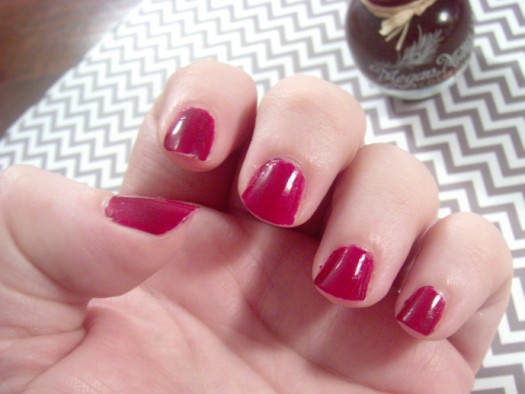 It took 3 coats to get a good color that didn't look streaky.  Since the nail polish is so thin, that was okay, as it doesn't have a huge buildup.  Even though there's three coats, I'd say it feels like there's about one good coat of a regular polish.
One other thing that I liked was that when you added another layer, the color intensified.  It started out as a bright pink, then a magenta with a second coat.  By the time we got to three coats, the Framboise was a great berry color.
I'm sure if you took your time to combat the brush strokes, you could get away with two coats of Megan Miller Collection nail polishes.
The polish does dry really hard.  I didn't add a top coat (or a base coat, as I was having issues with that!) and it has worn very well for 3 or 4 days.  Megan Miller nail polishes are also 3-Free.  That means they don't contain formaldehyde, toulene, or DBP.

The Megan Miller Nail Polish Consensus
I would recommend Megan Miller Collection Nail Lacquers.  Know that they take some effort, and it's not an easy brush on and go polish.  Once you get the polish on, though, it looks gorgeous and wears well.