.I don't know about your area, but in my corner of the world, summer came on like a beast, and hasn't let up. As I write this, the mercury's pushing 100 degrees.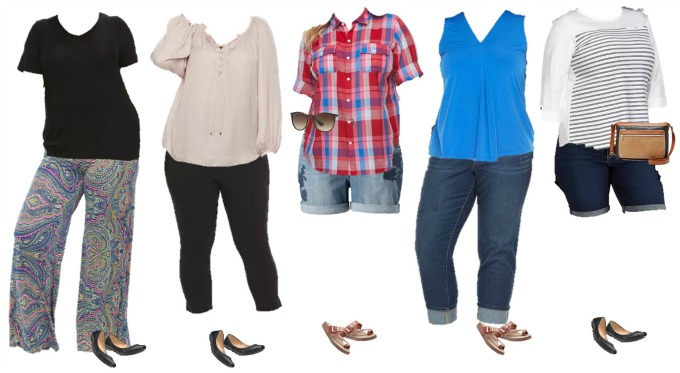 Since it's summer and all, your wardrobe could really use a little shakeup. That's where this mix and match plus sized wardrobe comes in. It's going to help with the freshening up. Swapping out those bulky sweaters for some cute blouses, and those jeans for shorts.
Kohl's Mix and Match Plus Sized Wardrobe for Summer
We used all Kohl's items for this piece. Their items are good quality, affordable, and are easily found. Don't forget to shop the sales, look for coupons, and use your Kohl's Cash to get even better deals.  Links may be affiliate links.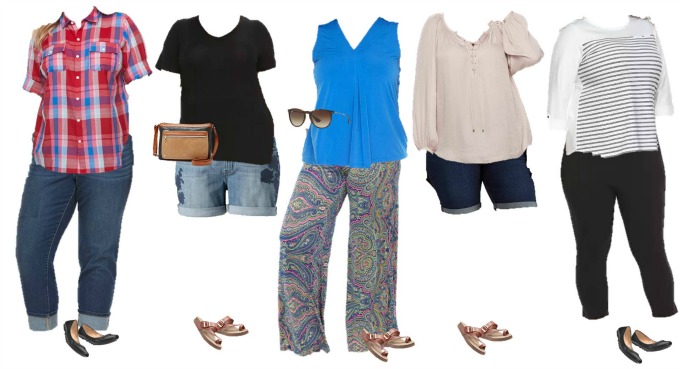 1 Croft + Barrow Roll Tab Woven Shirt (avail in 14 colorways) +  Sonoma Wide Cuff Boyfriend Jeans + Sonoma Women's Leather Ballet Flats
2 Apt. 9 Essential V-Neck Tee (Shown in Black, available in 23 options) + Vera Wang Denim Shorts (as shown, sold out. Similar https://go.shopyourlikes.com/pi/1fd4e56d8a1c14c074c3967d000f35c613254775?afId=654266&afCreativeId=2996.) + Madden NYC Blakelyy Sandals + Relic Evie Crossbody Bag (shown in Black/Cognac/Tan, available in 15 colorways)
3 Dana Buchmann Pleated V-Neck Tank +  Paisley Palazzo Pants (shown in Navy Pink, available in 38 solids and prints!!) + Madden NYC Blakelyy Sandals + Ray Ban Erika Sunglasses
4 Peasant Top (sold out. Similar here and here) +  Lee Total Freedom Denim Shorts + Madden NYC Blakelyy Sandals
5 Striped 3/4 Sleeve Top (sold out, Similar here and here) + Utopia by Hue Ankle Slit Leggings + Sonoma Women's Leather Ballet Flats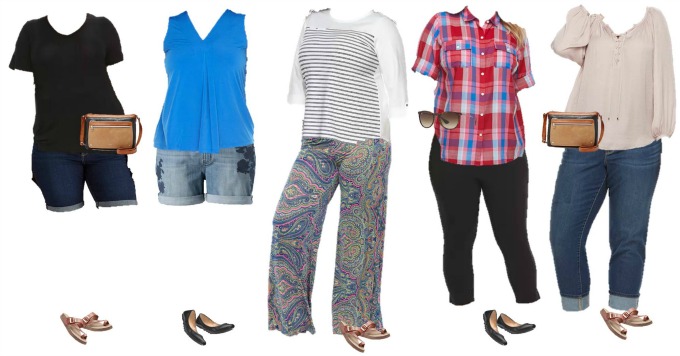 6 Apt. 9 Essential V-Neck Tee (Shown in Black, available in 23 options)  +  Lee Total Freedom Denim Shorts + Madden NYC Blakelyy Sandals + Relic Evie Crossbody Bag (shown in Black/Cognac/Tan, available in 15 colorways)
7 Dana Buchmann Pleated V-Neck Tank + Vera Wang Denim Shorts (as shown, sold out. Similar https://go.shopyourlikes.com/pi/1fd4e56d8a1c14c074c3967d000f35c613254775?afId=654266&afCreativeId=2996.) + Sonoma Women's Leather Ballet Flats
8 Striped 3/4 Sleeve Top (sold out, Similar here and here) +  Paisley Palazzo Pants (shown in Navy Pink, available in 38 solids and prints!!) + Madden NYC Blakelyy Sandals
9 Croft + Barrow Roll Tab Woven Shirt (avail in 14 colorways) + Utopia by Hue Ankle Slit Leggings + Sonoma Women's Leather Ballet Flats + Ray Ban Erika Sunglasses
10 Peasant Top (sold out. Similar here and here) + Sonoma Wide Cuff Boyfriend Jeans + Madden NYC Blakelyy Sandals  + Relic Evie Crossbody Bag (shown in Black/Cognac/Tan, available in 15 colorways)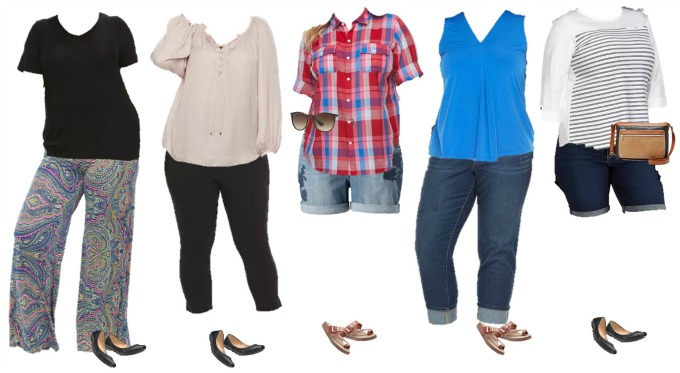 11 Apt. 9 Essential V-Neck Tee (Shown in Black, available in 23 options) +  Paisley Palazzo Pants (shown in Navy Pink, available in 38 solids and prints!!) + Sonoma Women's Leather Ballet Flats
12 Peasant Top (sold out. Similar here and here) +  Utopia by Hue Ankle Slit Leggings + Sonoma Women's Leather Ballet Flats
13 Croft + Barrow Roll Tab Woven Shirt (avail in 14 colorways) + Vera Wang Denim Shorts (as shown, sold out. Similar https://go.shopyourlikes.com/pi/1fd4e56d8a1c14c074c3967d000f35c613254775?afId=654266&afCreativeId=2996.) + Madden NYC Blakelyy Sandals + Ray Ban Erika Sunglasses
14 Dana Buchmann Pleated V-Neck Tank + Sonoma Wide Cuff Boyfriend Jeans + Madden NYC Blakelyy Sandals
15 Striped 3/4 Sleeve Top (sold out, Similar here and here) +  Lee Total Freedom Denim Shorts + Sonoma Women's Leather Ballet Flats   + Relic Evie Crossbody Bag (shown in Black/Cognac/Tan, available in 15 colorways)