Special thanks to Inov-8 for sponsoring this running shoe discussion. Links may be commissioned.
It doesn't seem like it right this minute, but the seasons are getting ready to change again. As we start to wind down summer, lots of people are looking for a fitness routine. For many, this includes running outdoors, and you're going to need the right shoes.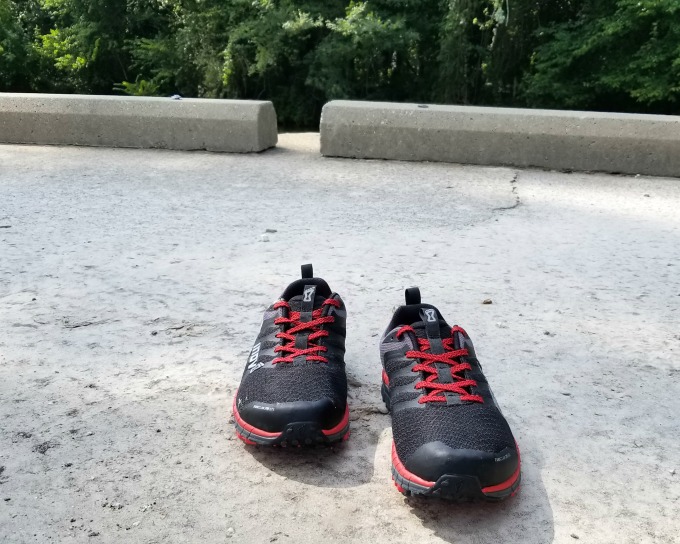 The better your running shoes are, the more comfortable you'll be. In fact, your shoe choice can make a big difference in your fitness experience. Choose wisely. You'll not only avoid injury but you'll recover from your workout more quickly. The right shoe will have you fresh and ready to run again the next day. Here are a few savvy tips to help you choose the right running shoes.
How to Choose the Right Running Shoes
Know your foot shape and size.
Each and every foot is unique. Much like a fingerprint. there isn't another foot exactly like it. However, there are three basic foot types. They include:
Flat Feet
High Arches
Neutral Arches
Your arch style generally affects the way your foot meets the ground. For example, if you have flat feet, your feet tend to hit the ground on the inside of your foot, or under pronate. If you have high arches, then you'll land on the outside of your foot, or over pronate.
If you don't know what kind of feet you have, you can tell by looking at the bottom of your shoes. If they're worn on the inside or outside edges then you likely have an over or under pronating foot strike. Running shoes are designed to help your foot have a neutral foot strike. This creates less impact and stress on your bones, joints and muscles.
If you have wide feet then you'll want to buy shoes designed for wide feet. And the same holds true for narrow feet. Finally, make sure the shoe is the right size. This often means trying on a ton of styles and sizes, and could include buying a half size bigger than you normally wear. Your feet will swell and spread out as you walk. You don't want your toes bumping against the end of your shoe by the end of your run.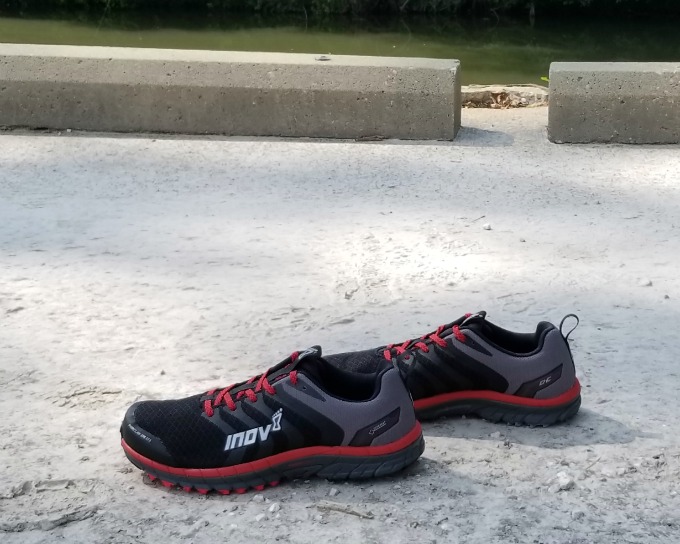 Shoe Type/Running Type
Different types of running require different types of shoes. Road running is different than trail running.  if you're going to be running on trails, or hiking, then you're going to want shoes that are designed to navigate trails. These tend to have more rugged soles for better traction. Luckily the Inov-8 Parkclaw 275 GTX handles both beautifully. Ultimately you want to make sure your running shoes are lightweight.
You also want them to be flexible. Rigged soles are best left for hiking boots. And you also want them to be relatively flat. Many running shoes have a thick heel to cushion heel strike. This isn't necessary for walking and can negatively affect your foot strike.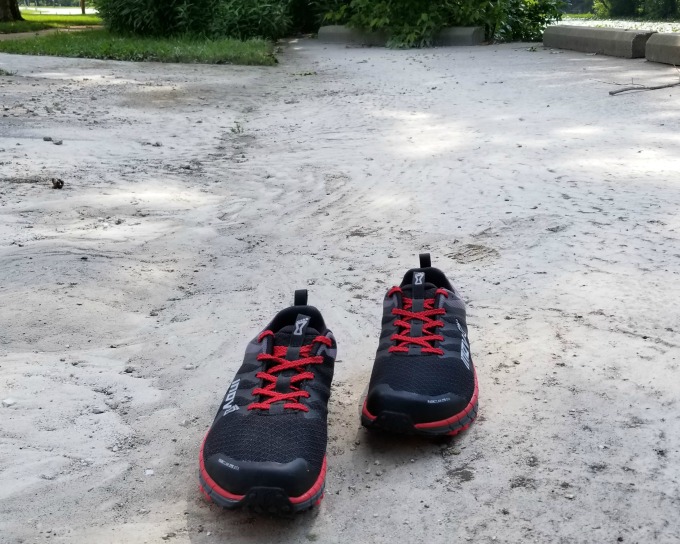 Trying Them On
Shop for running shoes at the end of the day. This is when your feet are the largest, and you'll be sure you're buying shoes that won't be too small or tight. Also try your shoes on with the socks you'll be wearing. This is important. You want to be able to feel where your shoes will rub and make sure they don't cause blisters.
When you try on your shoes be sure to walk, or even jog, around the store in them. This is important because you want to get a good feel for them. Look for places where the shoes are tight, loose, or where they rub.
All of these things make the Inov-8 Parkclaw 275 GTX a great running shoe to consider. It's designed for both road running and trail running, so it will take you anywhere you want to go. There's a rugged, yet totally flexible sole and the shoe itself is feather light. I mean, I think my phone weighs as much as these shoes do.  This is quite the engineering feat since Parkclaw is also waterproof and windproof, yet still breathable.
The Powerflow midsole has 10% better shock absorption and 25% better energy return. This is important as it helps cut down on the fatigue you feel, and you'll be ready for tomorrow's run.
The rugged insole, combined with the waterproof technology, is what makes these shoes from inov-8 so great for trail running. But, you won't be out of place running the terrain of your town's streets, either.
All in all, Inov-8's Parkclaw is a great shoe to consider for your running routine.