For a long time, people that wear plus sized clothing have requested just one thing. We want the same items as those made in conventional regular sizes, only in a larger size. This seems like a pretty simple request. However, companies don't seem to get it.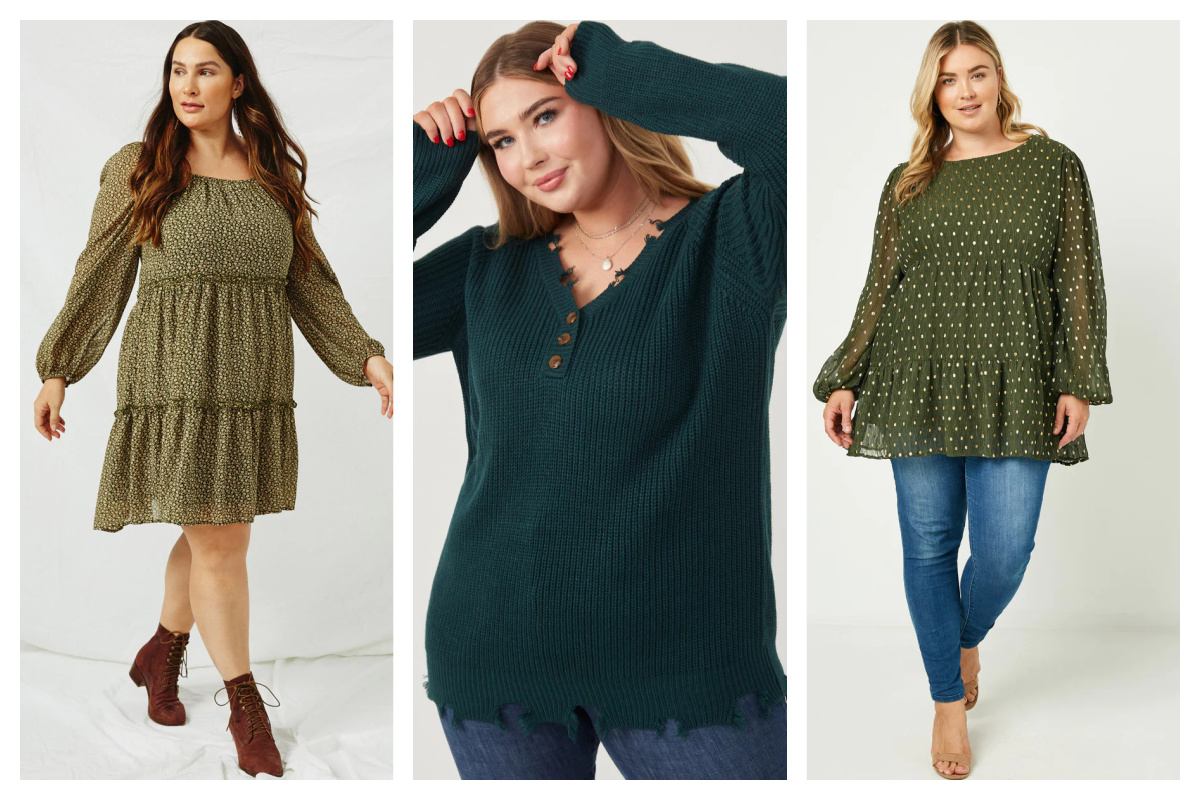 Enter Hayden Los Angeles. They make really cute clothes that are totally on trend. And the kicker, most of their items are size inclusive. Yes, it's true!
These are some of our favorite green fashion items from the brand that are perfect for St Patrick's Day, upcoming Festival season, or even just your regular ol' wardrobe.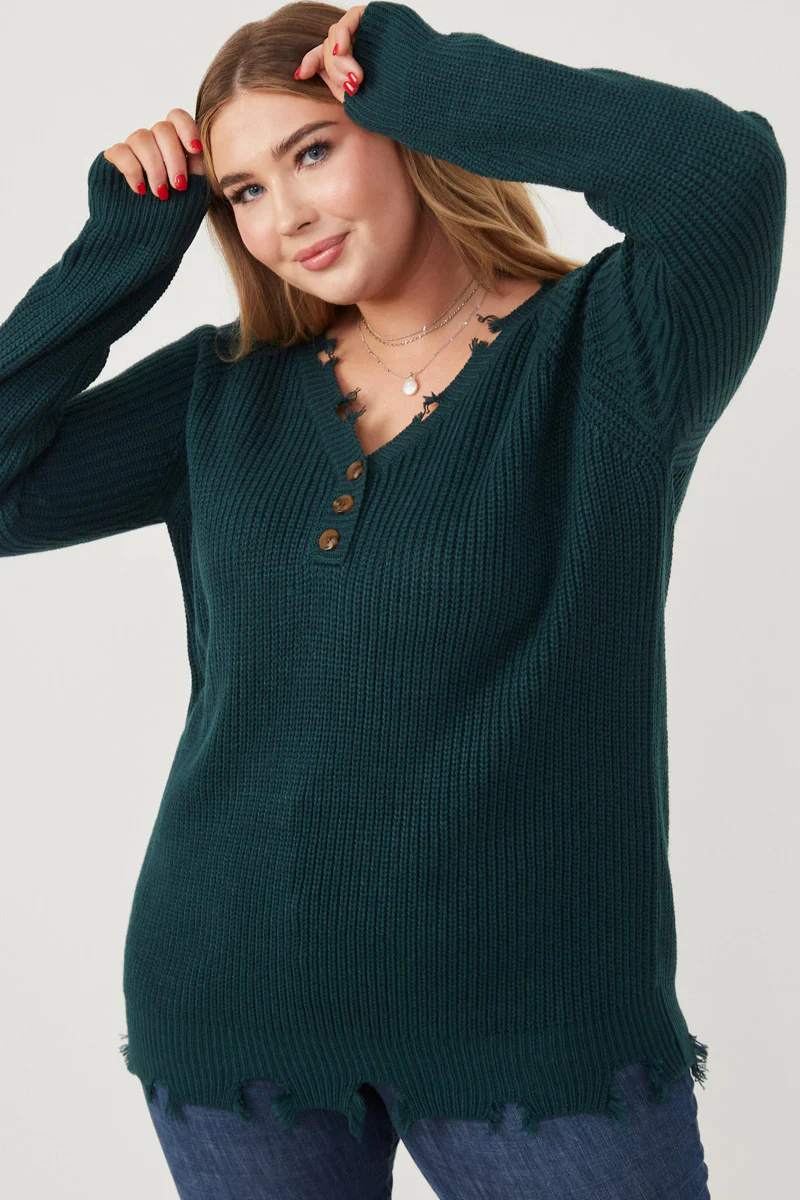 Distressed Button Down Sweater
The distressed button down sweater is so comfy and is perfect for those cool early spring days. It looks like you borrowed it from your boyfriend who has had it forever, but the sweater isn't worn or stretched out. With just the right amount of distressing, it goes great with your most comfortable jeans or leggings. The green fashion sweater is slightly oversized to wear over another shirt, but is not baggy. Try pairing it with a plaid boyfriend shirt. The hip length covers nicely without worrying about gaps, which is great if you have a long torso, like me.
Puff Sleeve V Neck Swiss Dot Top
Swiss dot is having a moment, and we're here for it. This casual Puff Sleeve V Neck Swiss Dot Top is loose, breezy and would be perfect for the upcoming festival season. The Swiss dot knit fabric has a totally vintage or retro feel, but this top is thoroughly modern. With the swingy, almost trapeze style body, there's plenty of room and movement for dancing or just moving about your day. Whether you pair this green fashion top with jeans or shorts, this is a casual top that will become your go-to piece for spring and summer. Pop it on over a jeans skirt – long or short – for a great festival outfit. You'll be stylish and comfortable.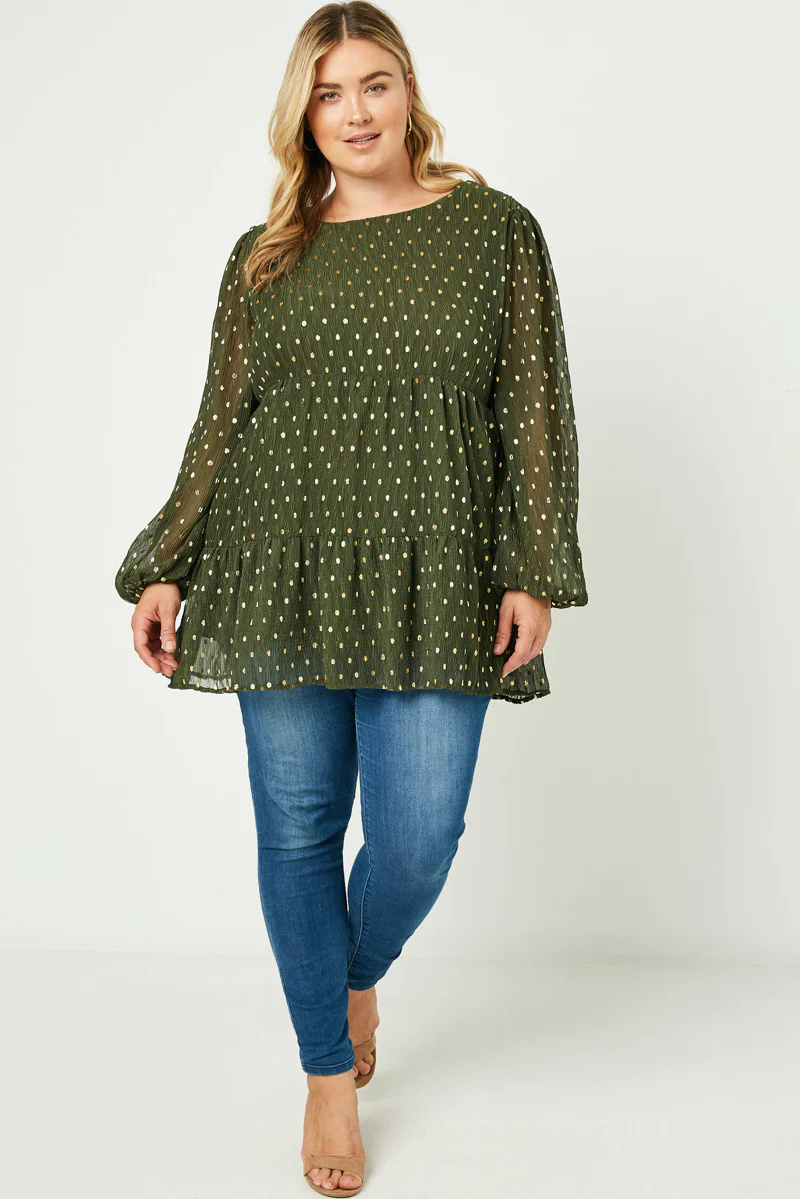 Metallic Dot Tiered Tunic
I love this gold metallic dot tiered tunic! The lined top and round neck make it perfect for the office on casual Fridays, or if you work in a more casual office setting. This tunic is also great for going about your daily life, like Target runs, getting coffee, or trips to art fairs. The high waist can help conceal a myriad of things you may not like about your body – like a little tummy bulge or flabby arms. Flowy and lightweight, but not too full, this green fashion tunic would even make a cute coverup over your swimsuit at the lake. The slightly crinkly fabric makes it perfect for packing for a weekend trip.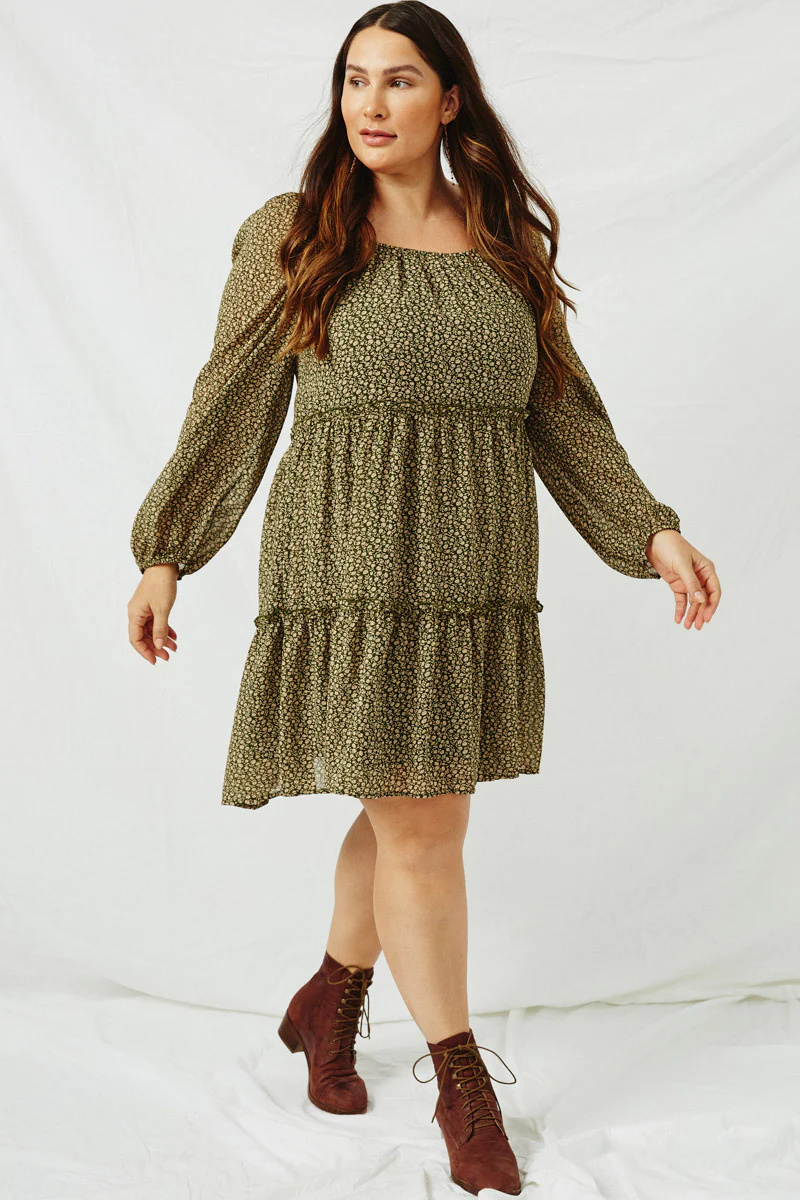 Tiered Ditsy Long Sleeve Floral Dress
You've heard that the 90s are back, right? This tiered ditsy floral long sleeve dress is a great modern throwback to that grunge era. I'm pretty sure I had many dresses that were extremely similar to this back in the day. This dress is so cute to throw on for a trip to brunch and the Farmers Market. Casual, not too short, and loose enough to be comfortable, but not baggy. The little self-ruffled edges add a sweet detail. Pair with booties, sandals or even tennis shoes for a day of sightseeing or casual date. Wear this green flowered dress with combat boots for a total 90's throwback vibe.
Hayden Los Angeles's size range runs from small to 3X on most items. Their items seem pretty true to size, too. I generally wear anywhere from a 16 to 20, so I went with a 2X in these items, as I have broad shoulders and a large bust. There was plenty of room in all of them, and no fear of popping a stitch or anything. I think in a couple items, like the distressed sweater and the puff sleeve Swiss dot top, I could have gone with a 1X.
All in all, these items are all winners, and all things that will definitely be in rotation in my wardrobe.