New Year's Eve is right around the corner, and it's followed quickly by Valentine's Day. Of course, you'll need a delicious cocktail to celebrate these momentous occasions. A French Kiss cocktail is the perfect drink to celebrate.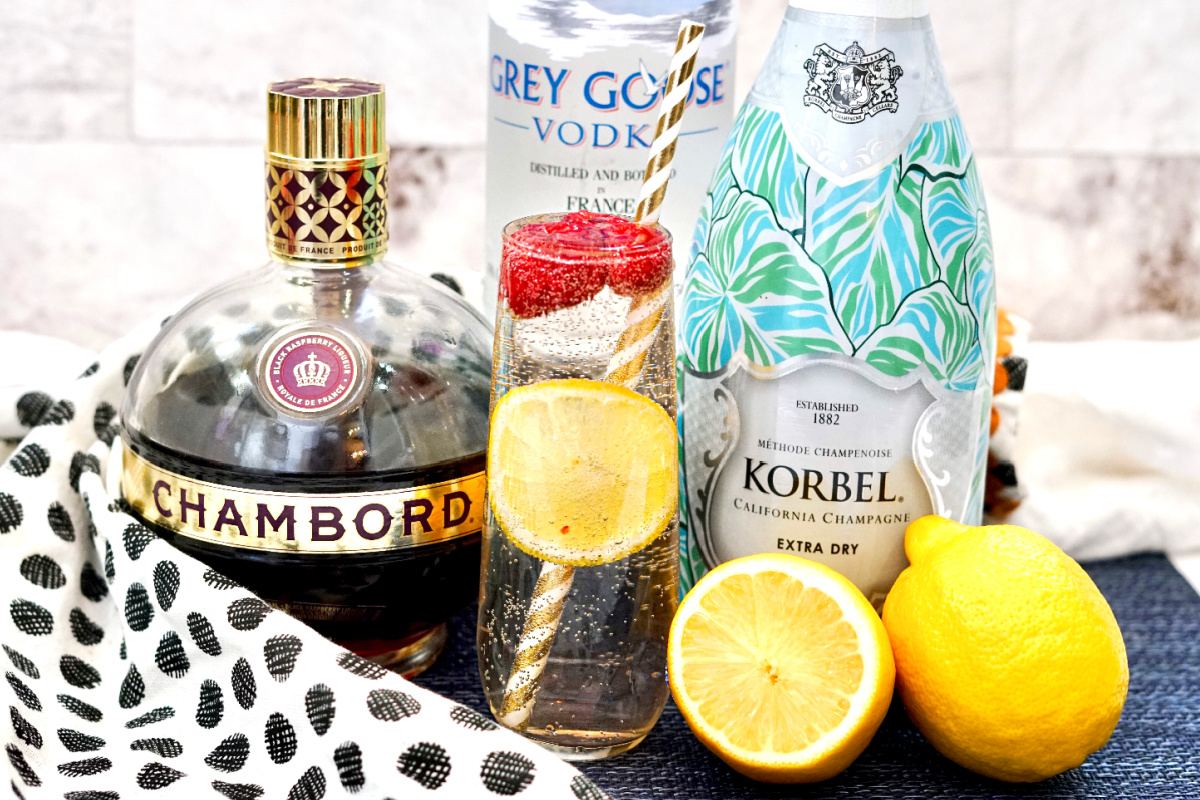 It's a little fruity, a little sparkly,and a whole lot of delicious with just a slight bite.
The French Kiss gets its flavors from its very simple ingredients. There's only three ingredients, so using quality versions is tantamount to the quality of cocktail you'll have. Remember, when there aren't a lot of ingredients, there's nothing to hide a lesser quality item behind.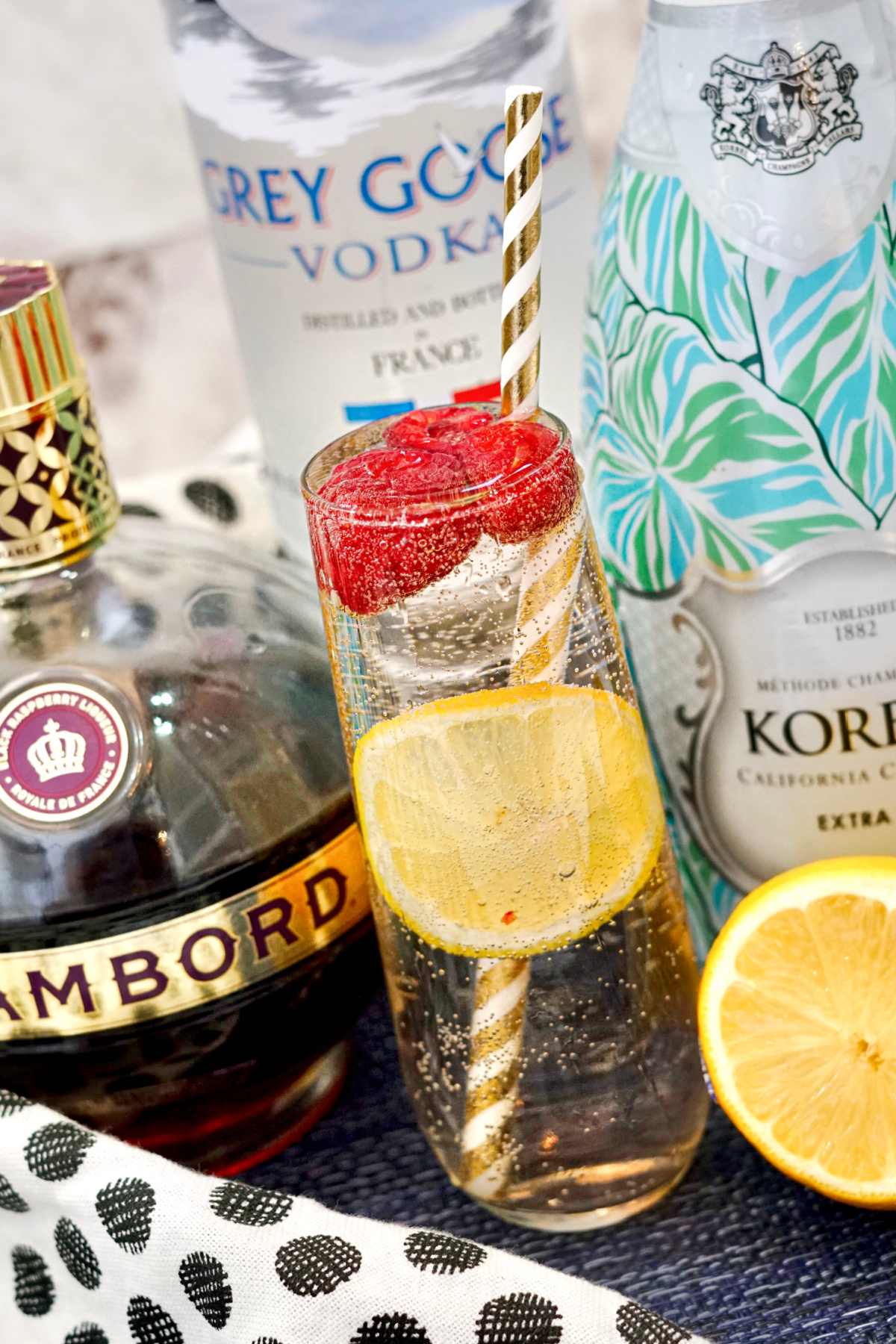 Chambourd brings the delicious fruitiness of raspberries to this drink.
Champagne or a sparkling wine brings the bubbles. You can use just about any sparkling wine that you like, and a cava works beautifully here. A dry sparkling wine helps prevent the French Kiss cocktail from becoming overpoweringly sweet.
Vodka rounds out the French Kiss with a bit of a bite. The vodka has a little bit of a kick, and makes this drink a little less delicate.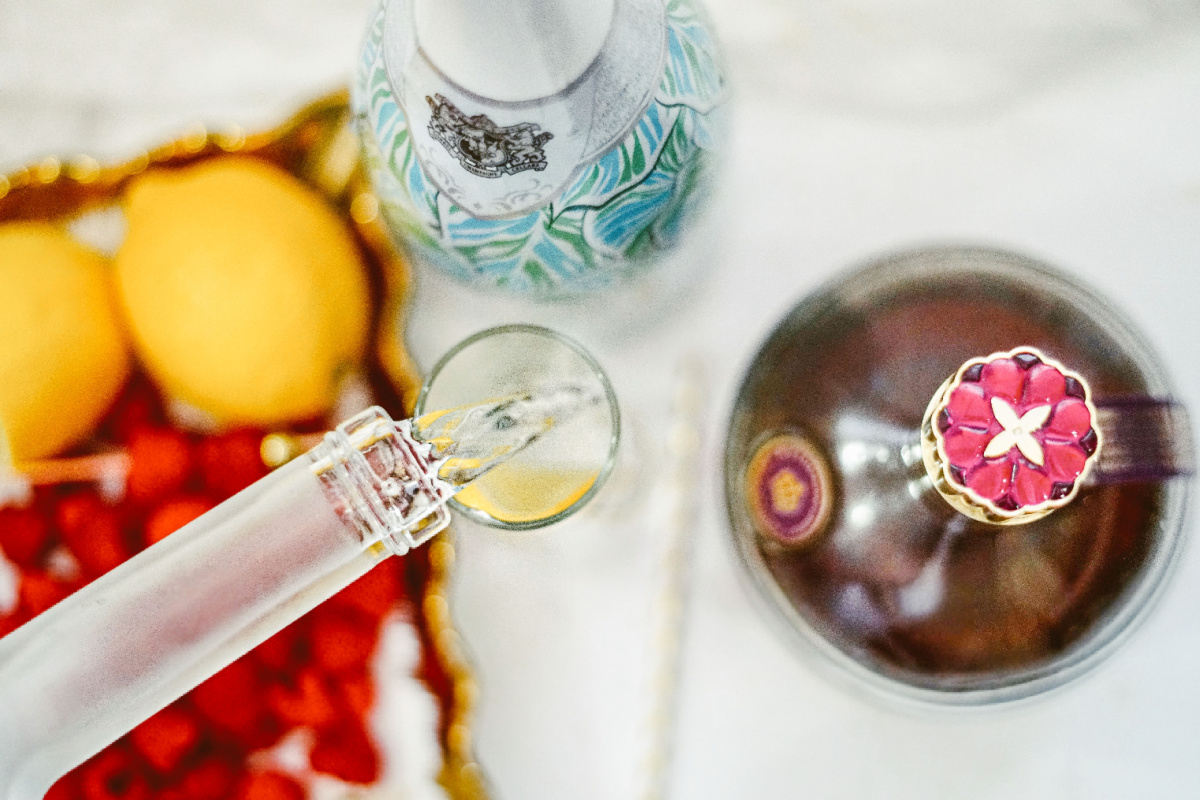 How to Make a French Kiss Cocktail
You don't really need any special tools or equipment to make this. I do love the elegant look of a stemless champagne flute, and these champagne flutes with glitter add a little extra pizazz to your celebrations. You can even get disposable champagne flutes so there's no cleanup.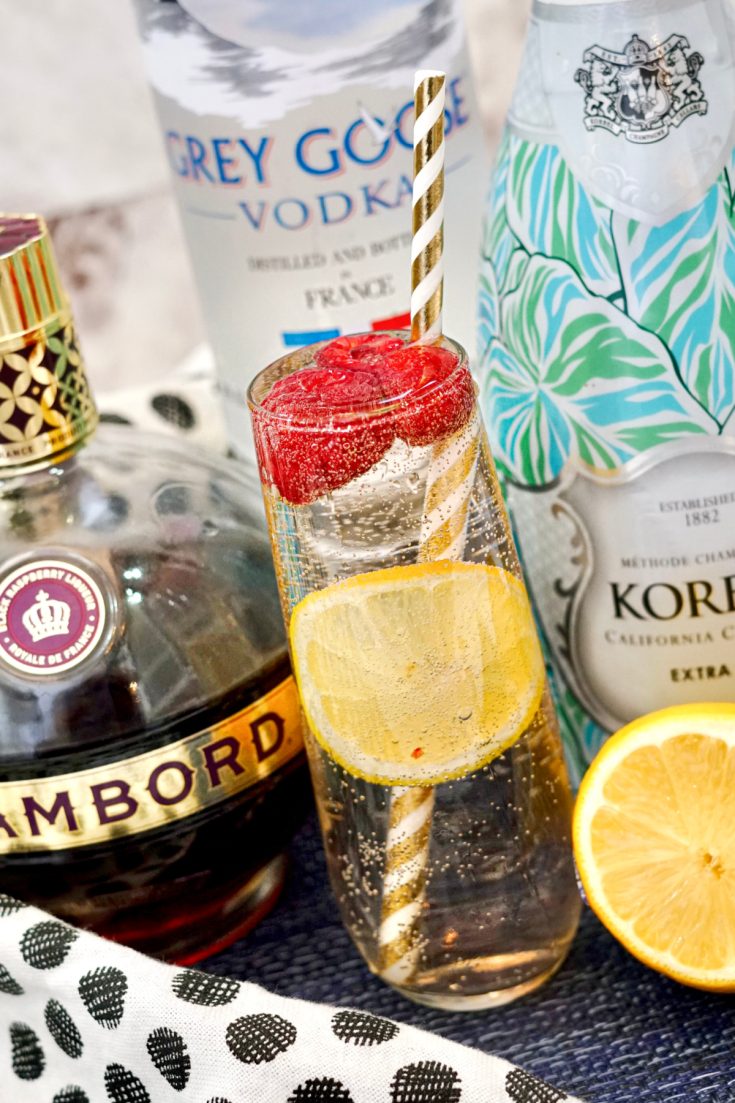 Yield: 1
French Kiss Cocktail
Prep Time: 3 minutes

Total Time: 3 minutes
Ingredients
2 oz Champagne 
2 oz Vodka 
1/2 oz Chambord Raspberry Liquer
Lemon Wheel Slices
Fresh Raspberries
Instructions
Place a lemon wheel into a champagne flute
Fill the glass 1/3 of the way with Vodka - approx 2 oz
Fill the glass another 1/3 of the way with champagne or sparkling wine. It should be about a 50-50 mix of sparkling wine and vodka.
Top off with about 1/2 oz of Chambourd. Add more for a stronger raspberry flavor, but be careful. This can get overpowering quickly.
Add another lemon wheel and some raspberries for garnish.
Notes
Using frozen raspberries is a great way to chill your drink without watering it down.
Nutrition Information:
Yield:
1
Serving Size:
1
Amount Per Serving: Calories: 335Total Fat: 0gSaturated Fat: 0gTrans Fat: 0gUnsaturated Fat: 0gCholesterol: 0mgSodium: 7mgCarbohydrates: 24gFiber: 0gSugar: 19gProtein: 0g

Nutrition is provided as a courtesy. It may not be accurate, and is an estimate only.

See how simple this French Kiss cocktail is to make? As a side note, you could definitely substitute frozen raspberries for fresh ones. It's a great way to chill your drink, and you can keep a bag on hand in the freezer for whenever the mood strikes.