When I was a kid, The Wizard of Oz was one of the movies that we always watched. We'd watch it any time it was on TV. If it wasn't on TV, we had the VHS tape, and would watch that. Yeah, I'm THAT OLD. I always thought it would be great to do a family Halloween costume as the characters from The Wizard of Oz, but somehow, we never quite got it together. Pair this Dorothy costume with our Scarecrow one, and you're halfway there.
This DIY Dorothy from The Wizard of Oz Halloween costume for adults is easy to put together, and uses items that can be found in your closet. If they're not already in your closet, they'll make a great addition after the holiday.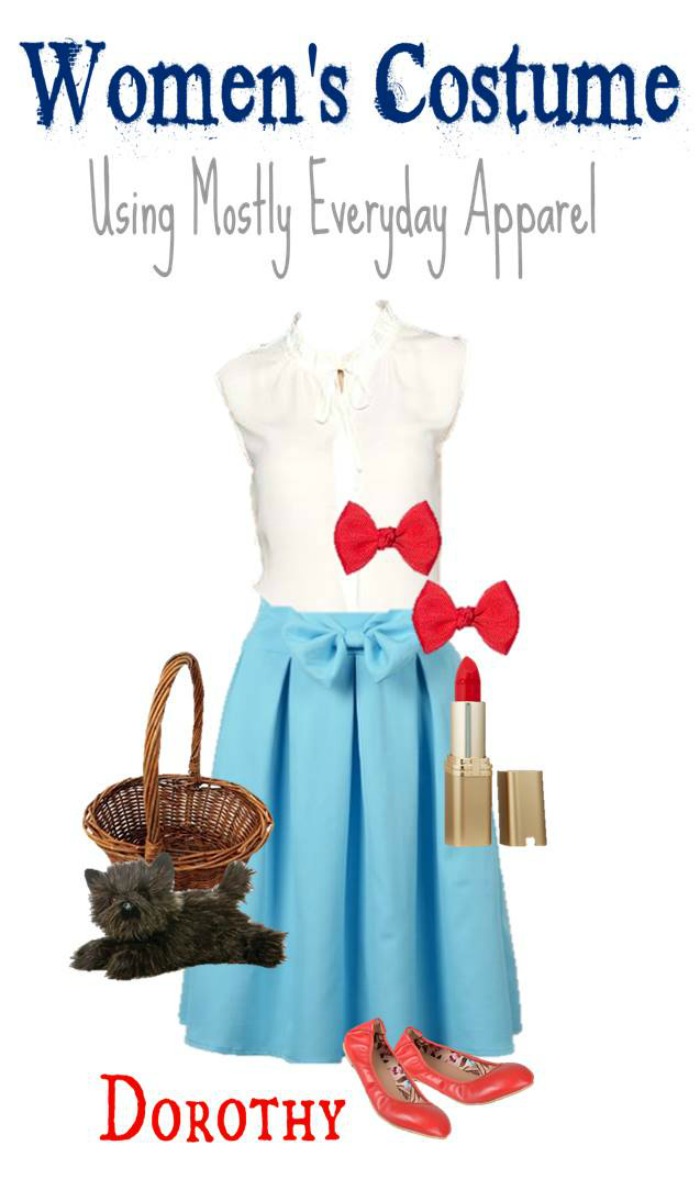 DIY Dorothy Halloween Costume for Adults
These items are from NY & Co, H&M, and Amazon, so you should easily be able to get them before Halloween. This list has been updated for 2022. Links may be affiliate links.
Gingham tiered skirt – This long tiered Blue Gingham skirt is ideal for Dorothy, and this is a perfect piece for your DIY Dorothy Halloween costume.
V Neck Cap Sleeve Blouse – This is a great prim and proper top for Dorothy from The Wizard of Oz. After Halloween, pair it with a skirt or slacks and a cardigan and wear it to the office. This is a great Plus Sized option.
Lindy Women's Scrunch Ballet Flats ($45) – Everyone knows you need ruby slippers for The Wizard of Oz. Dorothy has a lot of walking to do, so we nabbed these comfy shoes that can be worn again and again. You could also DIY a pair of ruby glittered sneakers.
Anna Belen Hair Bows – Dorothy is famous for her braids. At the end of the braids? Red bows, of course! It's the little things that make a costume great.
L'Oreal Colour Riche Lipstick in British Red – Dorothy has a great pout with a classic red lip. This lipstick will give you that look.
Toto in a basket – You can't have Dorothy without Toto! And unless you have a real dog, this is the next best thing. It might even be better, as you don't have to worry about setting this one down.
There you have it! A DIY Dorothy Halloween costume for adults that's not too difficult to put together.
You'll definitely want to check out these other great Halloween DIY projects and recipes, too!
Check out a few of our other DIY Halloween Costumes, too!