Are you looking for a delicious, refreshing cocktail to enjoy on a warm summer day? Look no further than the Strawberry Coconut Margarita!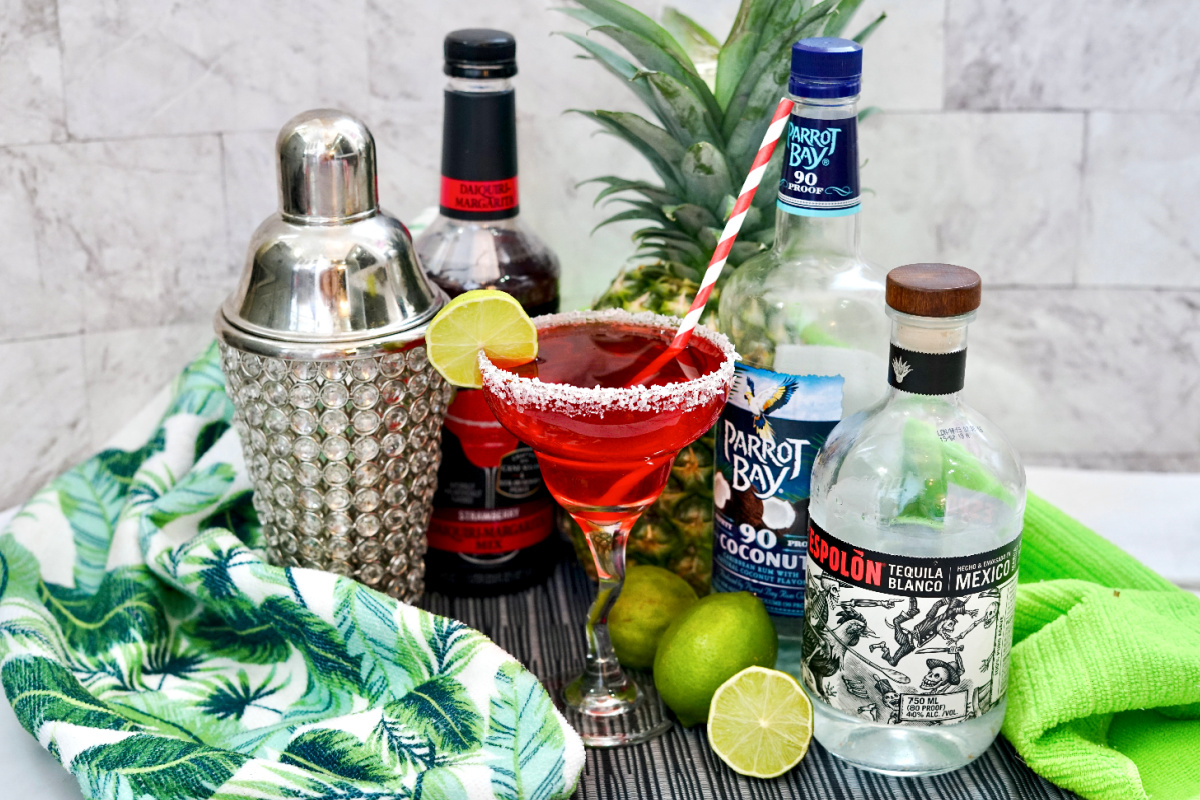 This Applebee's copycat cocktail recipe is a fruity and tropical twist on the classic margarita. It's perfect for sipping by the pool or at a barbecue with friends.
Making a Strawberry Coconut Margarita at home is simple and easy. You don't need much in the way of special tools, and a decently stocked home bar will have most of these ingredients on hand.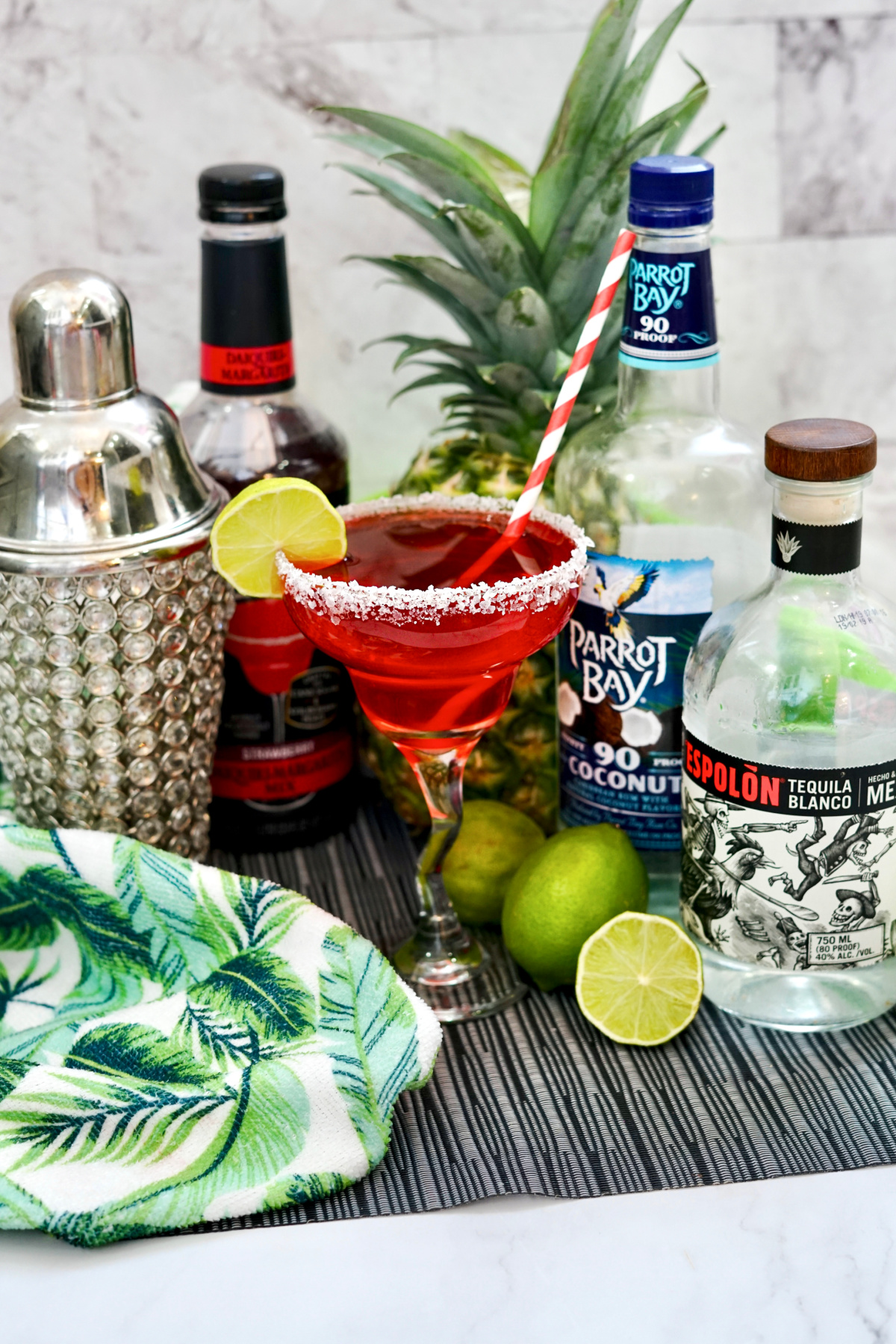 How to Make an Applebee's Copycat Strawberry Coconut Margarita at home
Links may be commissioned.
Of course, you'll need a cocktail shaker. You'll also need some margarita salt, and I really like these margarita salt holders. It makes rimming a glass so much easier. And a great glass always makes your cocktails so pretty. These are in martini glasses, but a fab margarita glass also works well.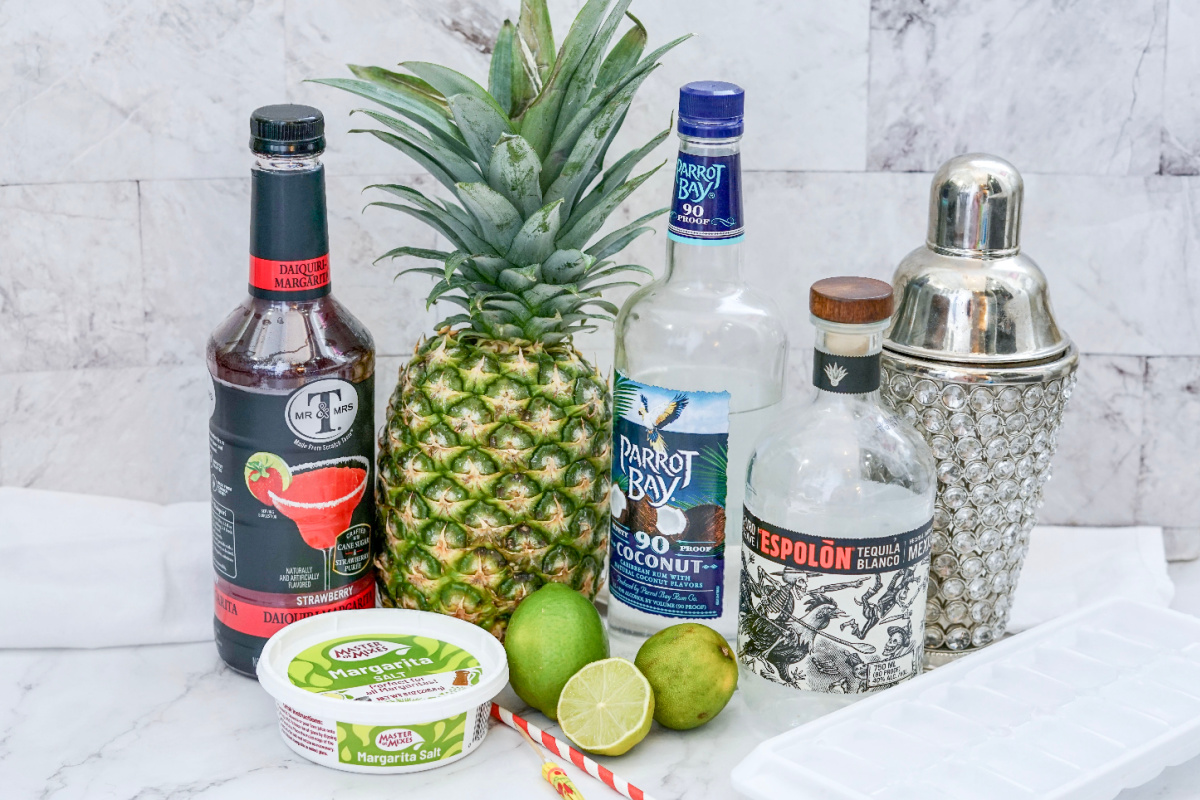 Ingredients:
1oz Coconut Rum
1oz Tequila
3oz Strawberry Daiquiri Mix
Ice Cubes
Lime Wedge (garnish)
Margarita Salt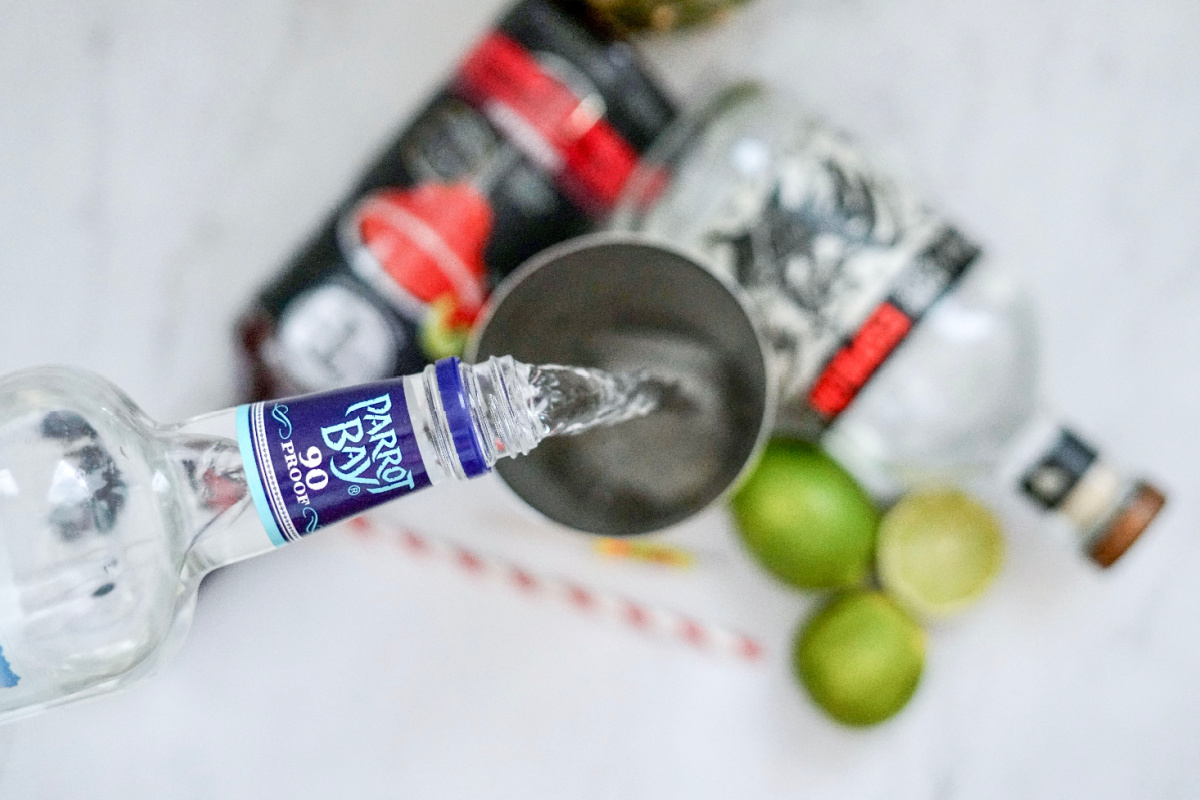 Instructions:
Take a lime wedge and coat the rim of the glass with lime juice.
Dip the rim of the glass in margarita salt, making sure it's coated but not overly salted.
Fill a cocktail shaker with ice cubes.
Pour in the strawberry daiquiri mix, tequila & coconut rum.
Shake well.
Pour the cocktail into the salt-rimmed glass.
Garnish with a lime wedge and enjoy!
This Applebee's copycat Strawberry Coconut Margarita recipe is simple and easy to follow. It's also easily adjusted to your taste preferences by playing around with the ingredient ratios.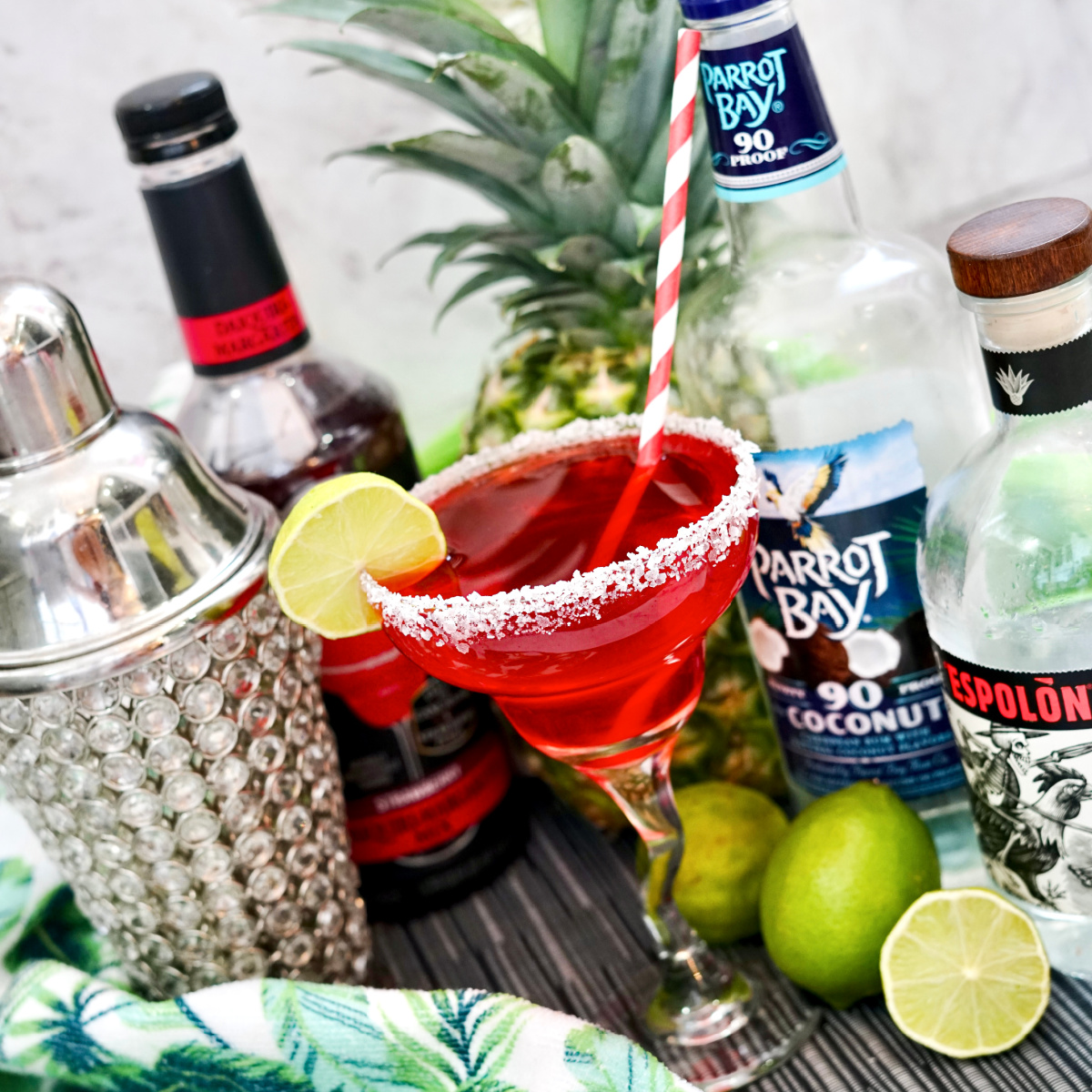 Helpful tips for making the perfect Strawberry Coconut Margarita
Use fresh ingredients: While using strawberry daiquiri mix is convenient, using fresh strawberries can add a more natural and authentic flavor to the drink. Consider using fresh strawberries that are in season for the best flavor.
Adjust the sweetness: Love the idea of a strawberry coconut margarita, but it's a little too sweet for your palate? Try adding a splash of lime juice. This will help to balance the flavors.
Don't overdo the salt: While a salt-rimmed glass is a classic margarita touch, be careful not to overdo it with the salt. Too much salt can overpower the other flavors in the cocktail.
Consider using coconut milk: Instead of coconut rum, consider using coconut milk or coconut cream for a creamier texture and more natural coconut flavor.
Upgrade the experience: Consider using high-quality ingredients, such as premium tequila and coconut rum. Paired with fresh strawberries, you'll have a top shelf cocktail that will become legendary.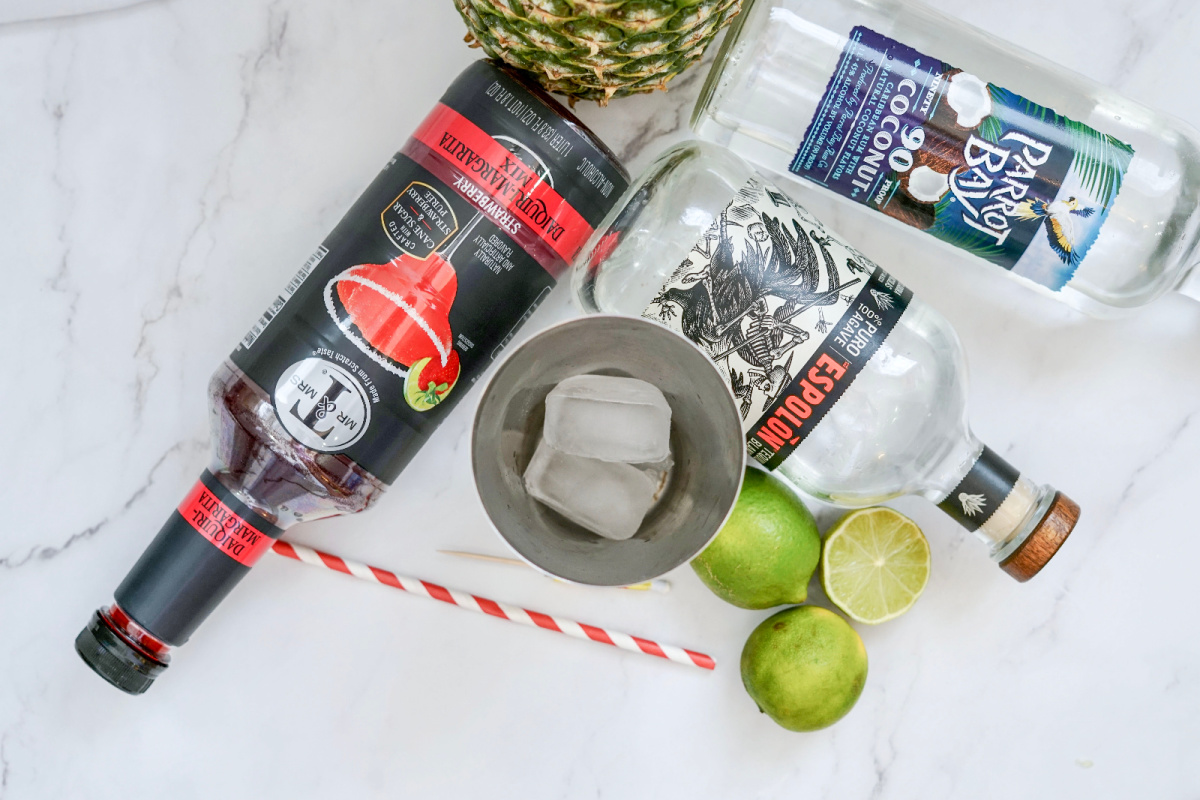 Do you need any special equipment?
To make the Strawberry Coconut Margarita recipe, you'll need a few tools and equipment:
Cocktail shaker: A cocktail shaker is essential for mixing the ingredients together and getting a nice, frothy texture.
Margarita salt: This type of salt is coarse and perfect for rimming the glass. You can find margarita salt at most grocery stores or online.
Glassware: To serve the Strawberry Coconut Margarita, you'll need a glass such as a margarita glass or a tumbler with ice. A salt-rimmed glass is traditional, but you can also skip the salt if you prefer.
Ice cubes: You'll need plenty of ice cubes to chill the cocktail and give it a refreshing texture. You might even consider investing in a countertop ice maker if you entertain a lot.
Jigger: A jigger is a small measuring tool used to measure liquor and liquid ingredients precisely. You can also use a measuring cup or shot glass.
Lime wedge: A lime wedge is used to rim the glass with lime juice and to garnish the drink. Make sure to use fresh limes for the best flavor.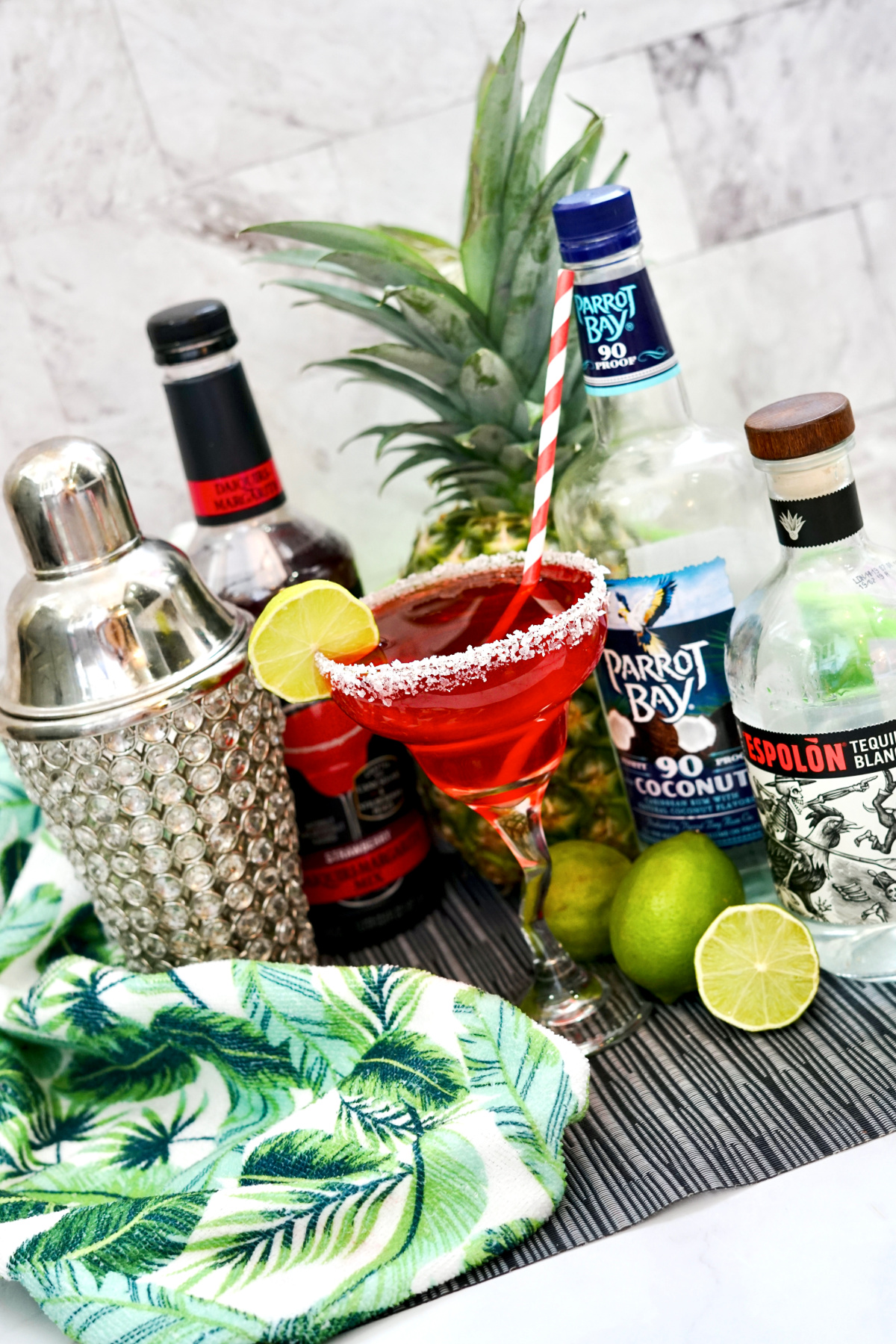 Overall, the equipment needed for this recipe is fairly simple and can be found in most home kitchens. If there's something you don't have, you can find it at most well stocked kitchen stores or even online. With these tools on hand, you'll be able to make a delicious and refreshing Strawberry Coconut Margarita anytime.
The Applebee's copycat Strawberry Coconut Margarita is a delicious and refreshing cocktail that is easy to make at home. This simple recipe lets you enjoy a fruity twist on the classic margarita anytime, anywhere. Grab your ingredients and give it a try today!