Thanks to Adoratherapy for sponsoring this post.
There's a belief that fragrance can create a memory. Did you know it can also affect your mood?  That's the theory and basis for the Adoratherapy fragrance line.
We're all familiar with aromatherapy and its effects on the body and spirit. Adoratherapy has embraced that full with their company.
Recently, Adoratherapy sent me their collection of Mood Boost scents. These are like a spray on perfume, with a twist – the scents are specially designed to boost your mood. There are 7 unique varieties, each with their own distinct fragrance. The Mood Boost Scents are: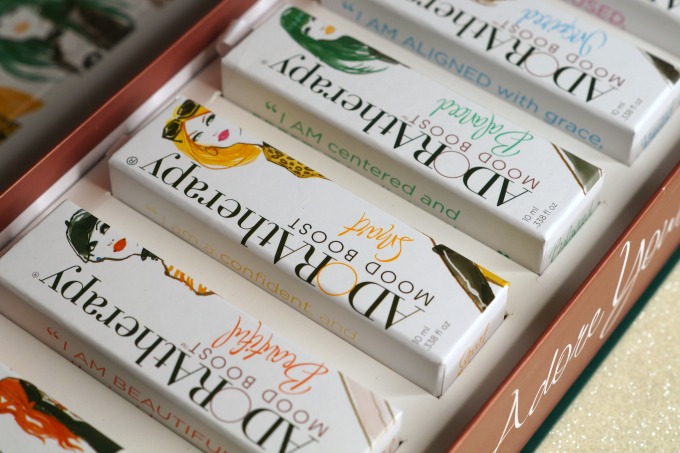 Adoratherapy's Mood Boost Scents
Seduction – Spicy notes of sandalwood and ginger.
Beautiful – Soft and sweet floral notes of blood orange, geranium, and jasmine.
Smart – Fresh scents of lemon, grapefruit, and wild orange.
Balanced – Exotic floral notes of gardenia, jasmine, and rose.
Inspired – Fresh, cooling scents of peppermint, sage, and chamomile
Awake – Sweet, calming scents of lavender, cardamom, and rosewood.
Peaceful – Clear, fresh herbal scents of holy basil, cinnamon, and frankincense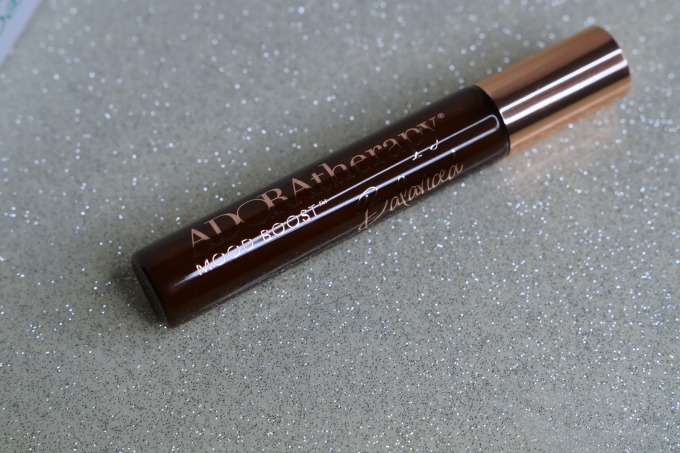 Although the Adoratherapy line is based on aromatherapy principles. Adoratherapy takes that one step further and creates their own proprietary fragrance blends.
These Mood Boost fragrance blends are created from the best essential oils that are sourced from around the world. They don't just take any old scent, though. Nope. For example, their lavender is sourced from several varieties to give you a luscious fragrance that has a lot of depth on its own.
This care and attention to detail is evident in all of Adoratherapy's items. Plus, their packaging is top notch. The Mood Boosts are packaged in dark glass vials that have a spray top. This is an unexpected touch, as I totally expected these to be rollerballs.
Adoratherapy's scents are all very wearable. They're not overpowering in any way, and just smell good. They also give you that mood boost that helps you tackle whatever situation you need to. I've been layering these, as well, and am particularly enjoying Beautiful and Smart together, and think they'll be amazing for Spring.
Their products are all vegan, cruelty free, and they never test on animals. Even better, while they source from around the world to bring you the best product possible, all of their items are made in the USA.
Have you tried the ADORAtherapy line? Which of these scents would you want to try?