One of the things I look for in a wardrobe is the ability to mix and match my pieces.  By doing this, I can afford to splurge on some really crazy items, like floral combat boots and really great quality items like a nice camel coat.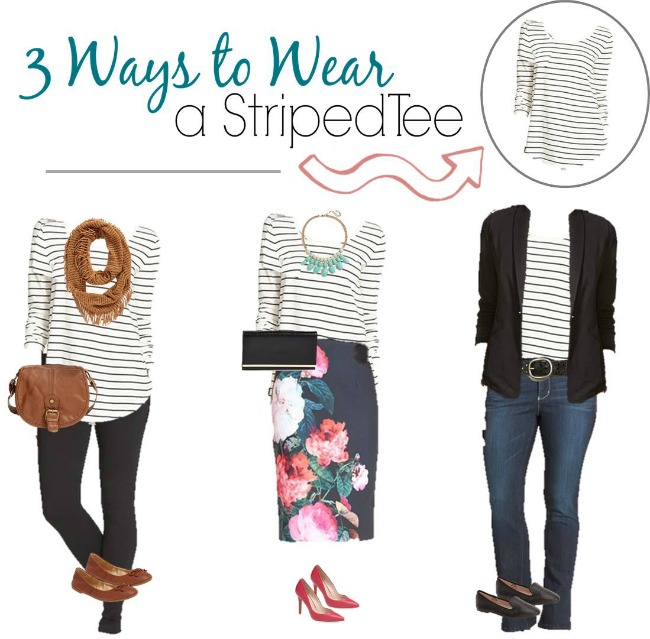 I am totally in love with stripes.  They're my boo.  No really.  If I have a choice of patterns, I almost always choose stripes.  it's almost instinctive. I'm showing you three different ways to wear a striped shirt.  Why? Because no one wants to wear the same ol' same ol' day in and day out.
3 Totally Unexpected Ways to Wear a Striped Shirt
Links may be affiliate links.  All of the items used are from Nordstrom.
We're starting with a striped hi-lo striped tee from Nordstrom. It's a little longer in the back than it is in the front, and is so cute.  Oh, and it's only $18.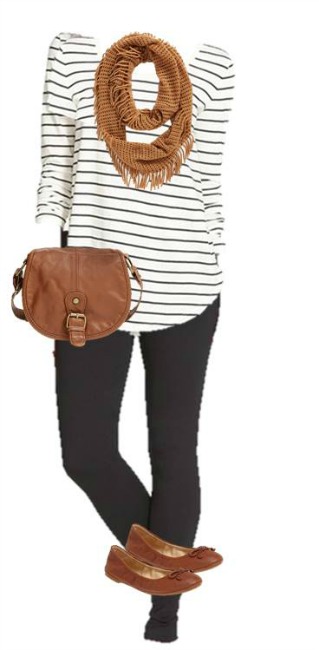 This look is really casual.  Casual chic.  This is one of the major ways to wear a striped shirt for most of us, right?  Just pair it with jeans and mmmaaayyyyybbbbbeeeee a scarf and head out. There's nothing wrong with that!
Striped Shirt ($18) + Black Leggings ($49) + Ballet Flat Skimmers (similar, $79) + Tooled leather Crossbody Bag (similar, $129) + Fringe Trim Infinity Scarf ($20, available in 7 colors)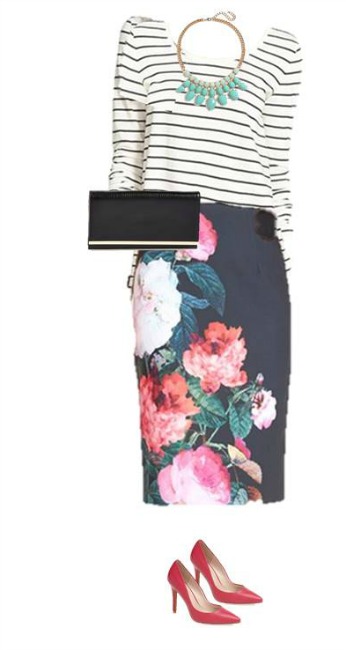 Next up is something that's a little different. It's sort of a combination of mixing patterns – which is a-ok to do.  This is a major way of dressing up your basic striped tee. By pairing it with a floral pencil skirt, and some pumps, it elevates the tee to a new level.
Striped Shirt ($18) + Ellen Tracy Floral Pencil Skirt ($90) + Vince Camuto Kain Pump in Love Affair Leather($98, similar to that shown) + Halogen Clutch ($49) + Anne Klein Stone Frontal Necklace ($38, similar to that shown)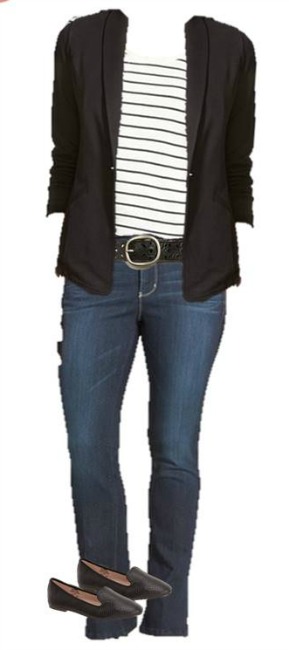 Finally, we have a upscale, preppy ways to wear a striped shirt.  This is paired with a great pair of jeans and a blazer.  It adds that little sumtin sumtin that's so chic.  Pair it with some fabulous loafers, and you're good to go.  It's a timeless chic look.
Striped Shirt ($18) + Wit & Wisdom Jeans ($68) + Caslon Shawl Collar Blazer ($35) + Fossil Perforated Leather Belt ($34) + Topshop Shiver loafers ($30)
This is just three ways to wear a striped shirt and mix it up.  What's your favorite way to style a striped tee?
For more fall fashion and beauty posts, visit a few of my favorite bloggers: