Everyone suffers from cold feet every now and again.  I don't mean the jitters  or trying to back out of something. I mean actual cold feet!  A pair of slippers is one of those things that just about everyone likes, and can really use. There's so many great styles that there's a pair of slippers for every price range, style, and aesthetic.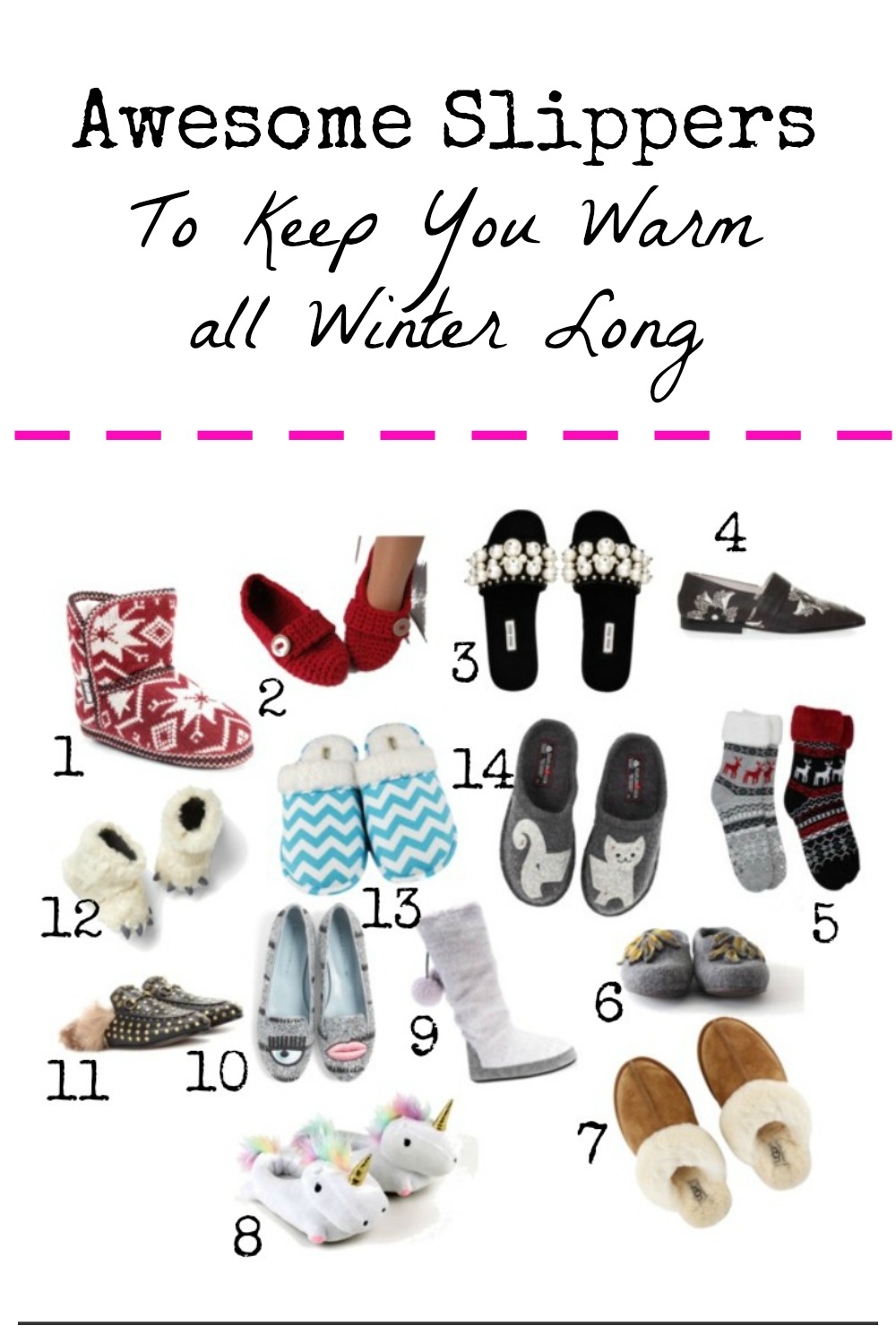 Personally, I'm partial to fun prints like Muk Luks, and the sheepskin lined slippers like Uggs. Others prefer the more traditional house shoe style of slippers or the fuzzy slippers that envelop your whole foot.  Whatever the style is, you can't go wrong.
14 Really Great Slippers that are Sure to Keep You Warm
We've rounded up some of our favorite styles of slippers, in all styles and price points. Links may be affiliate links.
1 Muk Luks Short Snowflake Print Slippers ($13) – How cute are these? They're a shorter version of the classic Muk Luk boot, but a lot of times that's all you want. Fun snowflake pattern knitted fabric with faux fur lining. See similar styles in other colors here
2 Crocheted Slippers ($17) – These are so cute, and at one point in my life, I had about a zillion pairs of these. My mom likes to crochet, and she crochets quickly, so she'd just crank these out.  For $17, though, I'd just buy these crochet slippers from Etsy.
3 Miu Miu Embellished Slipper ($750) – A fun slide that's embellished to the hilt. Faux pearls and beads just add to the fun factor.  These would be an easy DIY project, for those that are so inclined. Get furry ones here ($950)
4 Victoria Beckham Leather Slippers ($400) – Yes, these really fall more into the loafer category than the slipper category, but wouldn't they look amazing with a pair of silk pajamas and a smoking jacket?
5 Reindeer Slipper Socks ($20) – Sometimes, you don't want to wear actual slippers. I feel this! Or, sometimes you need a foot cover for those super cold nights and you're heading to bed. Slipper socks to the rescue. These are super cute, and come in a set of two pairs. Keep them both, or give a pair to your bestie.
6 Felted Wool Slippers – Grey with Mustard Leaves ($93, on sale for $74.40) – I am a huge fan of clogs and mules, and these slippers fit right in with those.  The wool will keep you warm, and the felting will last and last.  These are an investment worth making. As a plus, they can custom make these for your feet and in your color choices!  Total win!
7 Ugg Women's Scuffette ($93) – I am a huge fan of these, and have an almost identical pair that I wear often.  These will last a really long time, and help to keep your temperature regulated.  I've taken my slippers like these on trips into the mountains and have been oh so cozy in the evenings. Available in about 10 colors and patterns.
8 Unicorn Light Up Slippers ( $40) – I think the title says it all.  Who doesn't want to be a unicorn?  Uh, no one doesn't. These are a great gift.  They're out of stock as of this moment, but keep an eye out for them to return.
9 Muk Luks Gia Furrl Slipper with Pom Poms ($40) – These are kind of wild! A tall boot that has a furry cuff and oversized swinging pom poms make for a fab slipper. Faux fur lining for warmth, as well.
10 Chiara Ferragni Flirting Lips Slippers ($344) – Okay, so this is more of a loafer or a house shoe style than a warm slipper. They're still super fun, and oh so cute. I'm a fan of fun shoes, and these are definitely conversation starters.
11 Gucci Princetown Studded Slipper ($1190) – These are the ultimate in a luxe slipper. Soft leather has smooth studs so that they don't catch on anything. The horse bit adds a little sumtin-sumtin, and there's tiger studs around the edges. Lined with lamb fur to keep you warm, and with a leather sole.
12 Cozy Yeti Boot Slippers ($24) – These are for toddlers, but were too adorable not to include.  Besides, little kids need slippers, too. Adorable Yeti feet, complete with toes and scary claws, will make any child shriek with delight.
13 Women's Chevron Flannel Slippers ($23) – Faux fur lined flannel slippers are sure to please. These are the more traditional house shoe style, and have a non skid sole, too.
14 Haflinger Lizzy Kitty Slippers ($81) – How adorable are these?  Kitschy cute without being too over the top. Boiled wool, so they'll last and last.  These are also available in several other fun styles like elephants and dogs.
Whew!  We made it!  There's a fun slipper style for every style, aesthetic, and budget on this list.
Which style of slipper is your favorite?